Many property management companies that accept credit card are adding a fee and not following compliance. Our solution makes sure they are covered so they do not risk termination from the card brands.
Next day funding option allows property managers to get paid quicker than ACH. 
 Add a link to rent bills for tenants to click and pay directly. Take payments over the phone or integrate a card present terminal. 
Property Management companies now pay less to process credit card than check, ach or wire. Charge $1,000 and Receive $1,000. Now you can let all tenants know that you take credit card without hurting your bottom line. 
Reduce Late Rent Payments
Giving tenants more payment options increases there ability to pay. Accepting credit cards allows customers to pay quicker and avoid late fees.
Accepting credit card allows tenants who do not have the money in their bank to make the rent payment. You could be losing out on income if you don't accept credit card.
Zero Cost Credit Card Processing Property Management Companies
Frequently Asked Questions
You have questions and we have answered them. Pertaining to property management payments and our turnkey surcharging solution.
Property Management Payment Portal
Property Management Payment Portal allows tenants to pay their rent from a hosted payment page. The online property management payment portal link can be added to monthly billing invoices as well as to a website.
Property Management Payment Portal Features:
Recurring Billing: Save tenant's credit card information in a secure portal and set up automatic billing to make sure tenants are paying rent on time.
Zero Processing Fees for Credit Cards: Surcharging solution allows property management companies the ability to accept credit cards as a form of payment without incurring the fees.
Increase rent Collections: Let tenants pay with credit card without hurting your profit margins.
Example of Online Tenant Payment Portal
As you can see below the tenant is automatically notified of the fee. The solution is also set up to cover all compliance for surcharging to keep the property management company covered. The fee is added as part of the transaction and the landlord is paid the total amount of the rent. If the rent is $1,500 the landlord receives $1,500 and the tenant covers the fees.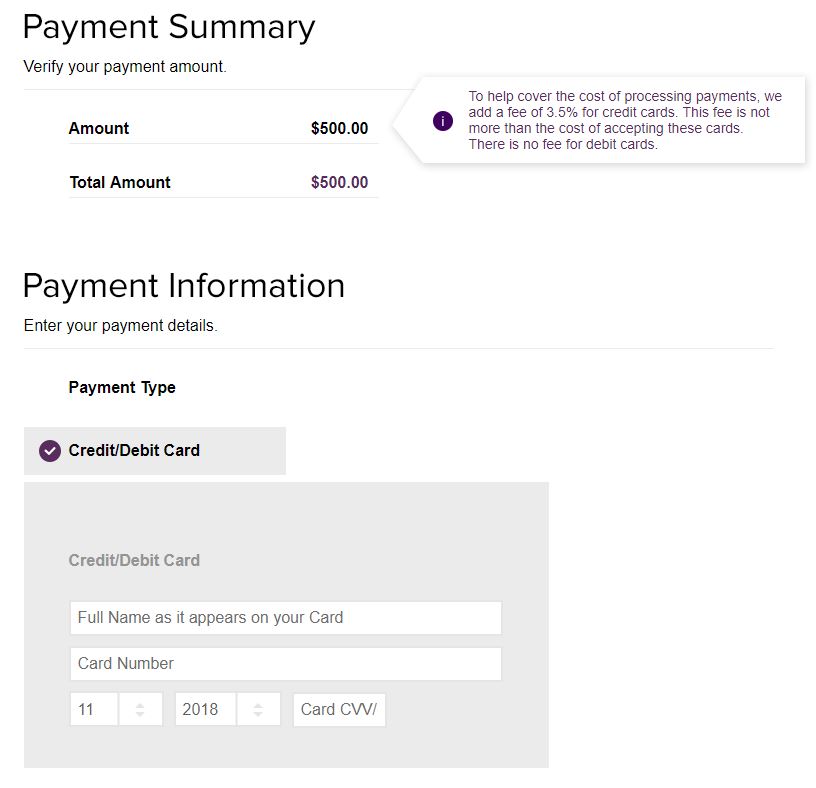 Rent Collection Software for all ways of accepting credit cards
Our Rent Collection solution allows landlords the ability to accept credit cards in all ways tenants want to pay while paying zero credit card processing fees.
Collect Rent In-person with card-present transactions.
Collect Rent over the phone with virtual terminal
Collect Rent when customers pay online through online tenant portal