Limited Time Offer - Redeem Below
Pay No Fee to Accept Credit Cards
Waiving Sign up fee ($199) value
Free hosted payment page to take secure online payments
Free virtual terminal to take payments over the phone
How to Eliminate Credit Card Processing Fees
Businesses can Accept Credit Cards for 0%
Pay 0% on all credit card transactions and only pay on debit card transactions. Our surcharging solution keeps you 100% Compliant, ready to accept credit cards without any equipment requirements. The surcharge passed onto your customers who choose to use a credit card, eliminating the credit card processing fees for businesses.
What is Credit Card Surcharging?
When businesses accept credit cards as a form of payment they pay processing fees associated with the transaction. As credit card processing fees increase businesses see a negative effect on their bottom line. Credit card surcharging is when a business passes on the fee of the credit card to the customer. 
Historically businesses build in the cost of credit cards to their pricing putting the customers who do not pay with a credit card at a disadvantage.
Many B2B and wholesale businesses add a fee to pay with credit cards not realizing that they need to follow the rules set by the card brands
Do you know a business that adds a fee when you pay with a credit card? With merchant processing fees rising many businesses are looking to add fees. Watch this video to learn the rules a business must follow in order to pass on the fee.
How does Credit Card Surcharging work?

When a customer chooses to pay with a credit card they also cover the fee allowing the business to receive 100% of the sale. If the product or service costs $100 the business receives $100.
Credit card surcharging is not as simple as adding a fee, in order for a business to surcharge they must follow the rules set by the card brands. Unfortunately, many businesses are not aware of these rules, not realizing they can be fined or terminated.
How does Debit Card Surcharging work?

When a customer chooses to pay with a debit card the businesses CANNOT pass on the fee. One of the rules set by the card brands is that you cannot surcharge on debit cards.
Next time a business tells you there is a fee for a credit card, ask them if they charge a fee for debit. If they do charge a fee for debit you know they don't have a compliant solution. Most merchant processors allow customers to run a debit card as a credit card, if the solution allows this there is no way for them to stay compliant.
Keep in mind this is not the only rule set by the card brands. Later in this page you will see the list of rules set by VISA, Mastercard and American Express.
What if my Customer doesn't want to pay a fee for credit card?
On average customers will pay with credit cards when presented with the option. Most customers pay with credit cards because they earn points and rewards, not because they cannot afford your product or service. Credit cards with higher points and rewards cost the business more in fees, reducing their profit margin.
"There's no fee for debit"
Tell the customer there is no fee for debit cards! It is not compliant for businesses to charge a fee when customers pay with a debit card. Our 100% compliant solution detects when the customer pays with debit and doesn't charge the fee. When the customer pays with personal debit the business pays 1% and $0.25 per transaction. Which is much less than they would otherwise pay.
This eliminates the risk of customers paying with credit cards, just to get points.
What if the business doesn't want to pay a fee to accept debit cards?
Businesses can opt-out of accepting debit so that their customers can only pay with a credit card. By doing this the business processes unlimited credit cards paying zero cost in processing fees.
Ways to Accept Credit Card Payments
Taking credit cards via mobile phone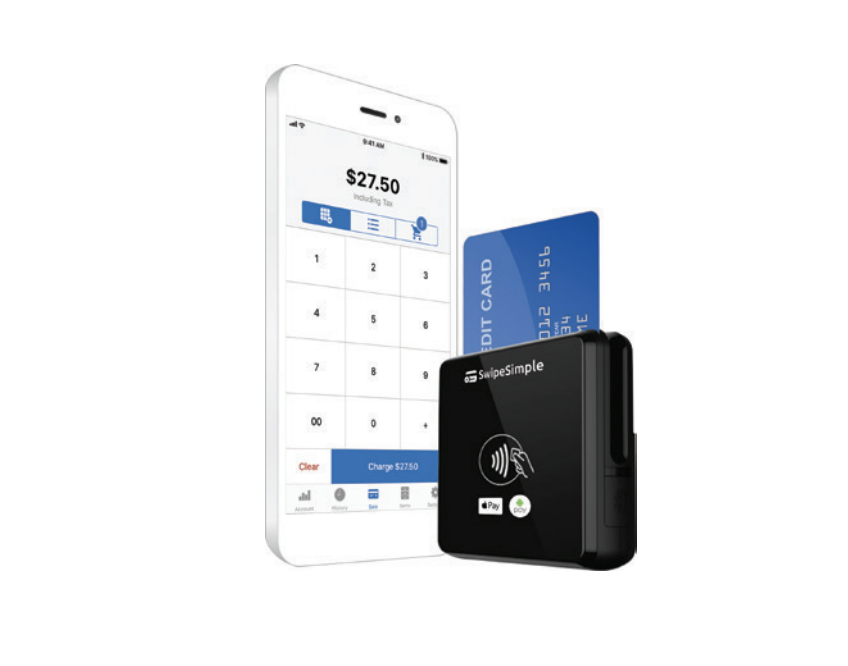 Accept Mobile Payments on the go
One of the easiest ways for small businesses to accept credit cards on the go. Accept secure payments with any iPhone (IOS) or Android device.
Accept contactless or magnetic stripe payments as well as EMV Quick Chips from anywhere.
Accept Offline Payments: Offline mode allows your business to accept payments when a wireless connection isn't available.
Mobile Phone Payment solution is compatible with most IOS and Android phones and tablets.
Taking credit cards via Hosted Payment Page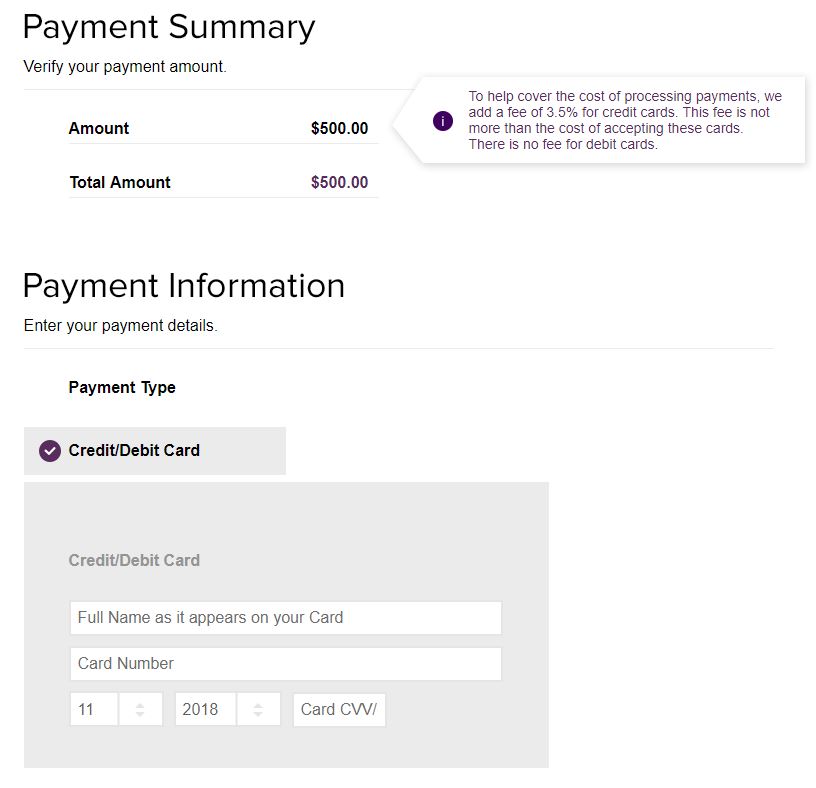 Accept Online Payments through a hosted payment checkout
Compliant Credit Card surcharging hosted payment page notifies customers of the fee for a credit card while giving them a no-fee option of debit. Allowing your business to pay zero card fees to accept online payments while staying 100% compliant for surcharging.
Insert a link into your invoices that take customers to your own dedicated hosted payment checkout.
Integrate with Pay by Check ACH services
Easily integrate links within your Intuit QuickBooks to eliminate the cost of credit card fees.
Add a payment portal directly to your website where customers can go to pay their bills.
Include customized fields such as Invoice and customer number to improve reporting features.
Omnichannel processing solution for all ways businesses accept credit cards
You must follow the rules of the card brands in order to add a fee for credit card
What happens if I don't follow the rules?
Non-compliance can result in termination or fines.
Credit Card Surcharging Rules - Watch Video
What are the rules businesses must follow in order to set up a compliant surcharging solution? This video goes over the rules set by the visa and other card brands to pass on the credit card fee to the customers.  
Is a Cash Discount Program Compliant? - Watch Video
Some businesses offer cash discount programs as an alternative to surcharging. In this video, you can learn why most cash discount programs are not compliant and the rules you need to follow in order to set up a compliant cash discount program.
Schedule a Demo to see how Zero Cost Credit Card Processing works
Free Merchant Processing Fee Savings Analysis
Let's see how much we can save your business in merchant processing fees. We have a wide range of processing solutions and in some cases can eliminate the fees you pay to process credit cards.
Our Quickbooks Zero Cost Credit Card Processing Integration allows you to Keep using QuickBooks while paying 0% to process credit cards. Our Simple to use surcharging solution allows you to eliminate processing fees by passing on the fees and maintaining compliance.
Merchant Service Referral Program
Earn residual income by referring over businesses that sign up with BNC Finance. Its easy we do a free merchant savings analysis and if they sign up you earn income month over month. 
All Merchant Service Solutions
A wide range of omnichannel processing solutions. Allowing customized integration for all ways of taking payments.