Construction Drone Applications
Drones started as a weapon for the military. Slowly, they found their way into civilian life and now serve various purposes– from delivering packages to recreational use and even as an excellent tool for construction companies. Construction workers and engineers have devised very creative ways to put drones to fair use in construction, and so far, they have been doing wonders. Drones are used on construction sites for many reasons. The key applications of Construction Drones are providing precise data for progress tracking, site planning, quality control, bidding processes, and more.
Read on and determine how such technology creates an impact on the improvement, communication, and management of construction projects.
Table of contents
Modeling
Drone modeling in construction involves using drones to capture data such as images, video, and sensor readings from construction sites, which is then processed using specialized software to create accurate and detailed 3D models. These models can be used for a wide range of applications in construction, including design, planning, monitoring, and maintenance. Using drones for construction modeling provides many advantages over traditional surveying methods, including faster data collection, greater accuracy, and the ability to capture data from hard-to-reach areas.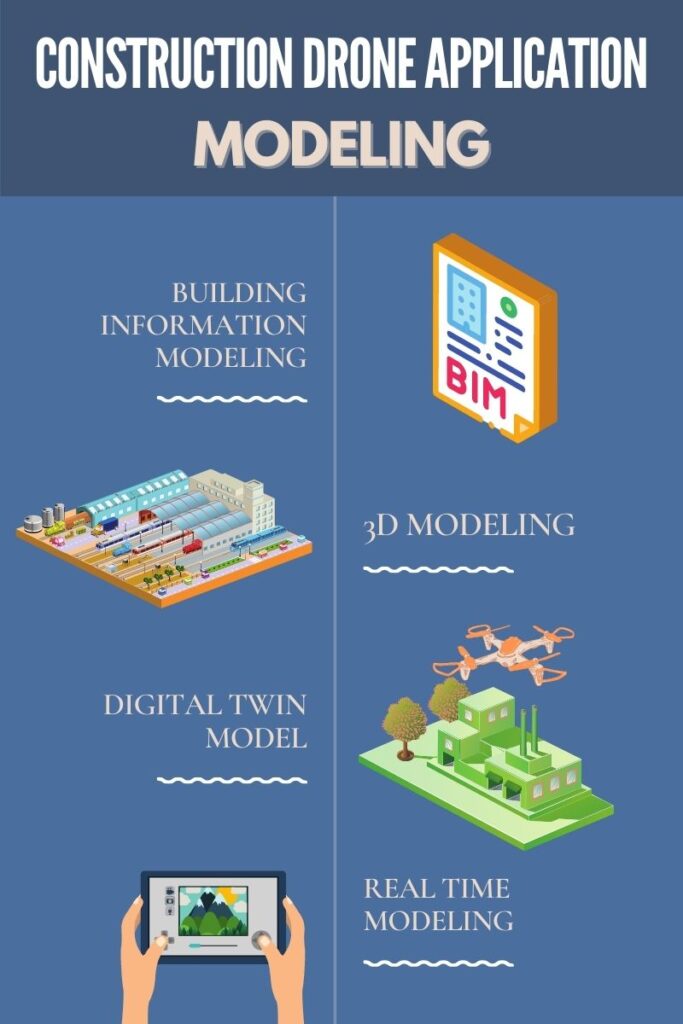 Building Information Modeling
Building information modeling (BIM) is a process that allows everyone involved with the construction (architects, real estate developers, plumbers, elections, etc.) detailed information about the project throughout all stages. Drones play a crucial role in gathering this information for this model.

Building Information Modelling is an essential task in construction work. The entire building's model may be required to develop a roadmap for workers, making it easy with drones' help. The drone is able to capture accurate positions of the georeferenced data, which can be further used for essential simulations. Those simulations may further help the construction workers in the building process, as they will construct more precisely.
3D Modeling
The use of 3D models makes it very feasible for construction workers to keep track of progress. They can compare the new models with the past models to properly comprehend the development and predict the additional time required to construct the building. The models may also be compared to the built blueprints, as it is essential to check if nothing is off proportion and everything is precisely the way it should be.

Using a drone to create a 3D model allows people to virtually view the construction site, pinpoint safety hazards, compare the completed work against the original design documents, and envision what the project will look like once completed.
Digital Twin Model
Drones can also be used to create digital twins. A digital twin is a complex, constantly-updated, virtual model to the actual physical thing or environment. This will help stakeholders or public officials visualize the project site to validate things are up to code, run analysis to predict potential faults, and essentially troubleshoot from afar- ultimately improving customer satisfaction.

Real Time Modeling
Many projects entail creating a frequently updated digital model that recreates the current status of the actual build. This can be not easy to do given how quickly projects progress and the intricacy of measurement needed. However, drones can leverage things like geo-positioning and LiDAR to create accurate, timely models of a project's progression. This can be valuable for communicating with clients or even within members of the team.

Volumetric Calculations
Drone volumetric calculations in construction involve using drones to capture data such as images, video, and sensor readings of construction sites. This is then processed using specialized software to calculate the volume of materials such as soil, rock, or gravel. These calculations are used for various purposes, including determining the material needed for a project, estimating costs, and ensuring compliance with regulations. Using drones for volumetric calculations provides many advantages over traditional methods, including faster data collection, greater accuracy, and the ability to capture data from hard-to-reach areas.
Inspections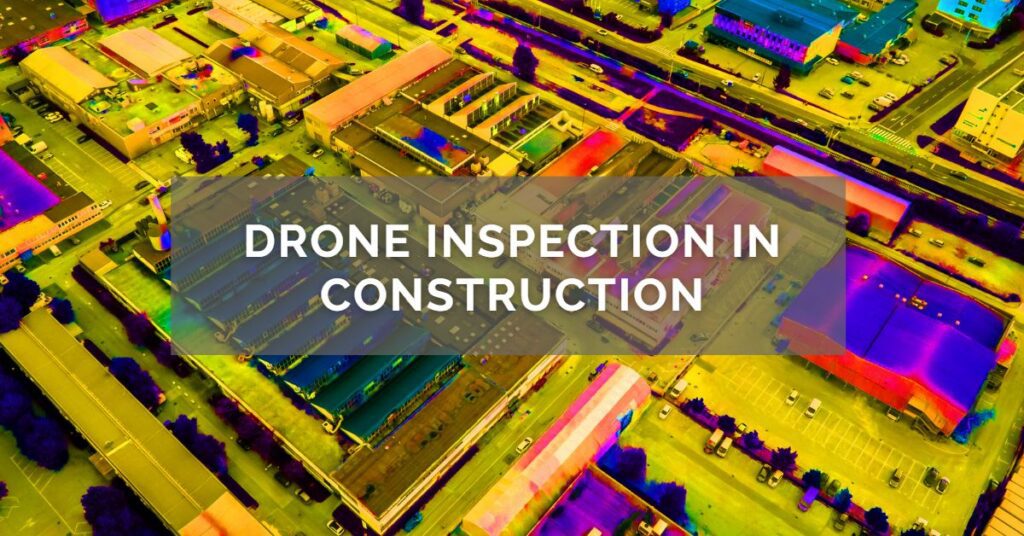 Drone inspections in construction involve using drones equipped with cameras and sensors to inspect various aspects of a construction site. This can include inspecting structures, rooftops, and building facades for defects, damage, and wear and tear. The data collected by drones during inspections is processed using specialized software to generate detailed reports, identify issues, and provide recommendations for repairs or maintenance. Drone inspections are faster, safer, and more cost effective than traditional inspection methods. They can provide a more comprehensive view of a construction site, allowing for early detection of issues and preventative maintenance.
Types of Inspections
Structural inspections: Drones can inspect various structures for damage, defects, and wear and tear. This can include buildings, bridges, tunnels, dams, and other infrastructure. Structural inspections can detect issues such as cracks, corrosion, and deformation.
Site inspections: Drones can conduct site inspections to monitor construction progress, identify safety hazards, and ensure compliance with regulations. Site inspections can include surveys of land, utilities, and other features on the construction site.
Topographical surveys: Drones can capture data to create topographical surveys of construction sites, including terrain, elevation, and other features. This information can be used for site planning, design, and earthworks.
Thermal inspections: Drones with thermal cameras can inspect buildings and other structures to detect heat loss, insulation issues, and other energy inefficiencies.
Pipeline inspections: Drones can inspect pipelines for leaks, corrosion, and other defects. This can include oil and gas pipelines, water pipelines, and other types of pipelines. Drones can also identify encroachment or damage to the pipeline right-of-way.
Wind turbine inspections: Drones can inspect wind turbines for damage and wear and tear. This can include inspecting blades, towers, and other turbine components.
Solar panel inspections: Drones can inspect solar panels for damage and wear and tear. This can include identifying broken or damaged panels and inspecting wiring and connections.
Roof inspections: Drones can inspect roofs for damage and wear and tear. This can include identifying leaks, cracks, and other issues, as well as inspecting gutters and other components of the roof.
Masonry inspections: Drones can inspect masonry structures, such as brick buildings, for damage and wear and tear. This can include identifying cracks and other issues in the mortar and bricks.
Concrete inspections: Drones can inspect concrete structures, such as bridges and buildings, for damage and wear and tear. This can include identifying cracks, spalling, and other issues in the concrete.
Steel inspections: Drones can inspect steel structures, such as bridges and towers, for damage and wear and tear. This can include identifying corrosion, deformation, and other issues in the steel.
Timber inspections: Drones can inspect timber structures, such as bridges and buildings, for damage and wear and tear. This can include identifying rot, decay, and other issues in the timber.
Electrical inspections: Drones can inspect electrical infrastructure, such as power lines and substations, for damage and wear and tear. This can include identifying broken or damaged components and inspecting wiring and connections.
Safety
Construction sites have many jobs that can be dangerous if a mistake is made. You can use drones in some cases to replace the need for a person to do a potentially dangerous job. While drones can't do everything, they can measure large heights or unsteady objects. You can also use them for assessing potential safety concerns in an overview of the site.
Health & Safety Introductions
Health and Safety introductions can be done in real-time and risks can be shown by using a drone. Through this, site managers can induct moving vehicles, cranes, or active excavation areas, to name a few. Each demonstration would specifically outline the risk relevant to that site and, in return, reduce injury or accident risk.
Maintenance Checkups
High-up structures include roofs, towers, bridges, and scaffolding. Either the planned or reactive maintenance inspections on these can often result in costly access arrangements and site personnel working at height. Reducing risk and cost, an easier and quicker way of inspections can be made possible with the aid of a drone.
Security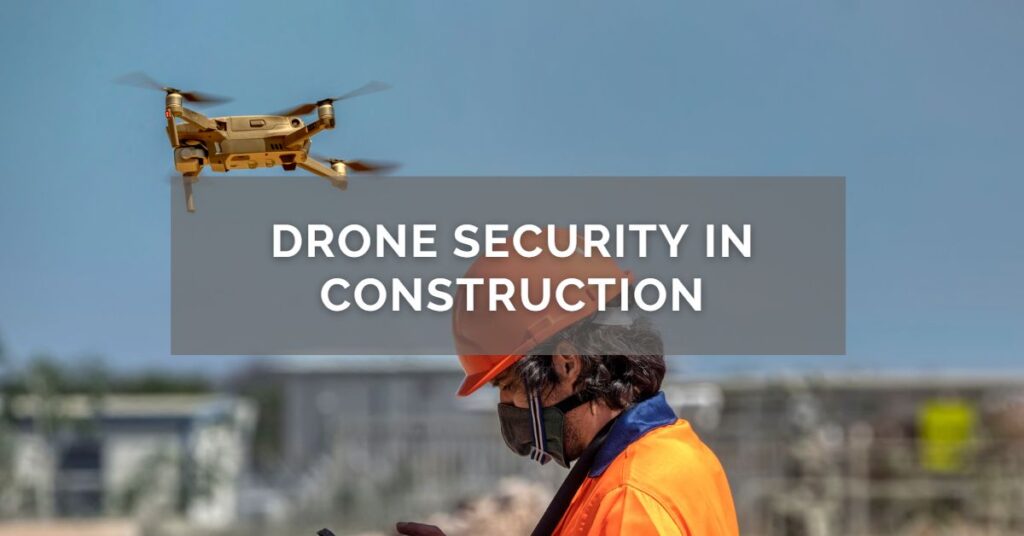 Theft from worksites is a major issue in the construction industry. Every site has hundreds to thousands of pieces of valuable equipment. Drones can be an important tool to help monitor equipment. Drone flyovers can document equipment while also determining if any unauthorized people are on the worksite. It prevents an added bit of security and loss prevention.
Asset Survelliance
Construction sites have loads of moving parts- there's always hardware, equipment, and many other assets dispersed throughout the site. Drones can reduce the chances of theft and even keep workers safe.
Stationary cameras don't provide the versatility that aerial drones do. The video or photos are often grainy and only capture certain angles. When you use a drone, you can document all worksite angles in high-resolution images and videos. Allowing you to monitor the site conditions on a day-to-day basis and quickly check for all your assets. It also allows you to survey dangerous areas, keeping your workers safe and reducing the chances of accidents.
Job Progress Reports
Analyze the construction site developments to make sure they are on track with the project timeline. Monthly progress reports can be prepared by taking multiple photographs of various areas of the site. No longer do they need to be on the site daily to take pictures. This allows project stakeholders to have better insights into the project's progress.
Marketing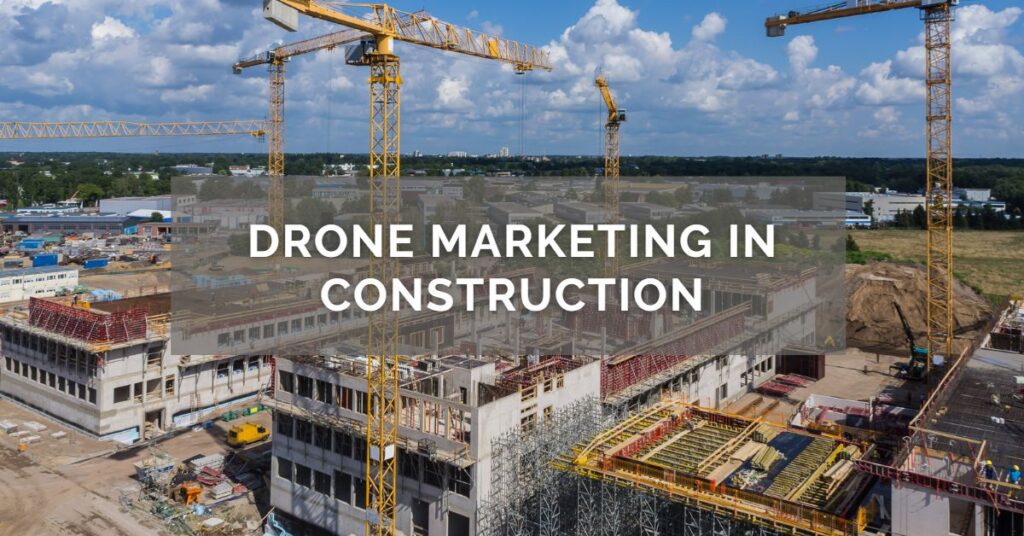 Presenting impressive photographs makes great marketing material. It is essential in promoting the business, especially via social media. This can be done as drones can capture 4K HD photos and videos from different angles, covering the real scale and size of projects.
Live Virtual Streaming
Real-time updates are needed when carrying out high-risk work onsite. The good thing is that Utilizing First Person View (FPV) technology with using VR glasses (optional enhancement), allows a drone camera to stream real-time HD footage to the project stakeholders or project team.
Site Logistics
With the ever-changing movements on construction sites, drones can deliver real-time updates of potential issues and risks. This lets key decision-makers to always be informed on the developments.
Laser Scanning
Accessing a suitable location can be difficult for a surveyor. Through laser scanning from drones, crucial information such as exact detail of topography, cityscapes, and buildings can be captured.
Thermal Imaging Documentation
Engineers and surveyors record aerial thermal imaging to measure potential heat spots and cold spots for identifying and repairing building defects.
Project Mapping
When working with larger projects, it is essential to have a good concept of the terrain involved. However, the surveying process can be a bit time-consuming. Drones are increasingly being used to survey a large area in a fraction of the time it would take traditional methods. As drones have developed to provide even more high-resolution photos, the ability to turn these into 3D terrain models and volumetric measures has become a reality.
Land Surveying
This is one of the most popular uses of drones in construction. Sending a drone to survey a plot is much quicker than doing it by land- typically, it can happen in a couple of hours or less. Not only is it quicker, but by using a drone, you will also reduce the labor and cost, and capture highly accurate data that's not subject to human error.
Surveying the land by drones is also an excellent way to help in the bidding process. Spend less time and money gathering information before you put in your best bid.
Final Thoughts
Technology is rapidly changing the construction industry with drones a prime example of this. They are an effective way to achieve greater efficiency, safety, and cost savings. Understanding the types of drones available and their utility in construction can help companies decide whether to incorporate a drone as a tool for their work. As time passes, more innovation and creativity will be added to drone technology, changing construction companies' entire working methodology.
Drones are an excellent way to bring in more revenue for your construction business and make your job more efficient. If you're ready to take your business to the next level and want to purchase a drone, we offer commercial drone financing and leasing options. Please find out more about how to qualify for commercial drone financing & leasing.