Omnichannel provides various ways for customers to order, pay, and receive their meals while ensuring a consistent experience. The general goal of Omnichannel is the increased engagement of customers through innovative technology. Such technologies include harnessing secure payment processing through mobile apps, tabletop menus, and self serve kiosks. Omnichannel gives customers a wide range of payment options, allowing them to pay with the preferred method of their choice.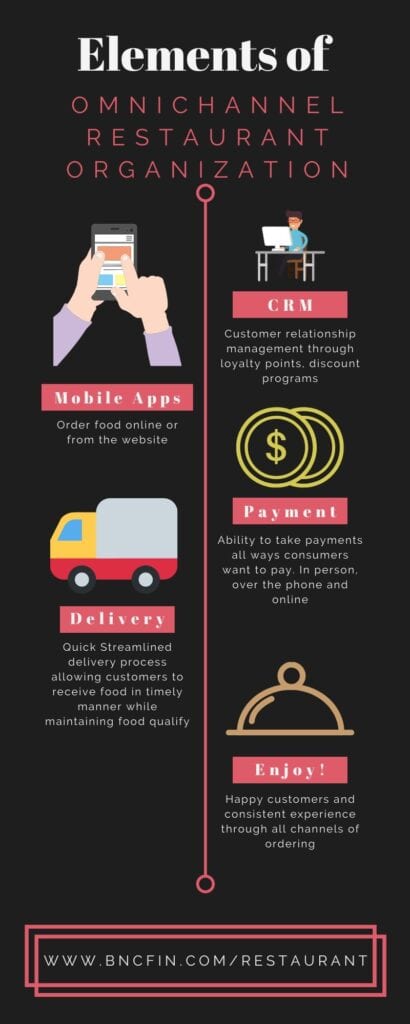 History of OmniChannel in the Restaurant & Food Service Industry
The utilization of Omnichannel gained importance after the development of meal kit services. Meal Kit services offered another strategy that allows customers to skip lines, save them time, and have a more predictable workflow in the restaurant. The adaptation of meal kit services increased the importance of delivery services and omnichannel processing solutions.
Why is OmniChannel important for Restaurant & Food Service Related Businesses?
The importance of Omnichannel is highlighted in the needs of restaurants to capture and retain their customers. This is done by understanding customer's needs, then turning them into loyal customers by satisfying their needs, such as speed, convenience, and consistency.
Importance of OmniChannel
Meeting customer needs
Capture new customers
Retain existing customers
Increase return on investment per customer
How restaurants handle customers is the basis of a restaurant's success, and Omnichannel allows them to have better relationships with their target market.
How to Create an OmniChannel Restaurant Organization
The strategy of harnessing Omnichannel technologies is essential in the growth of today's restaurants. The first step in creating an omnichannel restaurant is to implement effective technologies:
Allow Customers to Pay in several ways
In-person payments
Over the phone payments
Online payments
Payments through mobile applications
Payments through restaurant kiosks
Reduction of time from order to pickup/delivery
Reduction of expenses from employee comopensation. No longer do you need to pay someone to ring up an order
Customers tend to order more food from kiosk than a person. They don't feel embarassed when ordering larger quantities.
Easily upsell orders by offering deals upon checkout. "Add a cookie for $1"
Increased flow of customers during peak times. Allows you to process more orders during lunch etc.
Takeout and delivery open up a new market for potential customers who are not looking to have the restaurant experience.
Customers who fear going out in public because of Covid 19 can still order food and eat it without being exposed to other people.
Some potential customers may not have time to go to a restaurant. Maybe they need to finish work.
Less costly to food service organization. No need to pay someone to take an order or wait on a table (keep in mind 3rd party delivery services charge a fee)
Example of OmniChannel Restaurant
An example of this technology is allowing customers to pay in several ways, such as in person, over the phone, mobile apps, and kiosks. Tabletop menus are also in trend, helping restaurants accelerate their service. For Delivery, restaurants must maintain food quality while utilizing brand packaging. Restaurants that implement mobile app for takeout should also have a curbside pickup option. Self serve kiosks can also be used with a convenient take out counter inside the restaurant. To effectively implement these various technologies, its best to use an all in one restaurant management solution.
Consistency is crucial to omnichannel success
In order to maintain consistency make sure to use an all in one restaurant management solution
Maintain the same level of service through all channels of ordering
Maintain consistency of food with delivery, pick up and dine in
Delivery must be quick and timely