How Commercial Drones are Revolutionizing Civil Engineering Business
With technological growth in commercial applications, drones are growing in several industries. From real estate to farming, drones are now present in industrial applications. Below are some of the ways commercial drone technology is fueling Civil Engineering Businesses. 
1. Improved Observation Capabilities
Unmanned aerial vehicles (UAVs) bring aid and save costs by accessing hard-to-reach locations by sending a full image or video to the logistics team. Real-time assets and hazards are both revealed in the overview perspective and 360-degree panoramas. The right kind of approach can then be prioritized.
Operators can share the footage with onsite personnel, in headquarters, as well as with subcontractors, while planners can do virtual meetings.
2. More Efficient Surveying
Drones provide surveillance with its features—hovering above sites, adjusting of the equipment remotely, while being equipped with sensors for measurement and transmission of data storage.
With global positioning's interest in Geographical Information Systems, GIS professionals provide an extensive variety of land-related services as well as producing topographic and hydrographic maps, flood insurance maps, among others, said a drone analyst.
The GIS leader Esri released a Drone2Map (D2M) application to fuel the growth of this technology in the workforce of the civil engineering industry. Creating professional imagery products are streamlined from D2M for analysis and visualization in ArcGIS. The data is then rendered in the online web service. For further processing, the data can be integrated into ArcGIS.
Such maps are detailed and textured that will be sent to cloud-based storage for authorized professionals. Meanwhile, stakeholders such as engineers, architects, contractors, and more can either have individual or group discussions about results, pricing, and planning.
3. Reduced Expenses
shortening the survey process over the UAV solutions support has to reduce monetary and time investment potential. Thus, productivity will be increased in carrying out more projects and working with a more qualitative dataset that will result in more thorough planning. In some cases, up to 60% cost savings were estimated over conventional survey techniques.
Innovating and evolving, drones deliver benefits to civil engineers and surveyors, contributing quality performance and lower costs as well to its customers.
Additional Benefits of Commercial Drone Surveillance
Here are some additional benefits of drone surveillance over traditional techniques
Limited Geographic Barriers
Without worrying about artificial or natural barriers to the sightlines, the drone operator can work at a remote distance.
High-quality Imagery
High-resolution images can be transmitted, printed, and shared with a variety of users. By using software, these can be turned into heatmaps and topographical maps, to name a few.
Reduced Safety Risk
The drone operator and ground & air personnel will not risk their safety.
Better for Environment
Battery-operated drones do not produce toxic fumes such as planes or helicopters may. 
In Conclusion
Soon, drones will dominate many construction engineering projects. Because of their versatility, practicality, ingenuity, and affordability. Drones are used for accelerating processes, facilitating quality inspections, assessing problems, and providing alternatives. All while reducing the burden on labor and enabling personnel allocation efficiency. Construction Drone Financing is a great alternative to acquire the construction drone you need.
Additional Construction and Drone Related Programs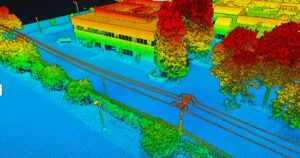 Harnessing the Power of Drone LiDAR for Land Surveying: Insights with Harrison Knoll with Harrison Knoll, CEO of Rock Robotic…