Part 137 Changes Impacting Agricultural Spray Drones
with Bryan Sanders, President of (HSE) UAV,
In an industry impacted by dynamic regulatory changes, Bryan Sanders, President of Homeland Surveillance & Electronics (HSE) UAV, brings valuable insight into agricultural spray drones.
Sanders discusses the major regulatory issues the industry is confronting, notably those affecting spray drones. He unpacks recent FAA regulation updates and explains their direct impact on the drone industry's growth and development within agriculture.
He also shares his predictions about potential regulatory shifts in the future while highlighting the innovations currently hindered by these regulations. Sanders provides a unique viewpoint on the accessibility of agricultural spray drones for farmers in light of these regulations.
This engaging conversation with Sanders offers an inside look at the implications of FAA regulations on the burgeoning agricultural drone industry.
What are the key regulatory issues the agricultural drone industry faces, particularly in spray drones?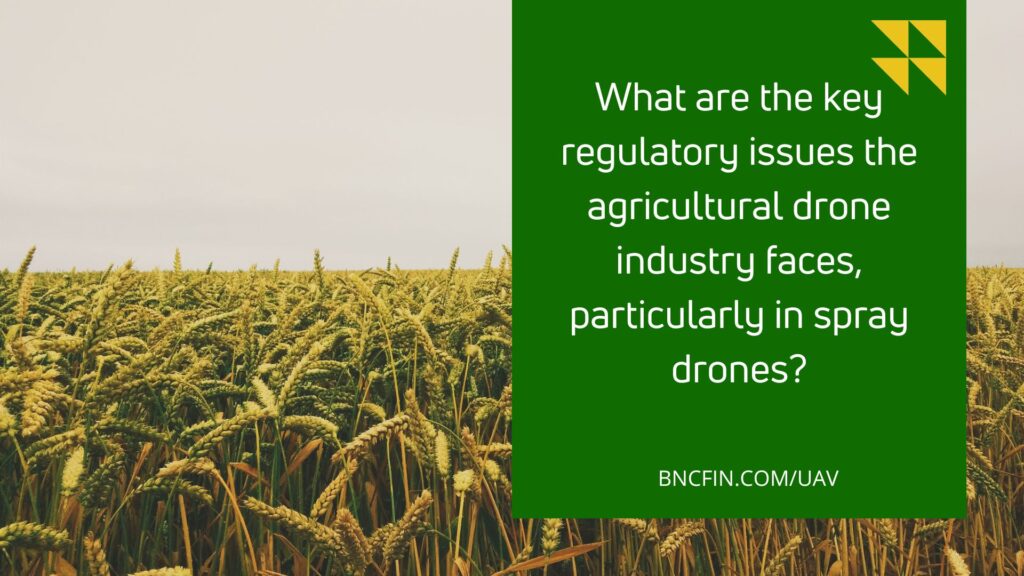 FAA Regulatory
An exemption is required, taking months & years for processing times.
Part 137 certification is required, taking 6+ months & years to complete
Aircraft Registration is continuously months behind
AMEs are deferring or refusing to issue medical certificates, "saving lives by denying"
The FAA is very slow to respond; other times, they never respond; it also isn't clear on organization, like who or which department is responsible for managing what processes, etc., or how requests get lost/misplaced/overlooked…
Until recent policy changes on 6/13/23- it's been like this all these years. 
And even still, FAA rules remain too restrictive. Also, based on manned operations, old rules/regulations & information, long drawn out processing times, approvals take extra paperwork, extreme constraints, etc.
For example- Over 55lb drone spraying ops require-
Relief from our Pilots wearing a harness in the cockpit since there isn't one
Relief from carrying aircraft registration in the glovebox since there isn't one
All ops must use a VO = requiring 2nd person besides the Pilot, making Unmanned operations now take 2 people instead of only 1 (but manned Ag Pilots can fly solo)
Every flight requires NOTAMs to be filed, reporting, etc. (But then Pilots are told not to "bother them" with filing NOTAMs for drone ops)
Over 55lb drones have to be registered the same as manned aircraft by paper mail, even though the FAA drone zone already allows for quick online registration.
The FAA, FSDOs, AMEs, and Aircraft Registry continue mixing up paperwork, making mistakes, misdirecting operators, miscommunicating policy, ignoring communications, not providing answers, etc.
Simple solution- The rules need updating to adjust & encompass unmanned aircraft operations.
State Regulatory
Some states (chemical applicators licensing) require specific labels for Drone applications instead of doing the math on existing aerial labels.
Most states require aerial licensing in addition to ground/core (even though some tractor sprayer booms spray higher than drones!)
Multiple states are requiring too many / even hundreds of hours before licensing, which isn't possible, or else only able to qualify if working with manned pilots, maybe reciprocal states (bad example Mississippi, good example California)
So far, the only state that created a drone applicator license is CA.
EPA Regulatory
Says they need more data to calculate aerial drone application rates/labels (which exist now)
State of Florida
Created a law taken from the Military's BlueUAS list that doesn't allow operating Chinese-made drones for all Public agencies (which severally hinders having much-needed unmanned operations)
Lobbyists / Politics
Negative response
Incorrect info sharing
For example- NAAA https://www.agaviation.org/ comments on drone exemption requests with inaccurate & incorrect, even outdated information.
FAA FSDOs pushback on processing certifications
FAA Airman Medical Examiners biased or uninformed
Resistance towards or non-acceptance of drone pilots
Have there been any recent updates or changes in regulations that impact the use of agricultural spray drones? Can you tell us more about them?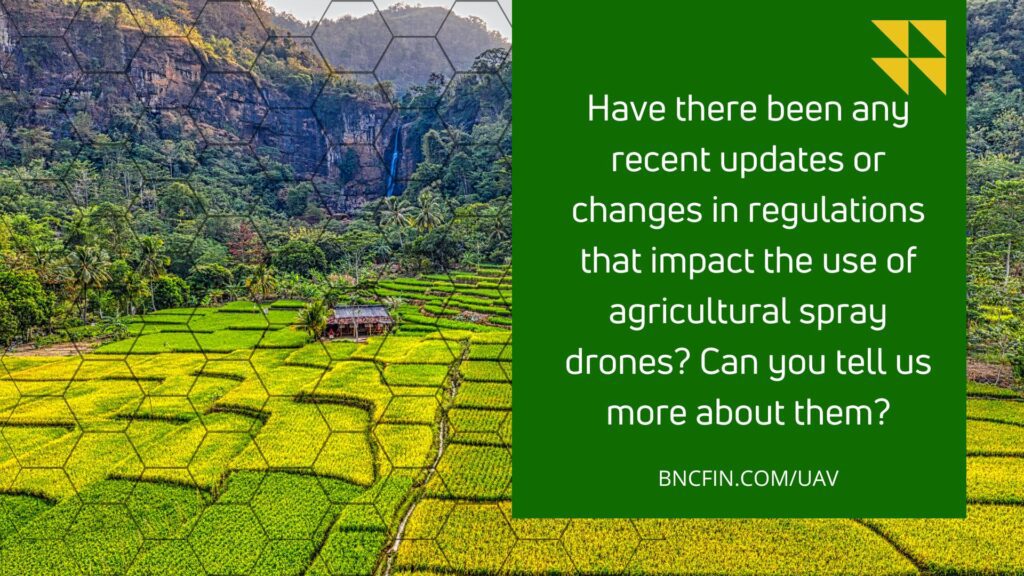 The FAA NEW policy made 4 changes: 
FAA QUOTE:
"The FAA has seen a significant increase in agricultural aircraft operator certificate applicants seeking to use UAS in agricultural aircraft operations under 14 CFR Part 137 and has approved hundreds of these requests with few incidents. Therefore, the FAA is shifting to a risk-based approach to streamline the certification process for certain lower-risk operators and explains the relevant changes to conditions and limitations in this document in the analysis that follows. These include the following changes: (1) the Part 137 certification process; (2) the documentation requirements; (3) the approved aircraft; and (4) updates to reflect FAA policy."
PART 137 CERTIFICATION PROCESS:
You can submit your application (form 8710-3) for the AAOC (Agricultural Aircraft Operator Certificate) to an email address, include your APPROVED Exemption #, and you basically self-certify. No more waitlist or check-ride.
FAA QUOTE:
"This streamlines the Part 137 UAS certification, which removes the requirement for the applicant to submit documents to the jurisdictional FSDO, removes UAS applicants from the CSOP list, and only requires the applicant to submit FAA Form 8710-3 and operator's exemption number to [email protected]"
(we still have customers that have been waiting anywhere between 10 months - 2 years for this certificate)
APPROVED AIRCRAFT
An approved exemption holder can operate Over 55lb spraying drones on this list! (see below link) Now we don't have to submit an amendment to the Exemption whenever we want to add an aircraft. Some of these amendments are still pending for almost 2 years.
https://www.regulations.gov/document/FAA-2023-1271-0001 (live version updated periodically under docket number FAA-2023-1271)
FAA QUOTE:
"As the operator is approved to use UAS that have previously been approved by the Secretary of Transportation under Section 44807, the operator is also approved to operate any UAS under this Exemption previously approved by the Secretary. This list, along with the approved weight, including payload, can be found on the List of Approved Agricultural UAS under Section 44807. The list, which will be updated periodically, is posted at www.regulations.gov, under docket number FAA-2023-1271." 

FAA
3RD CLASS MEDICAL
Only a 3rd class medical cert is required instead of a 2nd class!
FAA Quote:
"The FAA has determined that requiring a third-class medical certificate provides reasonable assurance that the Pilot does not have any physical or mental condition that would interfere with the safe operation of the UAS. The FAA notes that, while this marks a change from the conditions and limitations in Exemption, it is consistent with the FAA's policy as outlined in more recently issued exemptions; therefore, the FAA has revised Condition and Limitation No. 18 to reflect this updated requirement and also determined that relief from 14 CFR § 61.23(a)(2) is necessary. The FAA further notes that the PICs would continue to be prohibited from conducting flight operations during medical deficiency in accordance with 14 CFR § 61.53(a)."
DOCUMENT REQUIREMENTS
Specific sections they want to see within our manuals now.
FAA QUOTE:
"Although part 137 does not require an operations manual or training program, this policy change requires both for the part 137 UAS operator. The requirement mitigates safety concerns related to crew training and the streamlined UAS certification process now being implemented, as well as proper handling and stowage of hazardous materials (HAZMAT) and economic poisons."
How are these regulations affecting the growth and development of the drone industry in agriculture, especially spray drones?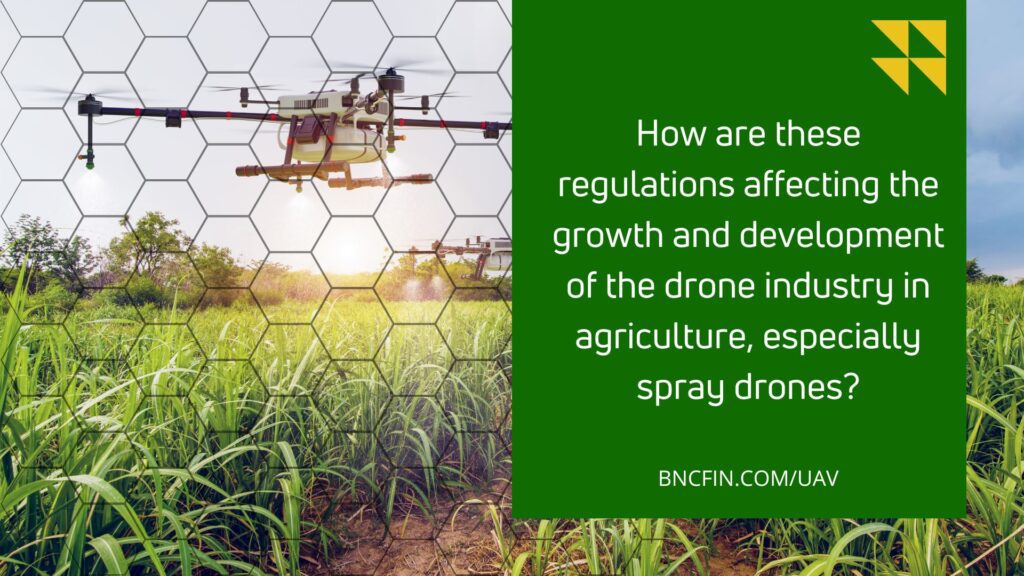 Reauthorization Act of 2018, but Policy change didn't update until 2023. Our federal govt agencies need to move faster for our economy, which is the fastest-growing sector within the DoT ever! The FAA needs to keep up quicker with the advanced tech or timeframes of advancing technology. Other countries have been spraying from drones for 10+ years, USA is finally starting to catch up.
Manned Ag Pilots either aren't available, or there need to be more of them to meet demand, costs are too expensive, areas are dangerous for them to reach, etc.
Farmers can't spray their fields in time for the next seasons.
Prohibiting yield increase that comes with utilizing drones
Precision Agriculture in crop health treatment is held up / delayed benefits.
Stakeholders' ROIs are severely pushed back due to long processing times.
Sales growth is lower due to regulatory setbacks.
What are your predictions for future regulatory changes in this sector? How will they impact the industry?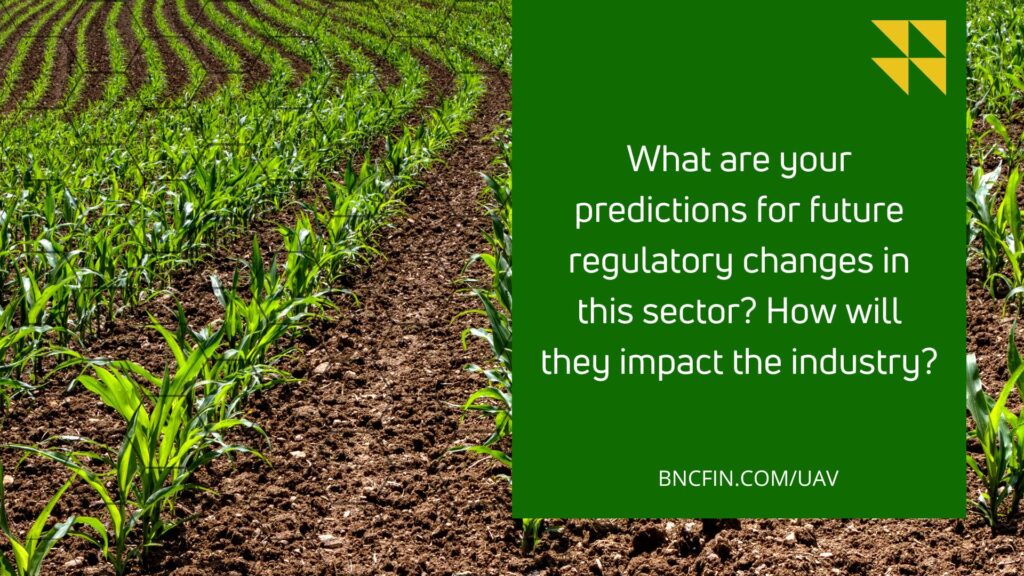 It's hard to predict based on the unusual actions the FAA has taken or not taken thus far. But if they'd rewrite Part 137 legislation to include unmanned aviation, that'd be the best way to advance this industry. Otherwise, an exemption from the laws will continue to be required. In which the FAA still takes months to issue new approvals. Or else they could change the weights & rules since Part 107 was randomly limited to 55lbs.
We'd expect all positive impacts once the FAA starts fairly & realistically allowing drone uses similar to manned counterparts since we're all aviation. But also because these are more safe operations with no human souls onboard. We've been spraying from planes & helicopters for over 100 years now…
What potential opportunities or innovations are being held back by these regulatory issues?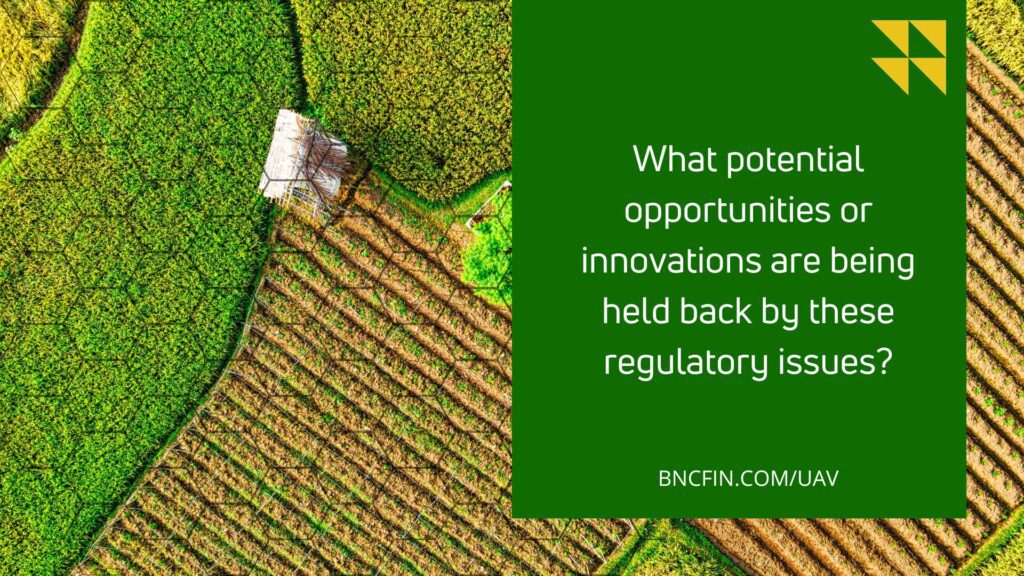 Night-Ops / Spraying at night
Considered precedent-setting
Still pending FIRST approval over 2+ years now
Part 107 allows drone ops at night.
Swarming
NOT precedent-setting, but the FAA has only allowed 1 company to be approved. Also, giving no reasons for not approving any others = monopolizing the industry
Ability to increase productive/efficient/effective aerial application
Part 107 allows for multiple aircraft operations.
Precision AG
Detect & identify disease, drought, infection, etc., early
Precise treatment of problem areas instead of all-over application
Cost savings on chemical & water
Saves money
Safer
Saves time
Increases yield
Decreases crop loss
Allows for additional planting areas
Utilize existing & advancing technology
These drones are fully-autonomous. With autopilots, flight control systems, collision avoidance, tried & true technology. Safety certified & approved, flying millions of hours.
How do these regulations impact the cost and accessibility of agricultural spray drones for farmers?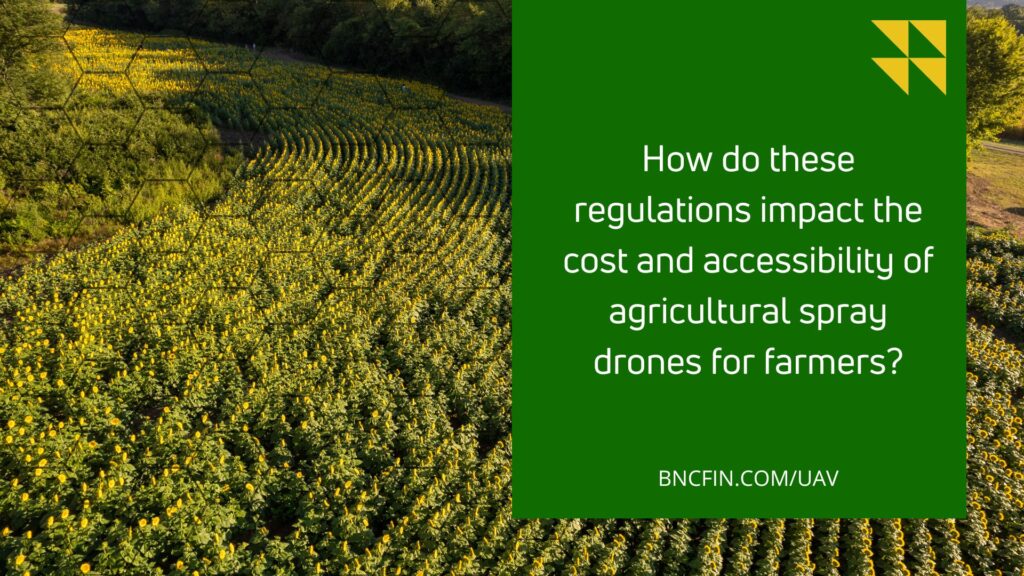 The current regulatory environment impacts farmers & growers in a few ways… navigating the complexities of the rules and regulations leave most farmers wanting to 'hire it out'... have someone else manage and submit all of the paperwork. That might cost the grower $2000+, which is hard-earned money that could be utilized elsewhere. The other folks might say "to heck with it" and fly without complying… this might save them a few grand up-front but exposes them to significant fines if caught by their local or federal regulators. In our experience, it is an added complexity, but it doesn't discourage growers from buying and implementing this technology. On the good side, the regulatory framework is creating opportunities for Custom Applicators or 'pilots for hire' who have gone through the necessary steps and can offer all of the benefits to growers without the hassle; there's a big shortage of these applicators given the demand.
FAA Part 137 Regulatory Changes Infographic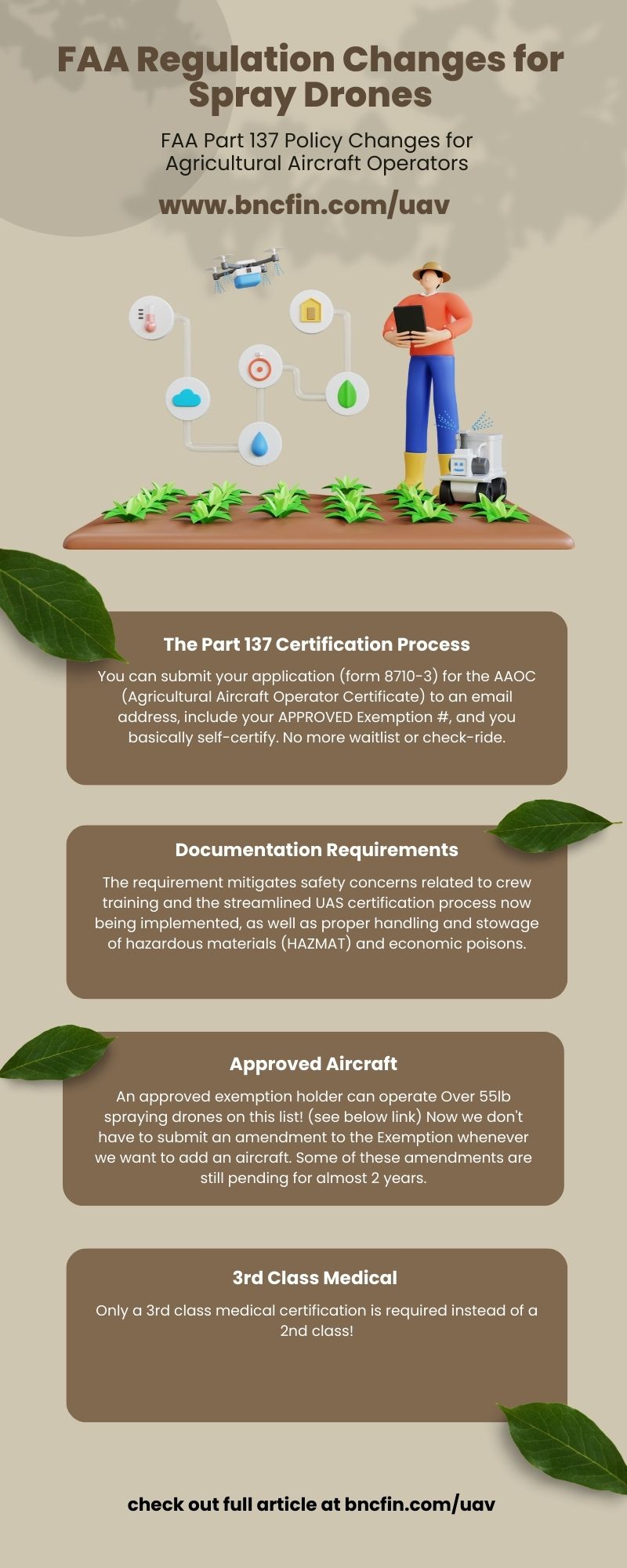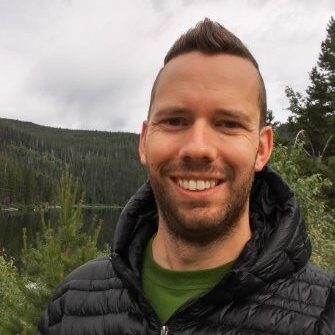 Bryan Sanders, President of HSE UAV
Drone Industry Newsletter
Newsletter for Commercial UAV dealers, manufacturers, and service providers covering industry-specific info
Drone Specific Financing Programs
Our Blog
Drone Related Articles you might be interested in....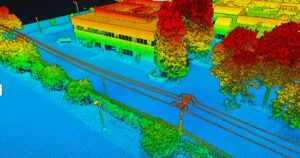 Harnessing the Power of Drone LiDAR for Land Surveying: Insights with Harrison Knoll with Harrison Knoll, CEO of Rock Robotic…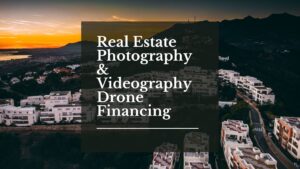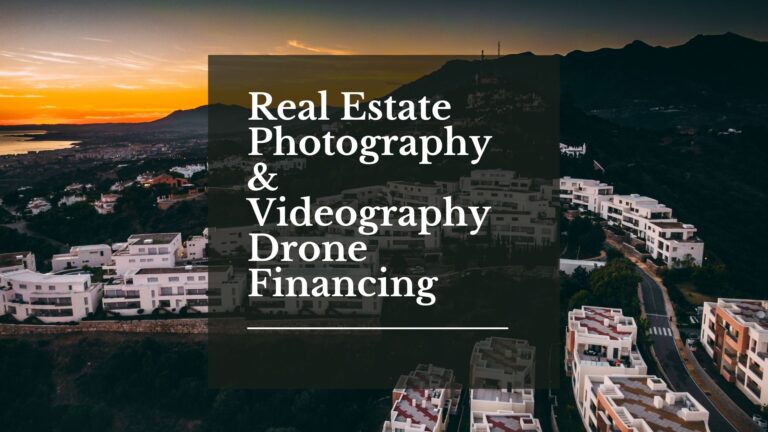 Real Estate Photography & Videography Drone Financing & Leasing Real estate agencies need high-quality photos and videos to market their…
Drone Industry Newsletter
Our newsletter provides valuable insights, news, and updates on drone regulations, technology advancements, and business developments in the industry.