There's something that all B2B merchants have in common: They want to get paid as easily and as effortlessly as possible. Easy payments can certainly be beneficial to your business: They increase sales, lower administrative costs, and positively impact cash flow. What's more, easy payment options provide a better customer experience, too. Everyone wins.
One of the big problems that B2B merchants encounter is that payment fees take a big bite out of their net margins. B2B merchants are always on the lookout for an effective way to optimize payment costs, and one option to explore is credit card surcharging.
What is Credit Card Surcharging?
When we talk about credit card surcharging, exactly what do we mean? Surcharging basically just means that you're splitting the credit card processing fee with your customer. So, anytime a customer decides to complete their transaction using a credit card, their total cost will increase by the amount of the processing fee that you've chosen to split with them.
As an important point of distinction, please note that, in both the U.S. and in Canada, surcharging is only permitted for credit cards, not debit cards. Legally, you actually can't surcharge customers who pay with debit cards, nor customers who use prepaid cards, gift cards, etc. However, all types of credit cards, including single-use cards, are eligible for surcharging.
It is also important to know that there are some state-specific guidelines that pertain to surcharging. Know the surcharging guidelines and restrictions in your state!
The bottom line: As you look for ways to make payments easy and cost-effective, both for you and for your customers, credit card surcharging represents one viable option.
Who's Surcharging?
Surcharging is a fairly popular idea, yet executing it can be hard to come by. In fact, the National Association of Credit Management claims that almost two-thirds of B2B merchants desire a viable credit card surcharging option, while just 15 percent actually have one in place. These B2B companies include manufacturers, suppliers, and wholesalers spanning many different industries.
---
---
Why B2Bs are Surcharging
There are two primary reasons why B2B companies are interested in surcharging.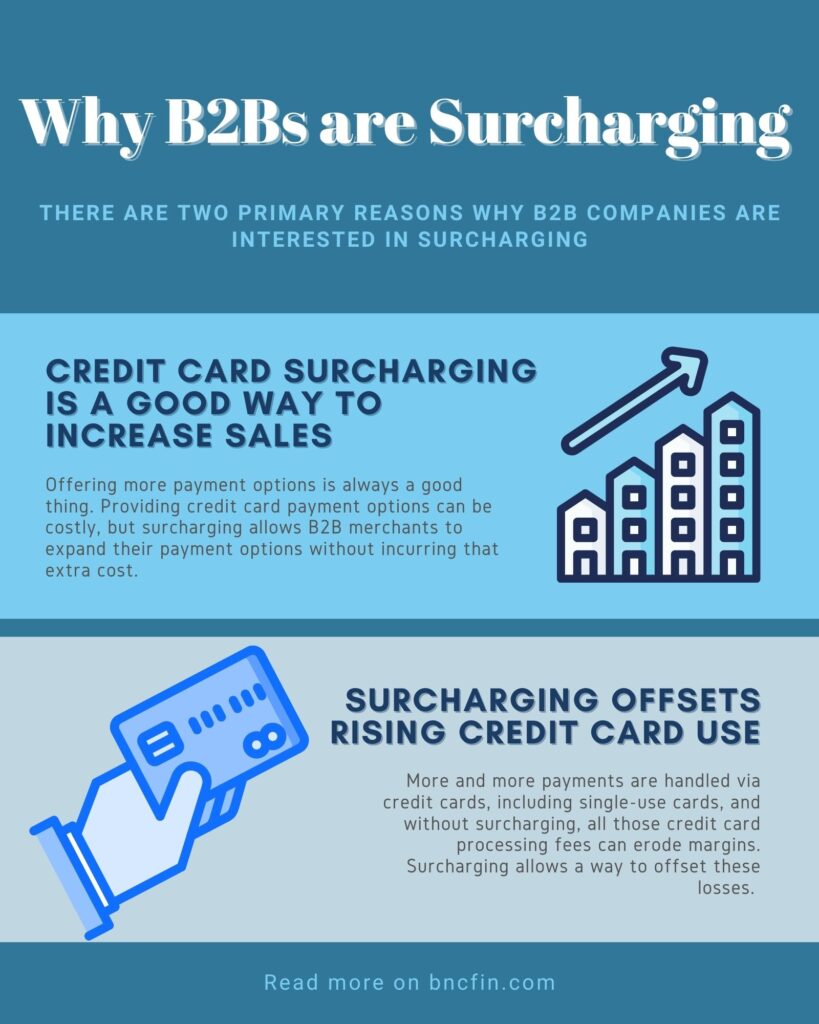 Credit card surcharging is a good way to increase sales. Simply put, giving customers more ways to pay is one of the most effective ways to increase sales. Offering more payment options is always a good thing. Providing credit card payment options can be costly, but surcharging allows B2B merchants to expand their payment options without incurring that extra cost.
Surcharging offsets rising credit card use. More and more payments are handled via credit cards, including single-use cards, and without surcharging, all those credit card processing fees can erode margins. Surcharging allows a way to offset these losses.
Is Credit Card Surcharging Right for You?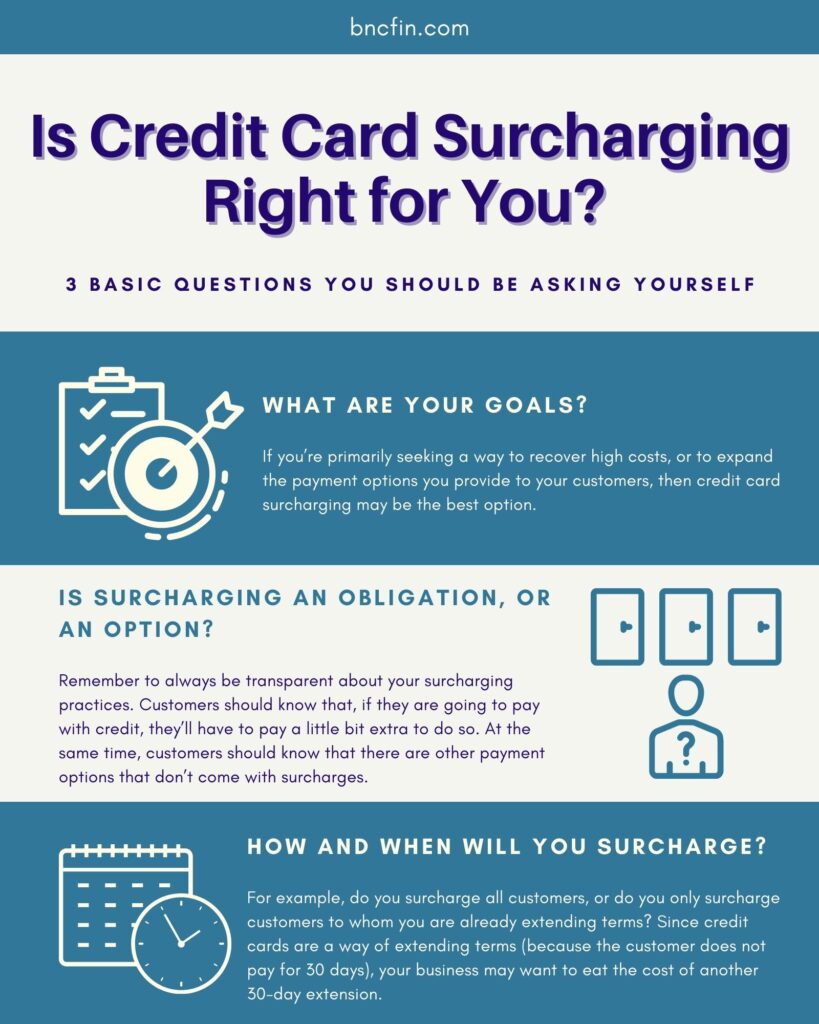 As you try to determine whether credit card surcharging is the best option for your B2B company, there are three basic questions you should be asking yourself.
What are your goals? If you're primarily seeking a way to recover high costs, or to expand the payment options you provide to your customers, then credit card surcharging may be the best option.
Is surcharging an obligation, or an option? Remember to always be transparent about your surcharging practices. Customers should know that, if they are going to pay with credit, they'll have to pay a little bit extra to do so. At the same time, customers should know that there are other payment options that don't come with surcharges.
How and when will you surcharge? For example, do you surcharge all customers, or do you only surcharge customers to whom you are already extending terms? Since credit cards are a way of extending terms (because the customer does not pay for 30 days), your business may want to eat the cost of another 30-day extension.
As you consider your options for recovering costs and providing easier payment options, keep credit card surcharging in mind. And with any questions, feel free to contact BNC Finance today.
Sign up for Compliant Surcharging