Digging crews just aren't complete without a backhoe. No matter the nature of your project, if it involves digging, you'll likely need a backhoe (also known as a rear actor or back actor) as part of your fleet. Simply put, backhoes are among the most versatile machines for excavation and for moving heavy debris.
One of the most cost-effective ways to get a new or used backhoe is through financing. At BNC Finance, we're pleased to provide a range of flexible backhoe financing solutions, making it easy for you to expand your fleet or upgrade your current equipment without breaking the bank.
Consider just a few of the reasons to choose backhoe financing from BNC Finance:
We don't require a down payment.

With financing, you can ensure predictable, manageable monthly payments.

We'll help you find financing solutions that fit your company's budget.

You can complete your backhoe financing application in just a few minutes.

At BNC Finance we provide competitive rates, flexible repayment terms, and quick funding options.
Backhoe financing from BNC is a smart alternative to depleting your business credit line, or to making a huge upfront payment. To find out more about backhoe financing, apply with BNC Finance today.
Prequalify for Backhoe Financing
Benefits of Financing a Backhoe
At BNC Finance, we're pleased to provide flexible financing options to help you get the construction equipment you need. This includes financing for digging and excavation equipment, including backhoes. Consider just a few of the benefits to choosing backhoe financing from BNC.
1) It allows you to jumpstart your productivity.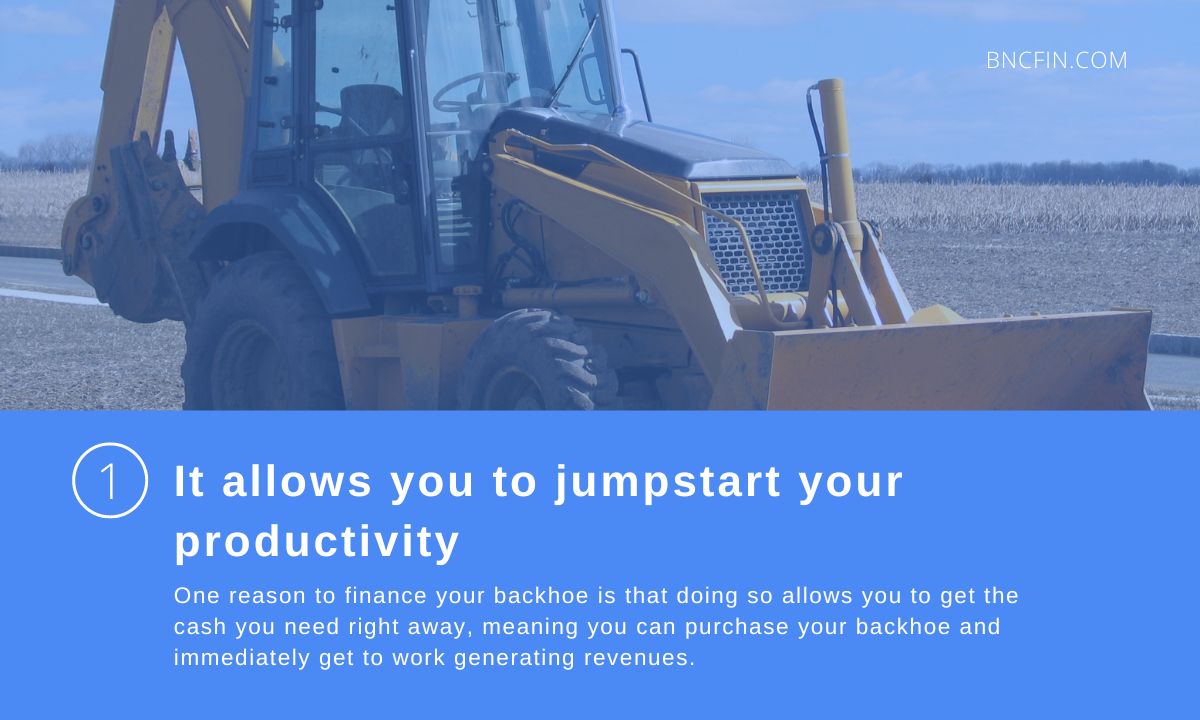 One reason to finance your backhoe is that doing so allows you to get the cash you need right away, meaning you can purchase your backhoe and immediately get to work generating revenues.
2) Financing allows you to conserve your resources.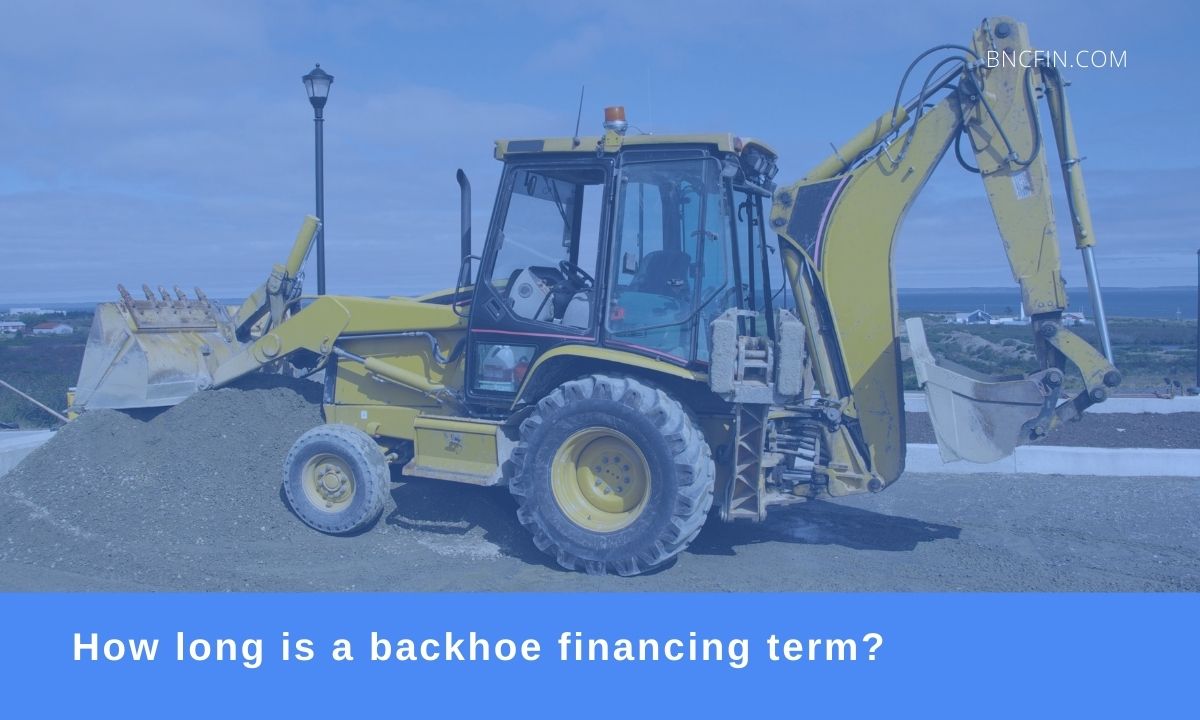 Running any kind of a business means dealing with recurring operating expenses, to say nothing of potential emergency costs. When you finance your backhoe, it allows you to conserve your resources rather than spending all your money at one time. This means more cash on hand for those recurring expenses and for other costs that might arise.
3) Financing with BNC means you can get custom service terms.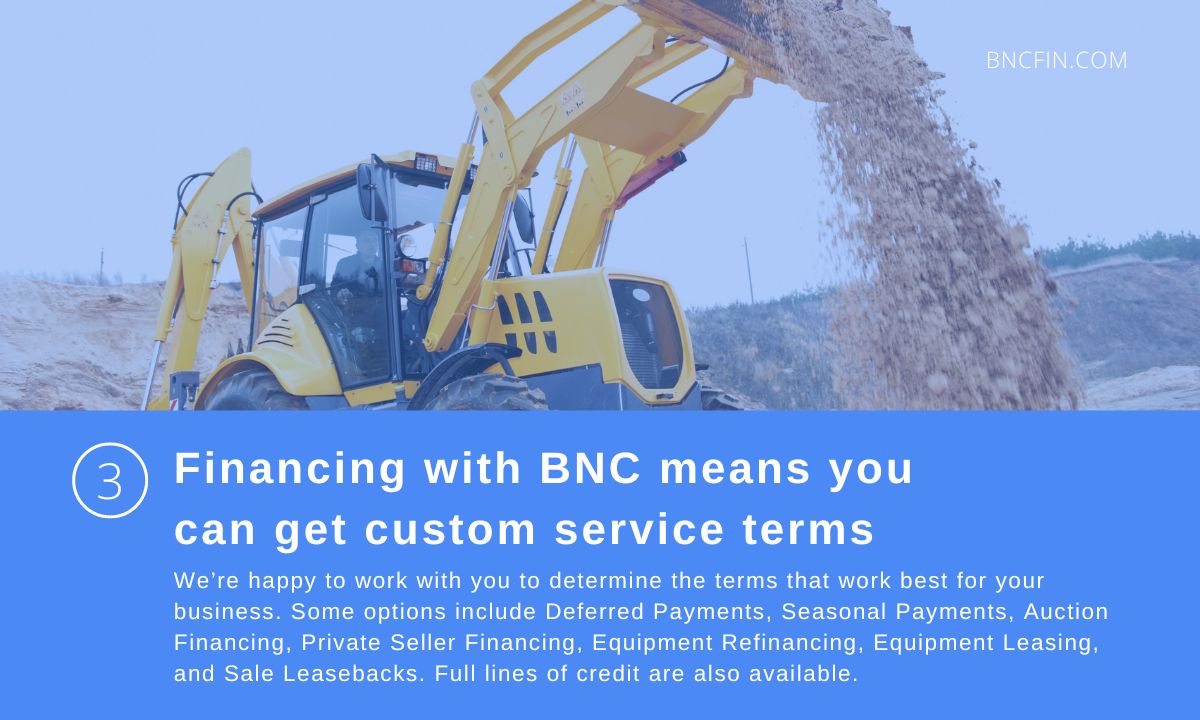 We're happy to work with you to determine the terms that work best for your business. Some options include Deferred Payments, Seasonal Payments, Auction Financing, Private Seller Financing, Equipment Refinancing, Equipment Leasing, and Sale Leasebacks. Full lines of credit are also available.
4) Financing offers a safeguard against inflation.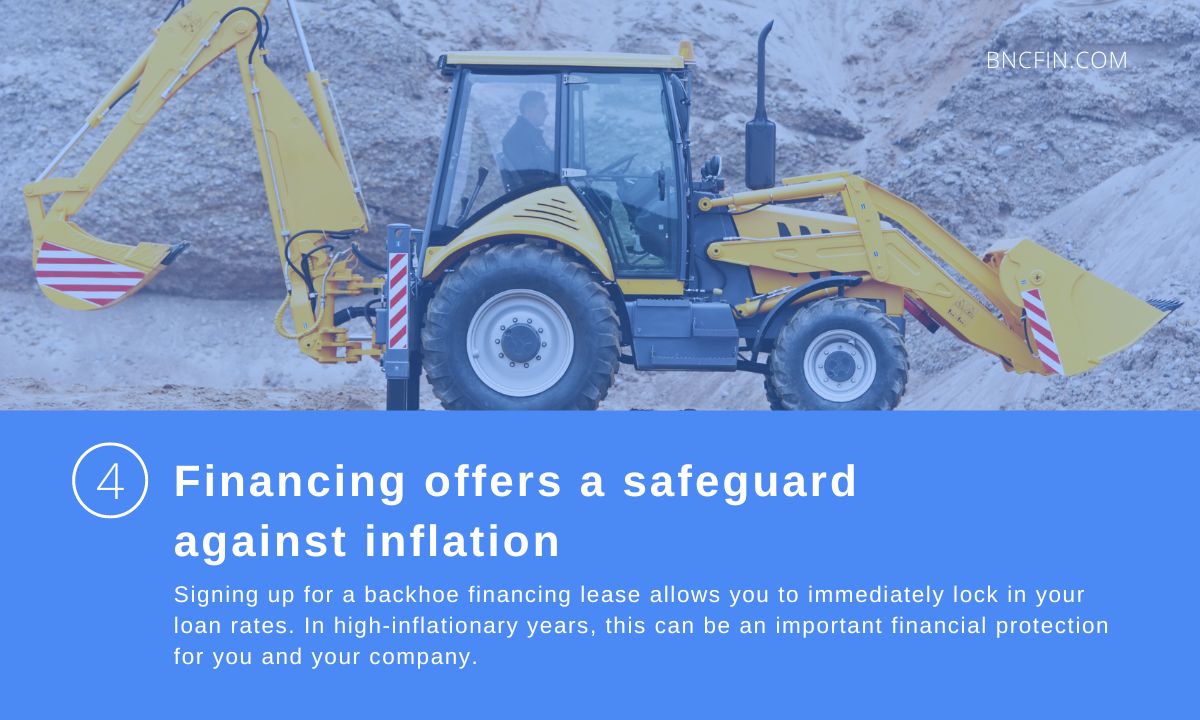 Signing up for a backhoe financing lease allows you to immediately lock in your loan rates. In high-inflationary years, this can be an important financial protection for you and your company.
5) At BNC Finance, you can bundle your financing solutions.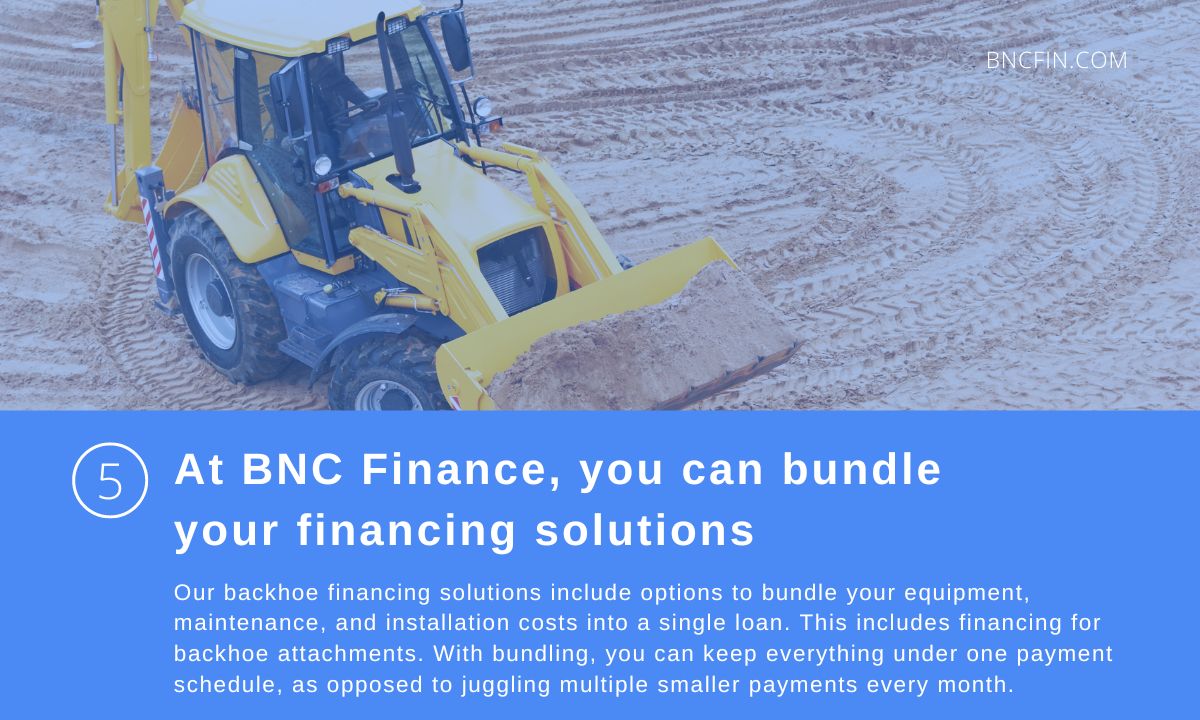 Our backhoe financing solutions include options to bundle your equipment, maintenance, and installation costs into a single loan. This includes financing for backhoe attachments. With bundling, you can keep everything under one payment schedule, as opposed to juggling multiple smaller payments every month.
6) Financing can help you generate a higher ROI.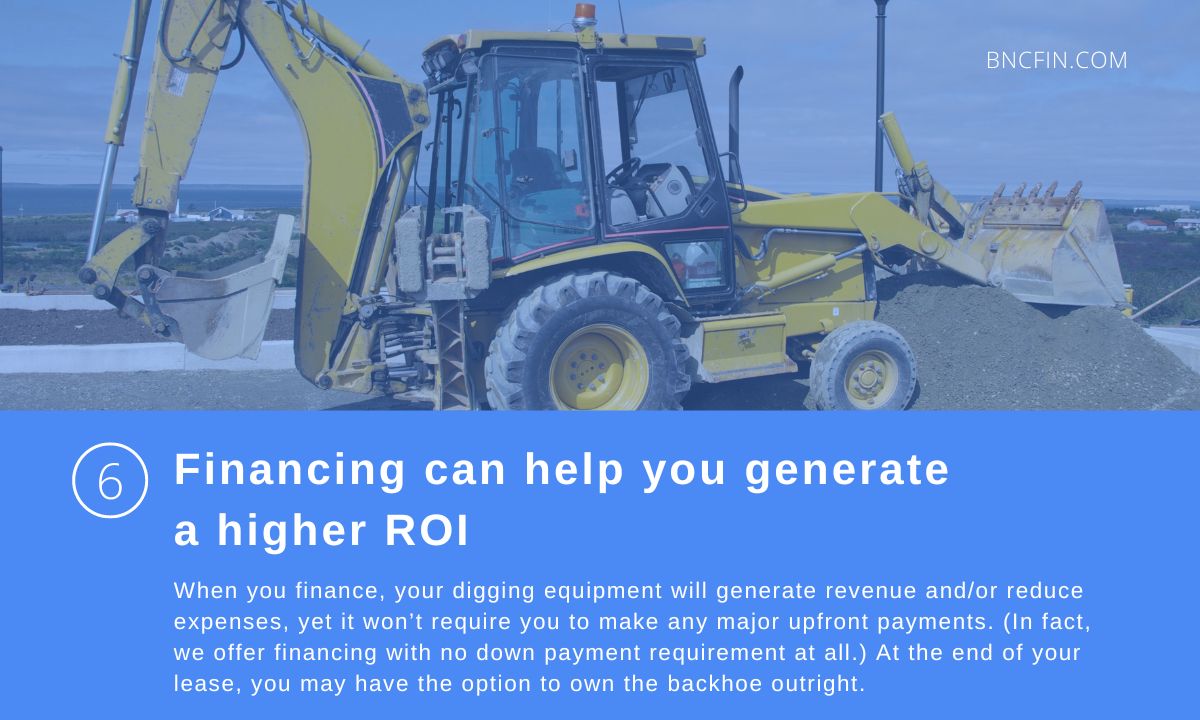 When you finance, your digging equipment will generate revenue and/or reduce expenses, yet it won't require you to make any major upfront payments. (In fact, we offer financing with no down payment requirement at all.) At the end of your lease, you may have the option to own the backhoe outright.
7) With financing, you can bolster your business credit.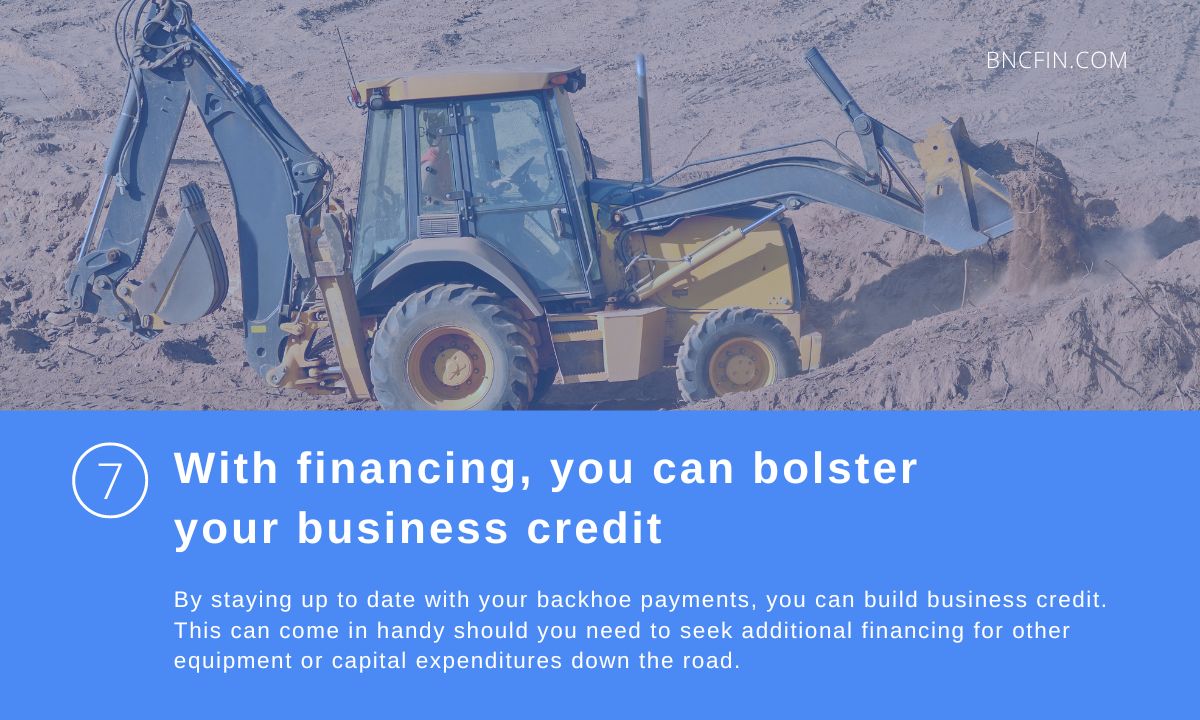 By staying up to date with your backhoe payments, you can build business credit. This can come in handy should you need to seek additional financing for other equipment or capital expenditures down the road.
8) Financing gives you greater access to current technology.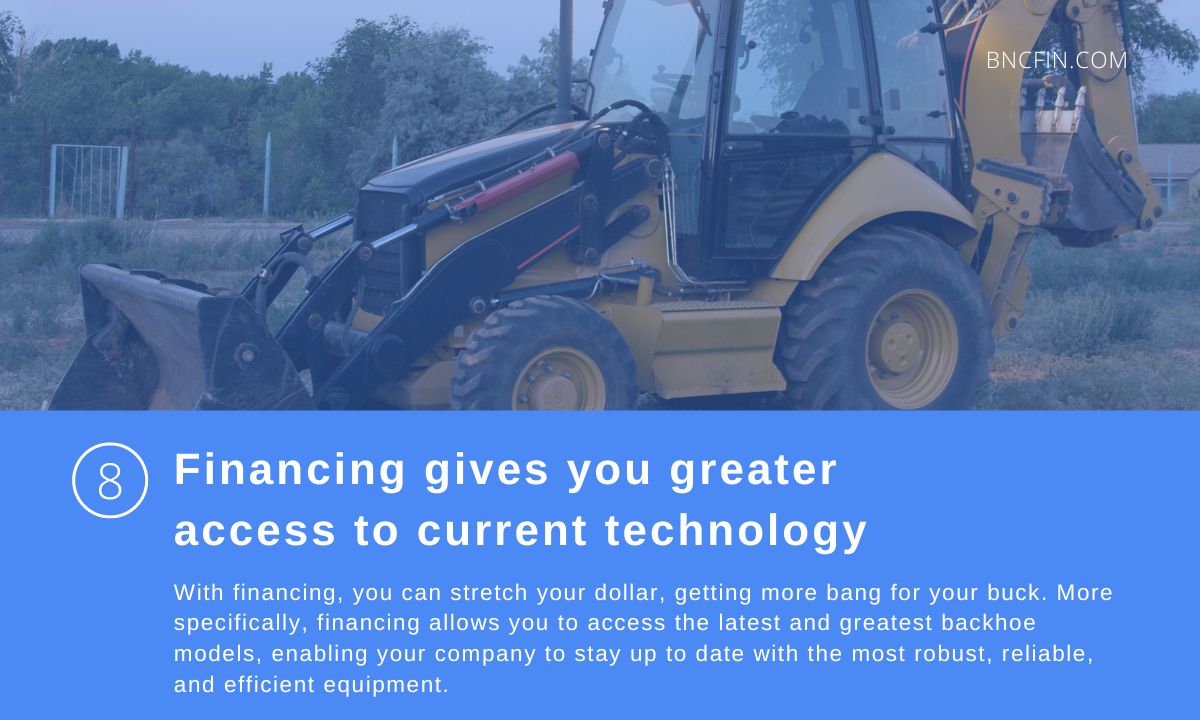 With financing, you can stretch your dollar, getting more bang for your buck. More specifically, financing allows you to access the latest and greatest backhoe models, enabling your company to stay up to date with the most robust, reliable, and efficient equipment.
9) With financing, you can claim potential tax deductions.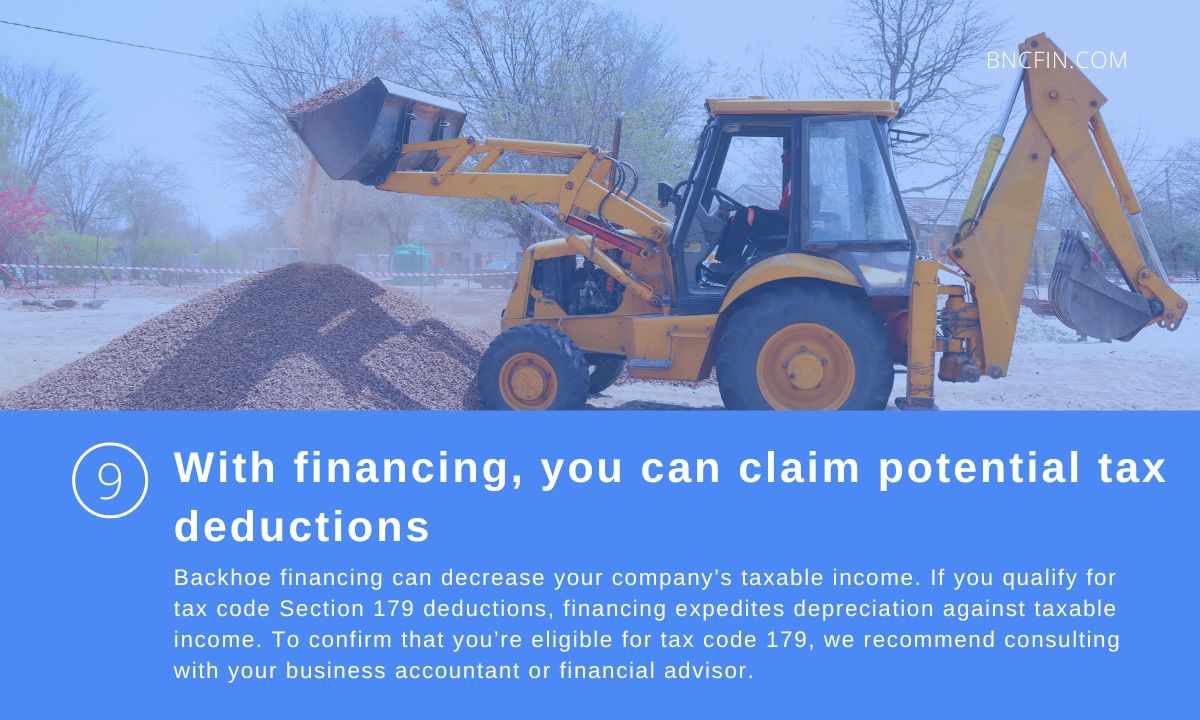 Backhoe financing can decrease your company's taxable income. If you qualify for tax code Section 179 deductions, financing expedites depreciation against taxable income. To confirm that you're eligible for tax code 179, we recommend consulting with your business accountant or financial advisor.
Backhoe Financing Frequently Asked Questions
How long is a backhoe financing term?
Terms typically range from 24 to 72 months for used excavation equipment. Specific terms depend on the useful life of the equipment, with older equipment offering a shorter term. (Note: Typically, equipment financing programs won't offer loans that extend past the useful life of the machinery.)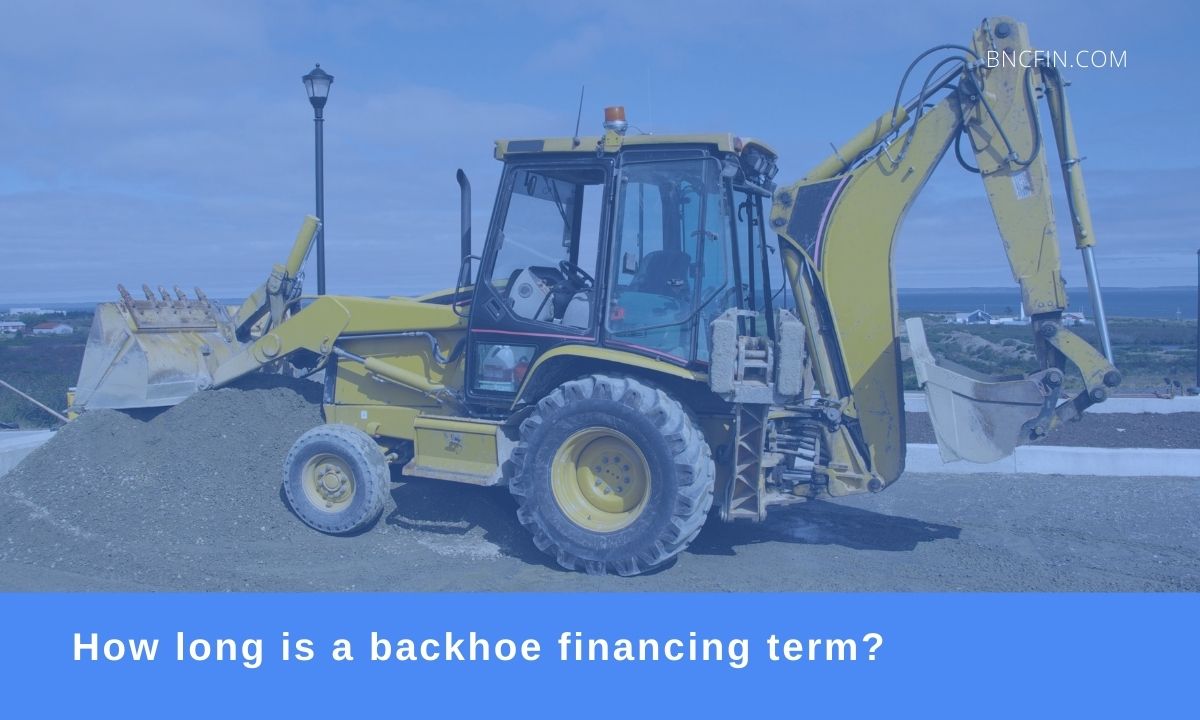 What kind of credit score do I need to qualify for backhoe financing?
We provide financing options for credit scores as low as 550. Naturally, better credit scores usually translate into more competitive rates and more flexible financing solutions.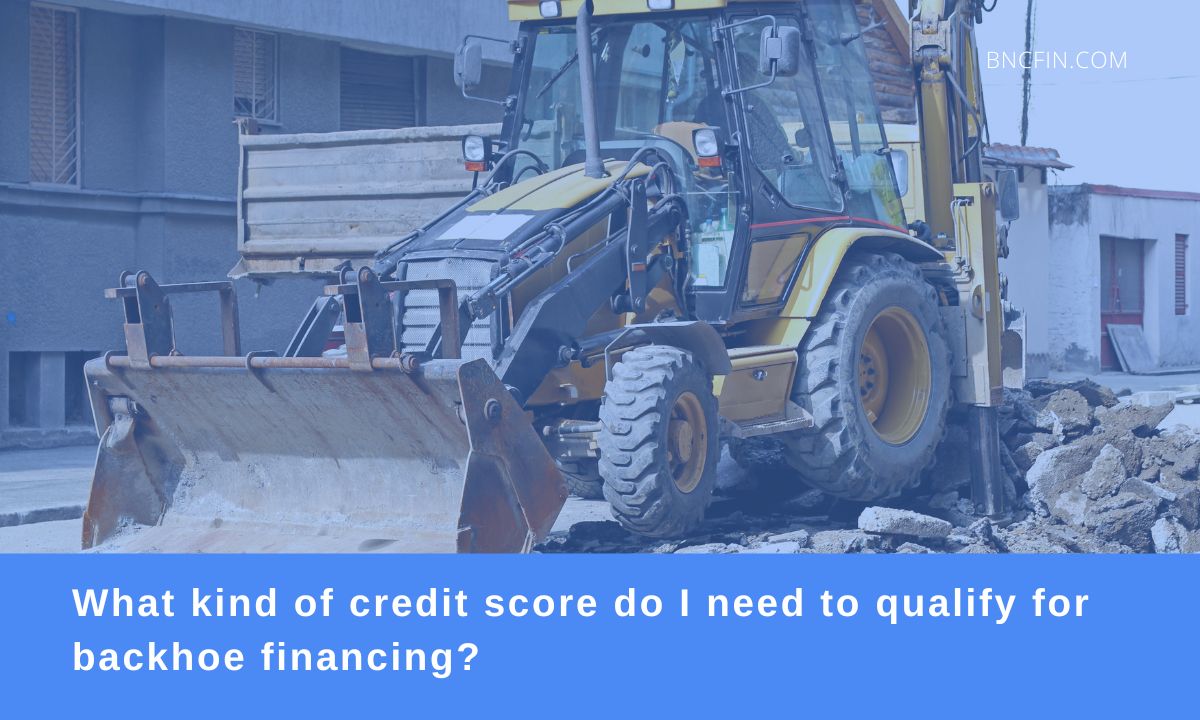 What is no-credit-check backhoe financing?
Simply put no-credit-check backhoe financing refers to a solution that does not require your lender to run a credit check. While the lender may perform a "soft" credit check, this will not adversely impact your current credit score.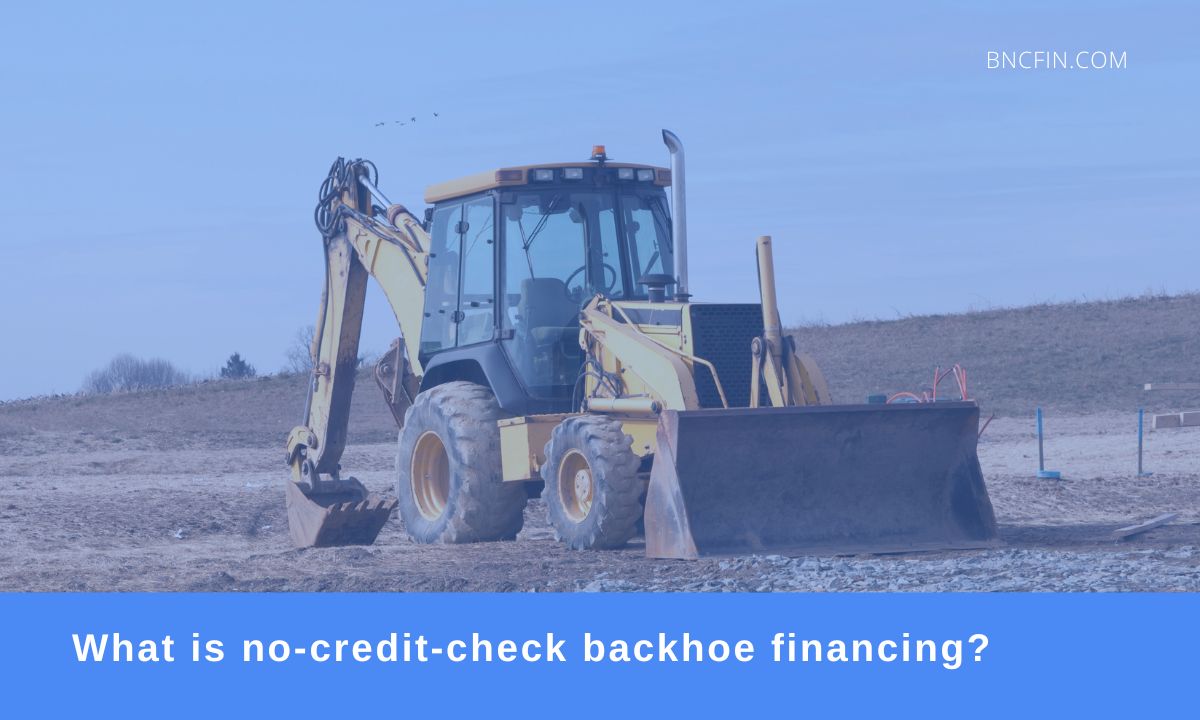 Can I finance a backhoe that's purchased from a private seller?
Yes, at BNC Finance, we provide solutions that allow you to buy a backhoe or other excavation equipment from a private seller. Be sure to indicate this on the equipment financing application, noting your desire for private equity-style funding.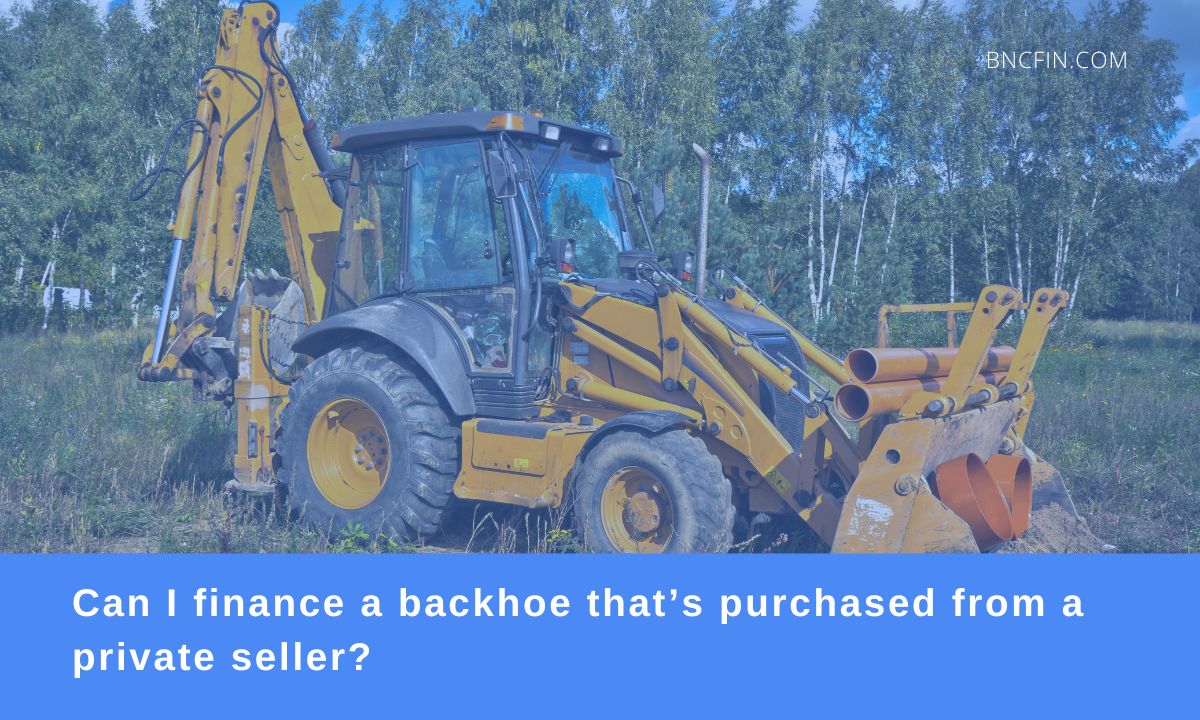 How much is a backhoe monthly payment?
There are a number of factors that can affect your monthly payments. Some of the primary factors include your time in business, your business credit score, and the total backhoe cost. Monthly financing costs are usually quite a bit lower than what it would cost to rent a comparable piece of digging equipment.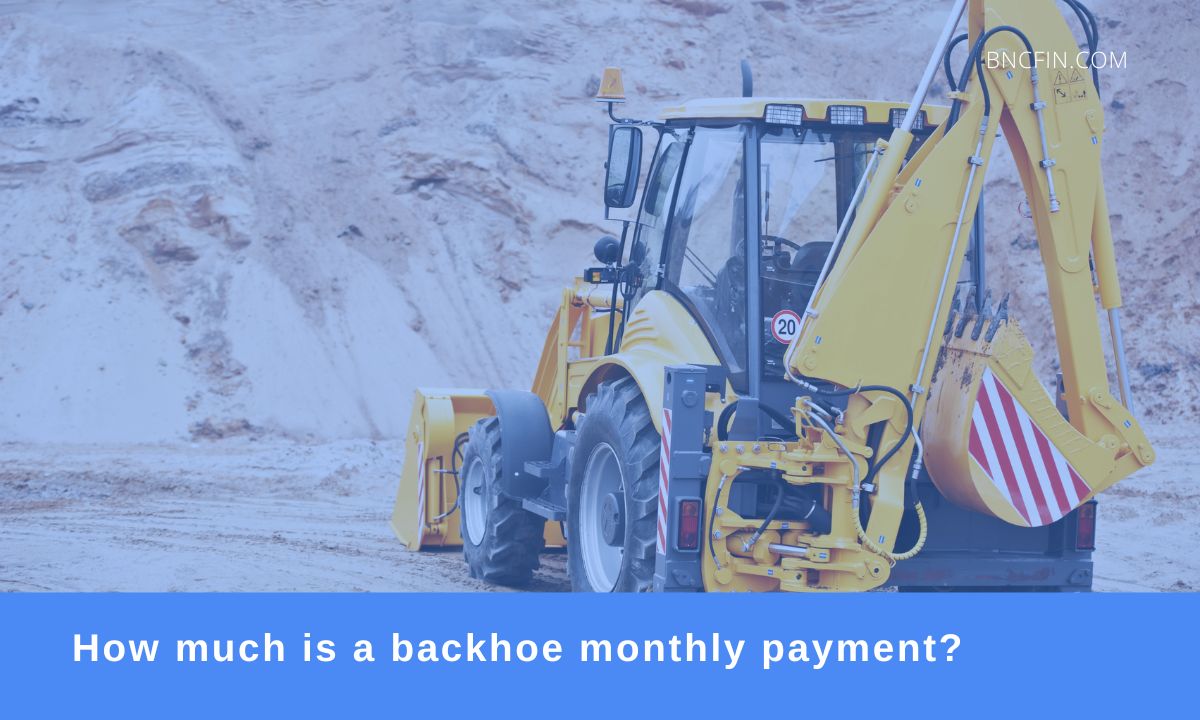 Should I rent a backhoe, or is it better to finance?
Renting comes with greater financial risk, though it may also offer greater flexibility. Generally, we recommend renting for one-time projects. If you plan on using your backhoe consistently, however, then financing is the option that makes the most sense.