Loader Financing
Welcome to the world of loader financing, where BNC Finance takes the lead in providing innovative solutions for businesses seeking to acquire loaders. As a trusted and experienced equipment financing provider, BNC Finance understands the critical role that loaders play in various industries. From construction and agriculture to mining and beyond, these versatile machines are essential for efficient operations. In this article, we will explore how BNC Finance's loader financing options can help businesses unlock the power of loaders while managing their financial needs effectively. Whether you're a small business owner or a seasoned professional, BNC Finance is here to support your growth by offering tailored financing solutions designed to meet your specific requirements.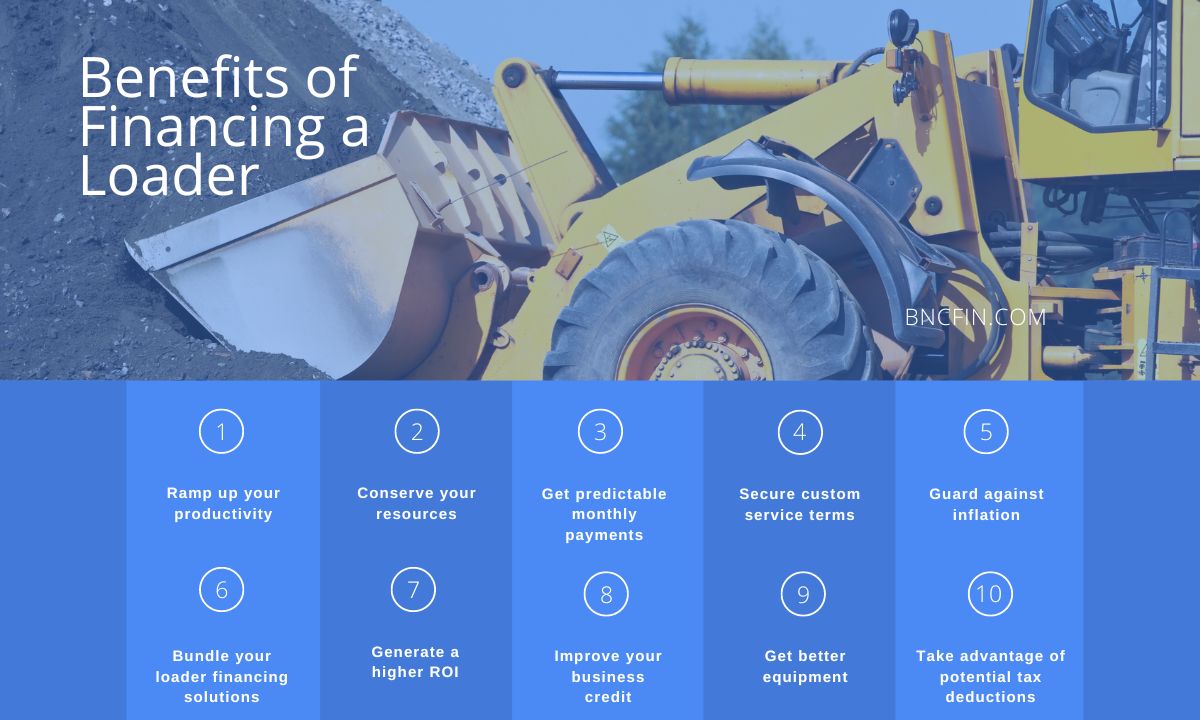 Benefits of Financing a Loader
Every construction company needs a way to transport or load heavy materials, which might include dirt, debris, soil, or sand. In short, every construction fleet needs at least one loader, but expanding your current fleet of vehicles can be costly, to say the least. Enter BNC Finance. We're pleased to provide a full range of loader financing solutions, including financing plans that don't require you to make any kind of down payment.
Applying for loader financing from BNC offers a number of advantages. Consider just a few of them.
1) Ramp up your productivity.

One reason to explore financing is that it puts cash in your hand right away, meaning you can immediately get your loader and get to work. This means your company can begin generating revenues more or less immediately.


2) Conserve your resources.

When you run a business, you always need resources on hand to cover recurring expenses and unexpected costs. When you finance with BNC, you can avoid the need for any big upfront payments, conserving resources that you can apply toward other needs.


3) Get predictable monthly payments.

With our loader financing options, you can enjoy predictable and manageable monthly payments, which in turn makes it easy for you to plan, budget, forecast, and monitor your cash flow.


4) Secure custom service terms. 

We're pleased to offer a range of custom loader financing plans, including Deferred Payments, Seasonal Payments, Auction Financing, Private Seller Financing, Equipment Refinancing, Equipment Leasing, and Sale Leasebacks.


5) Guard against inflation

Leasing a piece of heavy equipment allows you to lock in rates, which can provide you with a necessary layer of protection against the forces of inflation.


6) Bundle your loader financing solutions. 

At BNC Finance, we make it easy to bundle your equipment, maintenance, and installation costs into a single loan, including costs associated with loader attachments.


7) Generate a higher ROI. 

By financing your loader, you can immediately begin to generate revenue and/or reduce expenses, without the need to make any large down payments. Then, at the end of your lease, you may have the option to own the loader equipment outright.


8) Improve your business credit. 

One of the best ways for you to build business credit is to stay current with your loader financing payments. This may extend your borrowing power for down the road, when other financing needs arise.


9) Get better equipment. 

Heavy equipment gets better all the time. Loader financing lets you stretch your dollar, offering additional buying power so that you can get the latest, most effective, most reliable loading equipment on the market.


10) Take advantage of potential deductions. 

A final reason to consider loader financing from BNC: Sometimes, doing so can decrease your business's taxable income. For companies that are eligible to claim tax code Section 179 deductions, equipment financing expedites depreciation against taxable income. To check whether your business qualifies for tax code 179, make sure you schedule a chat with your accountant or financial planner.

Frequently Asked Questions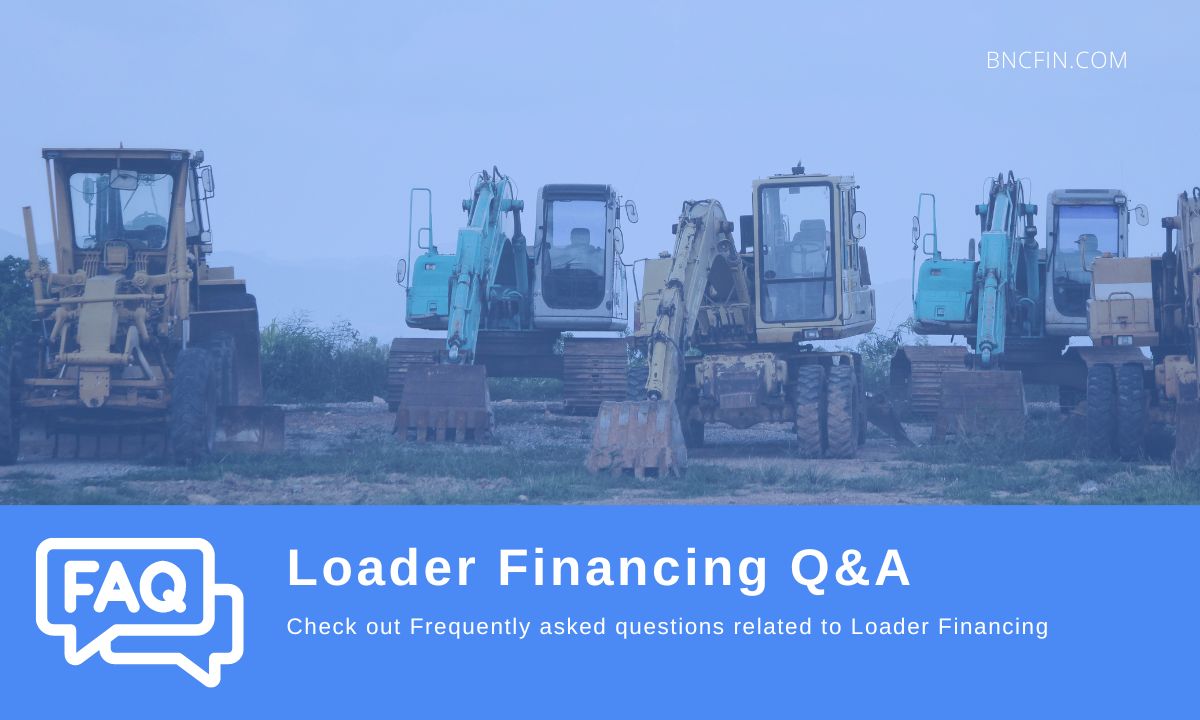 How long is a loader financing term? 
For loader financing, terms range from 24 to 72 months. The terms usually depend on the useful life of the loader. As a general rule, financing terms that extend past the useful life of the loader are not available.
Do I need a high credit score to secure loader financing? 
We provide loader financing options for credit scores of 550 or higher. Note that better credit usually translates to more beneficial loan terms, including more competitive rates.
What is no-credit-check loader financing? 
A no-credit-check financing plan is just what the name suggests: It's a way to get financing that doesn't require us to run a full credit check. We may run a "soft" credit check, but this will not have any adverse effect on your current credit score.
Is it possible to finance a loader from a private seller?
Yes, at BNC Finance, we are happy to offer solutions for purchasing heavy machinery from a private seller. When you fill out the equipment financing application, be sure you note your preference for private equity-style funding.
How much is a typical monthly payment for a loader? 
There are a number of factors that can impact your loader payments, including your experience in business, your credit score, and the total cost of the machinery.
Should I rent a loader, or is it better to finance? 
Renting a loader is usually a better option if you just need it for a one-time application. However, if you plan to use your loader regularly or consistently, it makes a lot more sense to expand your fleet with loader financing. Reach out to BNC Finance to learn more.
PreQualify for Loader Financing