Table of contents
Motor graders can play an invaluable role in any construction crew. Equipped with long blades, graders can help to create flat surfaces. For any crew that engages in the grading process, having a motor grader can add considerable power, efficiency, and speed. Most construction crews have at least one motor grader as part of their fleet, if not multiple graders.
When it comes to actually obtaining a motor grader, there are a number of paths to consider. One option is to rent, which makes sense if you only need a grader for a single use but is less cost-effective if you plan to use your grader repeatedly. You might also buy a grader outright, which can require a significant down payment.
The best option of all might be to finance your grader. BNC Finance offers customizable motor grader financing options, allowing you to get the equipment you need without breaking the bank.
There are a number of benefits to grader financing, including:
No down payment required.
Easy and predictable monthly payments.
Custom financing solutions to meet your business needs.
Applications that you can complete in just a few minutes.
Flexible and competitive rates.
The bottom line: Motor grader financing is a practical, cost-effective way to get the construction equipment you need for your business. Find out more by applying with BNC Finance today.
Prequalify for Motor Grader Financing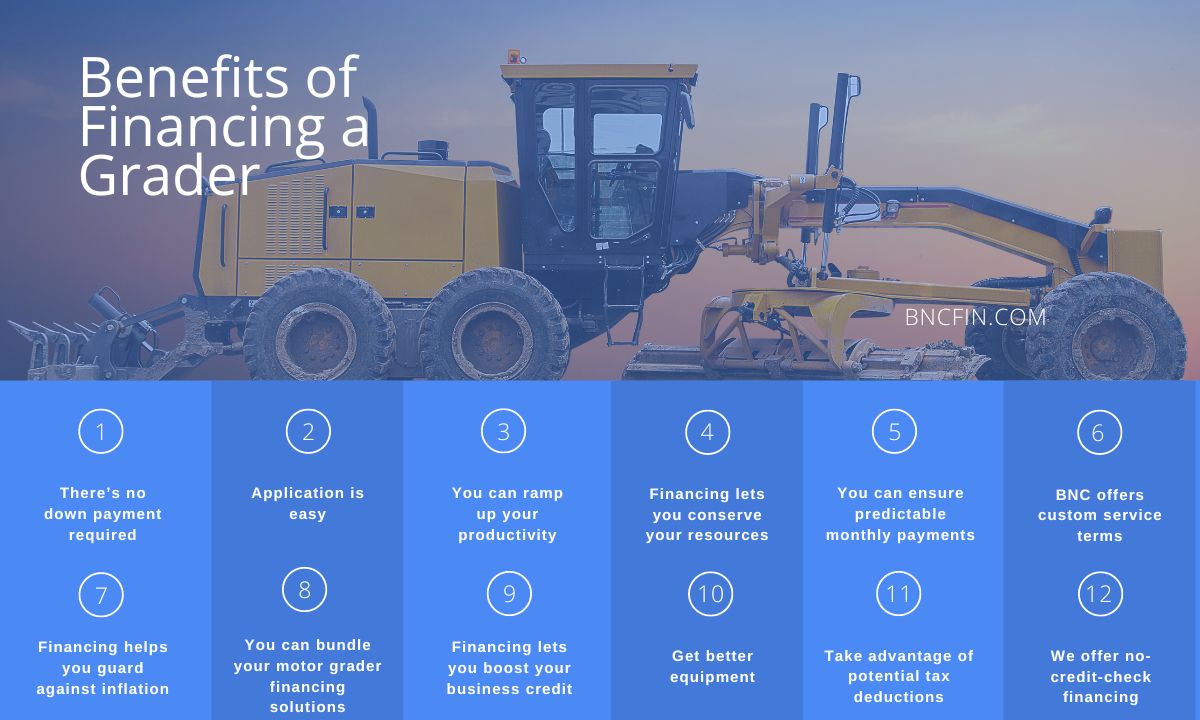 Benefits of Financing a Grader
Construction companies depend on heavy machinery to help their crews work safely and efficiently. One of the most essential pieces of heavy equipment is the grader, also known as the motor grader. Graders use long blades to create flat surfaces and are an essential addition to any construction fleet. At BNC Finance, we provide financing solutions to make graders more affordable, allowing you to expand your fleet quickly and conveniently.
Consider just a few of the benefits to motor grader financing from BNC Finance.
1) There's no down payment required.

When you finance with us, there's no need to make a big payment upfront. In fact, we provide financing solutions that do not require any down payment at all.

2) Application is easy.

We take pride in keeping the application process smooth and seamless. In fact, many clients tell us that they complete their application in mere minutes.

3) You can ramp up your productivity.

One reason to explore motor grader financing is that it puts cash in your hand right away, which means you can start using your equipment to generate revenues more or less immediately.

4) Financing lets you conserve your resources. 

When you run a business, you always need cash on hand to cover recurring expenses and unexpected costs. Since financing doesn't require a down payment, you can conserve funds for other needs and expenses.

5) You can ensure predictable monthly payments.

Enjoy predictable and manageable monthly payments when you finance with BNC, allowing you to plan, budget, forecast, and monitor your cash flow with greater accuracy and ease.

6) BNC offers custom service terms. 

We're happy to offer a range of custom motor grader financing plans, including Deferred Payments, Seasonal Payments, Auction Financing, Private Seller Financing, Equipment Refinancing, Equipment Leasing, and Sale Leasebacks.

7) Financing helps you guard against inflation. 

Financing provides a way for you to lock in rates, which can potentially offer a level of protection against market tumult.

8) You can bundle your motor grader financing solutions. 

We provide the option to bundle your equipment, maintenance, and installation costs into a single loan, including costs associated with grader attachments.

9) Financing lets you boost your business credit. 

By being prompt and timely with your payments, you can build a better credit score, opening up more options to finance equipment down the road.

10) Get better equipment. 

Motor grader technology is constantly improving. Financing stretches your dollar, empowering you to invest in the latest, the most advanced, and the most reliable graders.

11) Take advantage of potential tax deductions. 

In some cases, financing decreases your business's taxable income. For companies that are eligible to claim tax code Section 179 deductions, motor grader financing expedites depreciation against taxable income. To determine whether your business qualifies for tax code 179, we recommend meeting with a financial planner or accountant.

12) We offer no-credit-check financing. 

While we may need to run a soft credit check, this will not have any adverse effect on your credit score.
Motor Grader Financing Frequently Asked Questions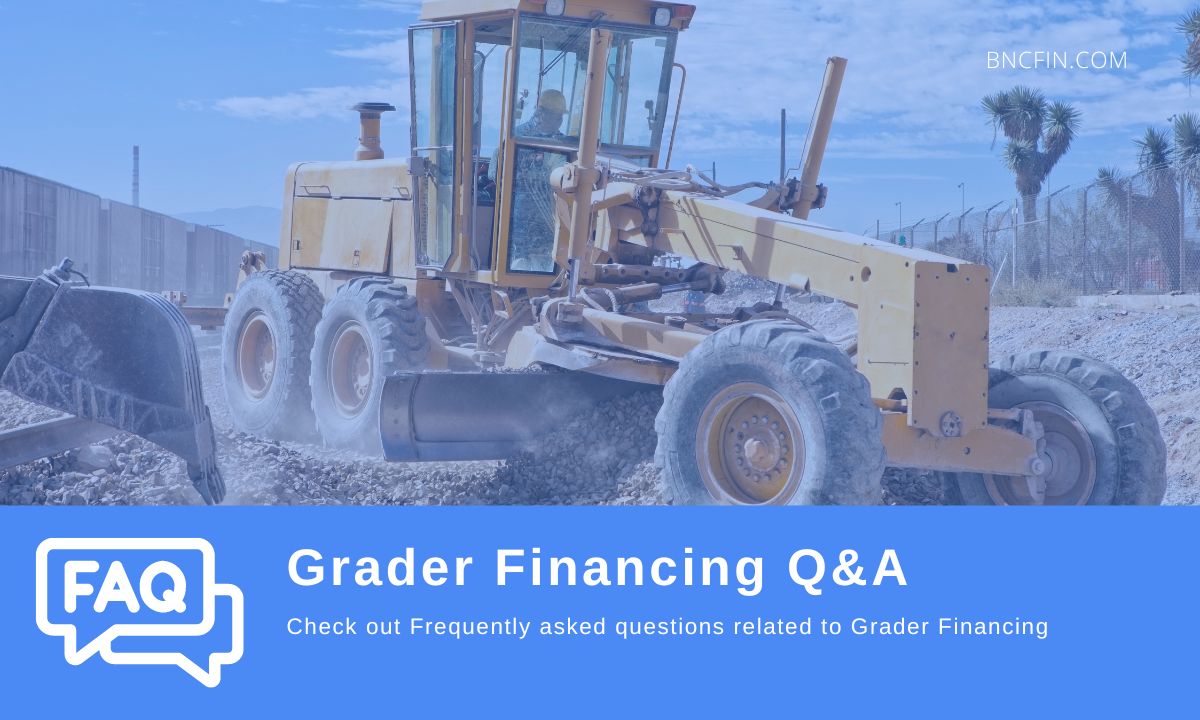 How long is the typical financing term for a motor grader? 
Grader financing terms will usually fall somewhere between 24 and 72 months, and will be determined by factors such as the useful life of the equipment. Financing terms never extend past the useful life of the equipment.
Do I need a high credit score to secure motor grader financing? 
We provide financing options for credit scores of 550 or higher. Of course, having a higher credit score usually means you'll get better, more competitive rates.
What is no-credit-check grader financing? 
With a no-credit-check financing solution, we can provide you the financing you need without requiring a full credit check. While we might run a soft credit check, this will not have any impact on your current credit score.
Can I finance an excavator from a private seller?
With a no-credit-check financing solution, we can provide you the financing you need without requiring a full credit check. While we might run a soft credit check, this will not have any impact on your current credit score.
Is it possible to finance a motor grader from a private seller? 
Yes, at BNC Finance, we can offer solutions for purchasing heavy machinery from a private seller. When you complete the equipment financing application, make sure you declare your preference for private equity-style funding.
How much is a typical monthly payment for a motor grader? 
A number of factors can determine monthly payments, including your years of business experience, your current credit score, and beyond.
Should I rent a grader, or is it better to finance it? 
Renting a motor grader is usually a better option if you just need it for a one-time use or a short project. However, if you plan to use your grader repeatedly or consistently, it makes a lot more sense to expand your fleet with custom financing. Reach out to BNC Finance to find out more about motor grader financing.