For construction crews, concrete work is pretty common. Most projects require some sort of concrete placement, which in turn requires the right kind of equipment. Concrete pumps have become the industry standard for administering liquid concrete, and the most advanced concrete pumps allow team members to work with efficiency, safety, and precision. The biggest challenge might be obtaining a concrete pump; as with most construction equipment, the price tag can be a little on the expensive side.
Thankfully, there are a number of options that can make concrete pumps more affordable. Instead of purchasing one outright, some companies decide to rent. Even better, some companies pursue concrete pump financing. This is something we are happy to offer here at BNC Finance.
We're thrilled to offer a range of concrete pump financing options, allowing you to get the equipment you need without blowing your budget. There are a number of advantages to concrete pump financing through the BNC team, including:
We do not require down payments.

Our monthly payments are manageable and predictable.

We provide custom solutions to address your specific needs.

Our applications can be completed in just a few minutes.

We offer flexible and competitive rates.
Ready to learn more about your options for concrete pump financing? Begin the application process with BNC Finance today.
Prequalify for Concrete Pump Financing
Benefits of Financing a Concrete Pump
Construction companies need a wide range of tools at their disposal, including tools to help transfer liquid concrete. Concrete pumps have become increasingly essential, allowing team members to administer concrete with the utmost precision and efficiency. There are several ways to obtain a concrete pump without breaking the bank, and one of the top options is to secure financing. That's something we're pleased to offer here at BNC Finance.
Why pursue concrete pumps from BNC? The benefits are numerous. Consider: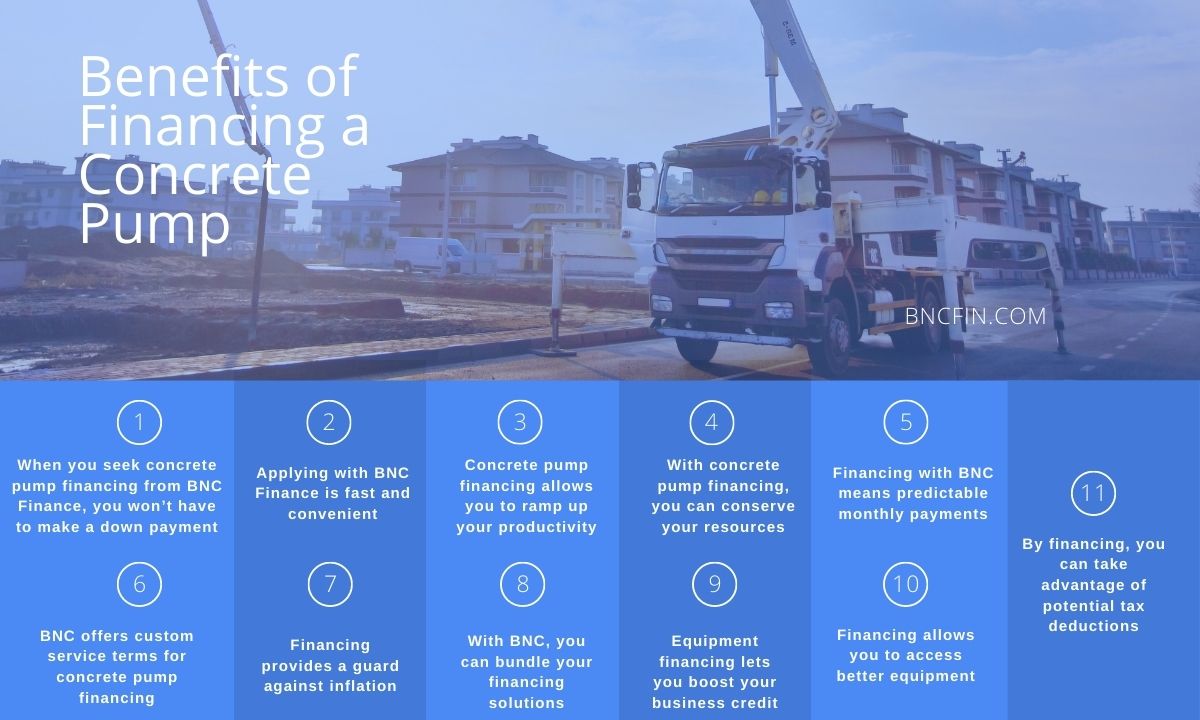 1) When you seek concrete pump financing from BNC Finance, you won't have to make a down payment.
We're pleased to offer financing solutions that don't require any kind of up-front payment, meaning you can get the equipment you need even if your cash flow is obstructed.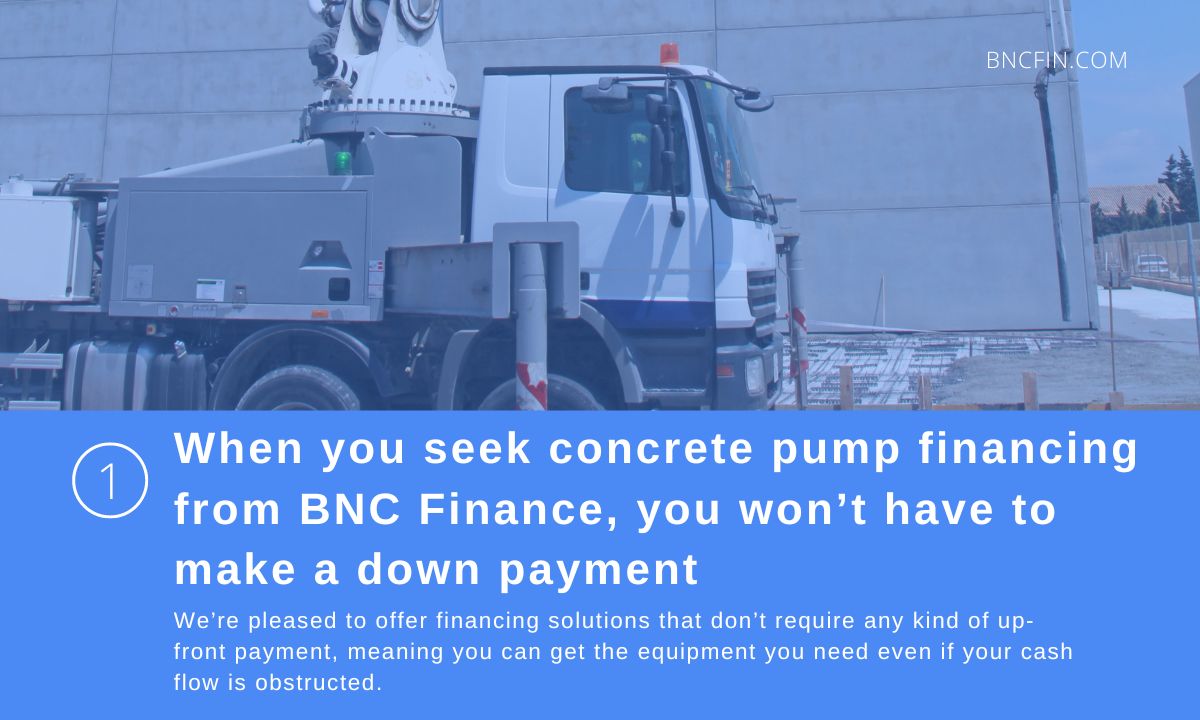 2) Applying with BNC Finance is fast and convenient.
Something we're passionate about is maintaining a simple, low-hassle application process. In fact, our application can be completed in just a few minutes.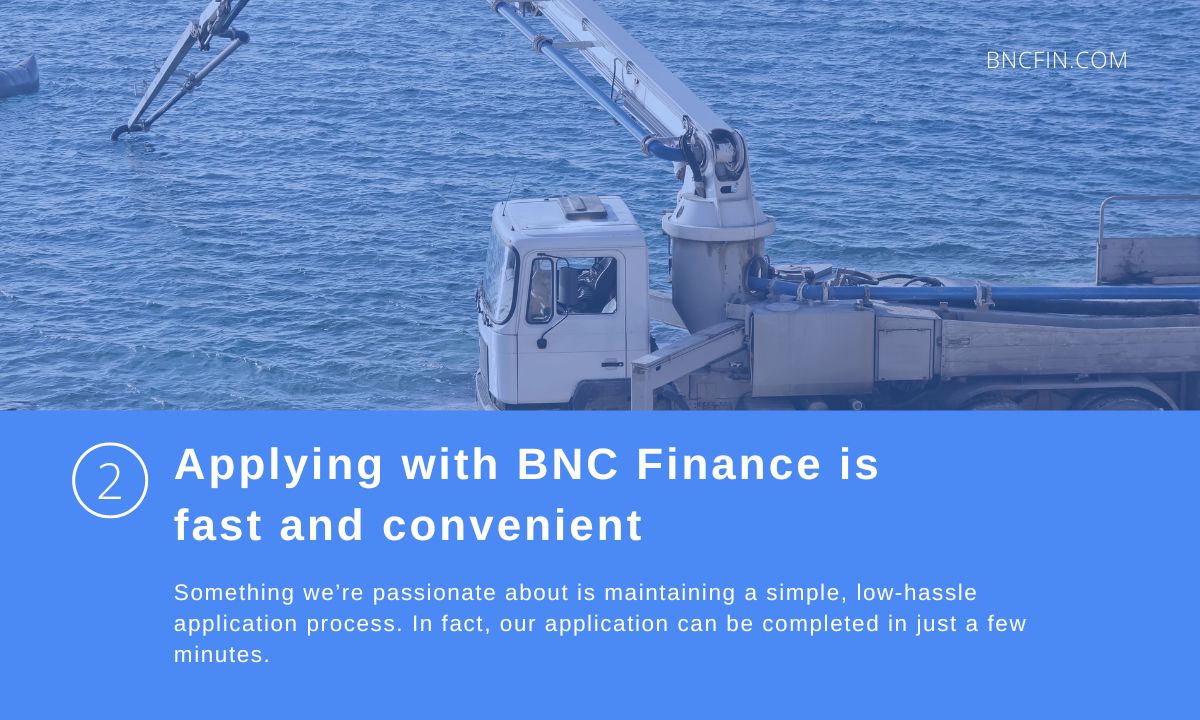 3) Concrete pump financing allows you to ramp up your productivity.
Financing puts cash in your hand right away, meaning you can get right to work using your concrete pump and generating revenues for your business.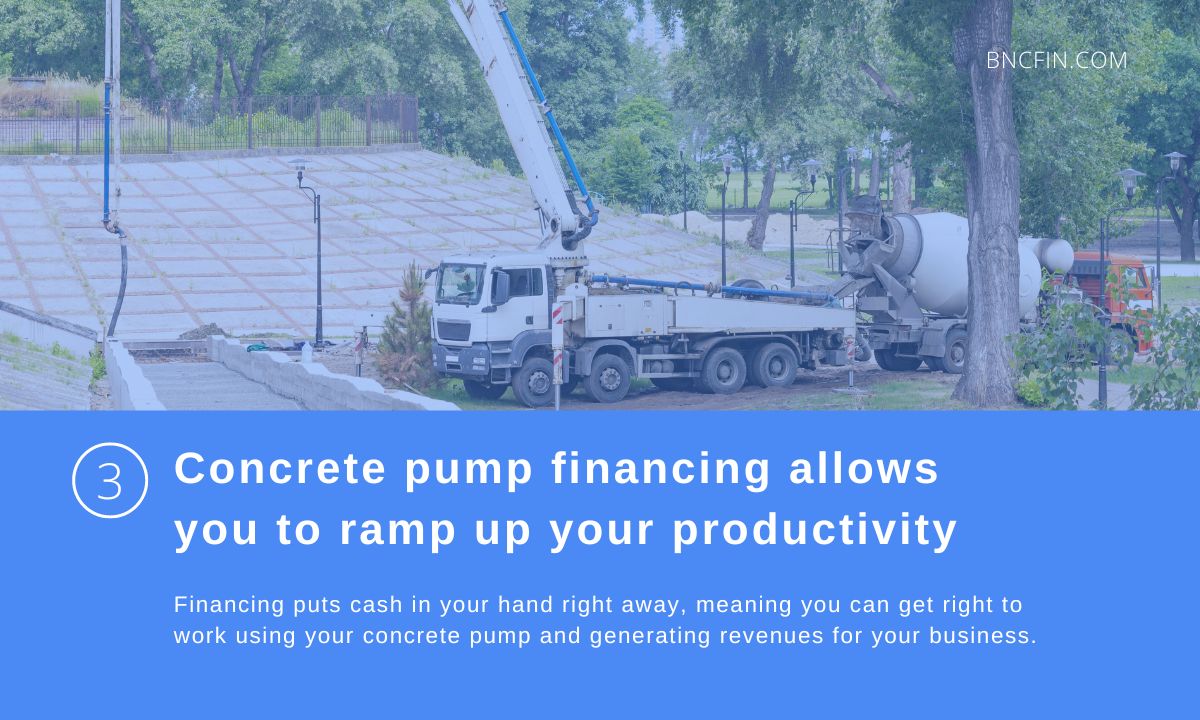 4) With concrete pump financing, you can conserve your resources.
When you run a business, you always need cash on hand to cover routine expenses, to say nothing of emergency costs that might arise. Since financing doesn't require a down payment, you can save your money for these other obligations.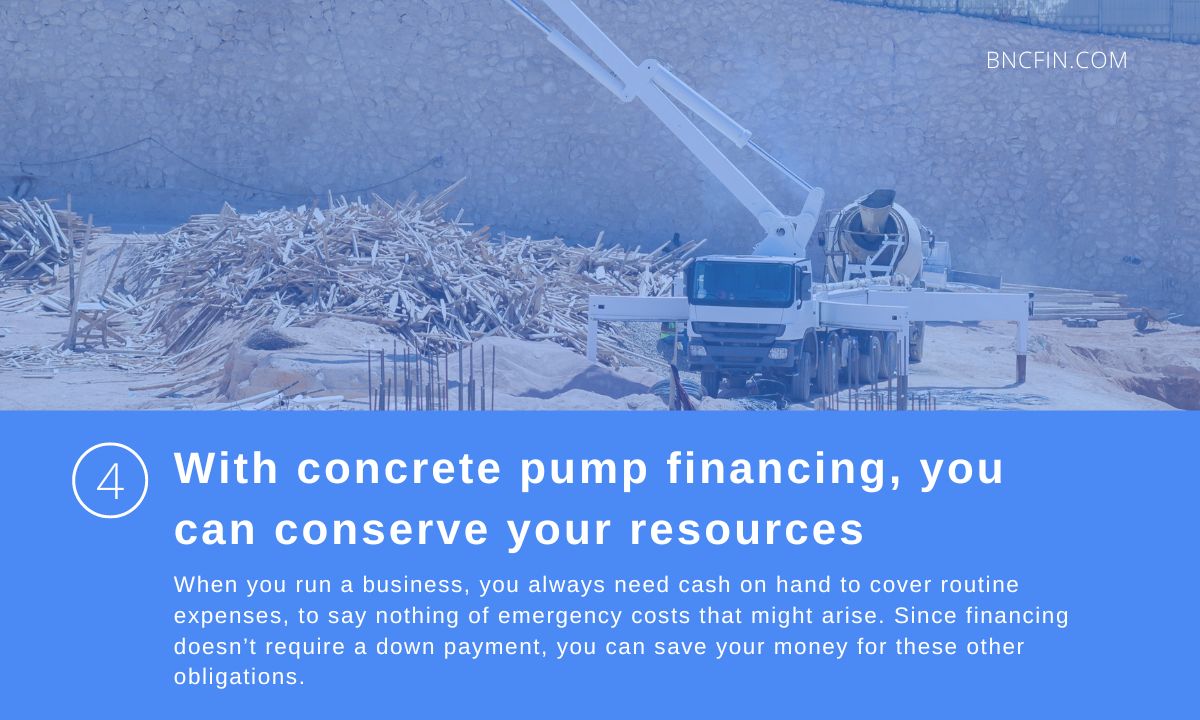 5) Financing with BNC means predictable monthly payments.
You'll be able to enjoy predictable and manageable monthly payments when you finance with BNC, empowering you to plan, budget, forecast, and monitor your cash flow with ease.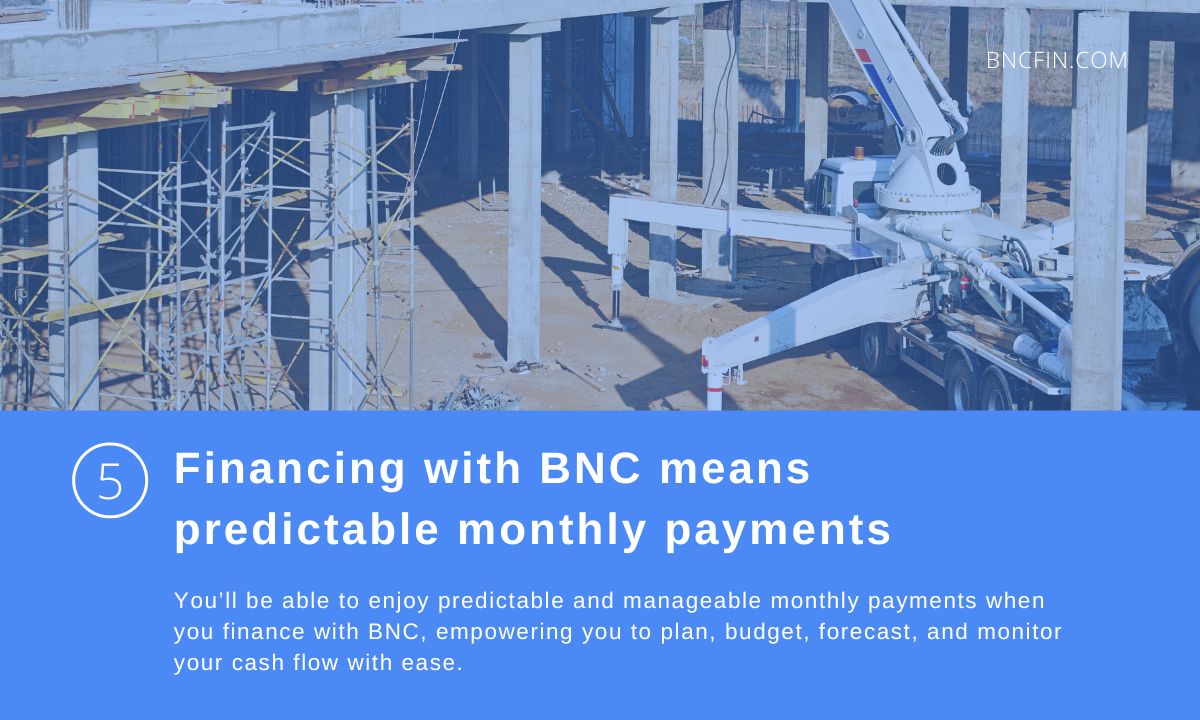 6) BNC offers custom service terms for concrete pump financing.
The custom service terms that we provide include Deferred Payments, Seasonal Payments, Auction Financing, Private Seller Financing, Equipment Refinancing, Equipment Leasing, Sale Leasebacks, and more. We're happy to find service terms that meet your business goals.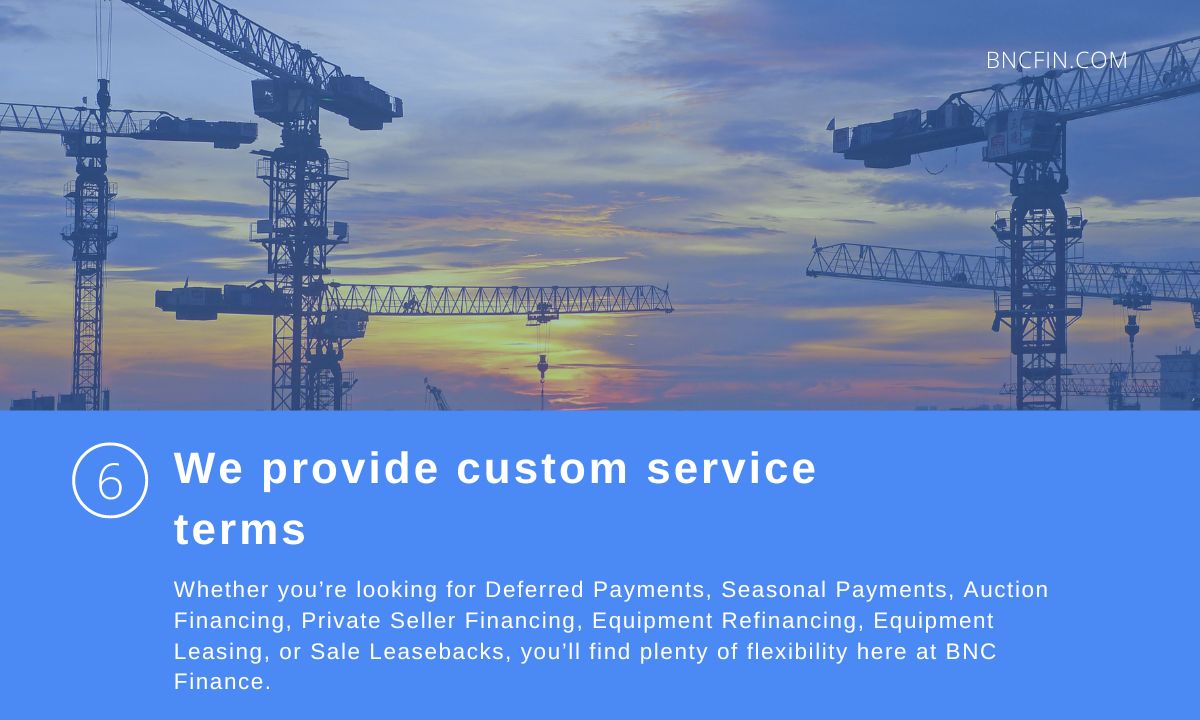 7) Financing provides a guard against inflation.
Financing gives you a way for you to lock in rates, potentially offsetting market volatility and high inflation.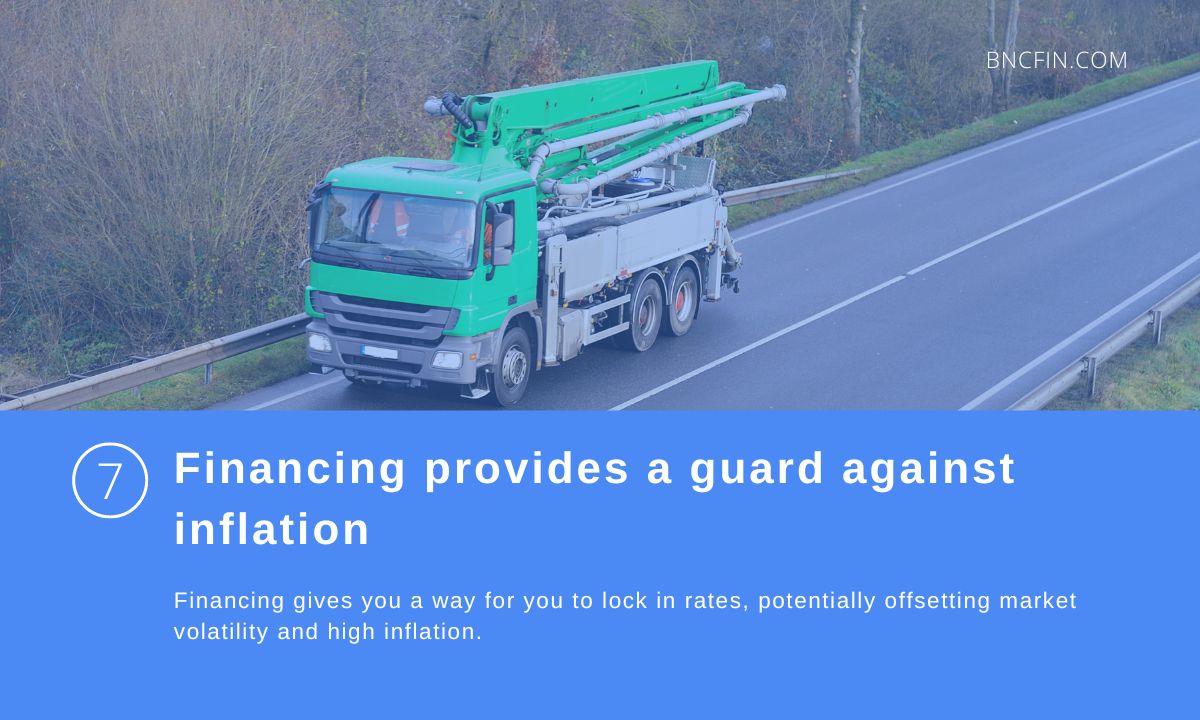 8) With BNC, you can bundle your financing solutions.
Bundle your equipment, maintenance, and installation costs into a single loan, including costs associated with any concrete pump attachments you might need.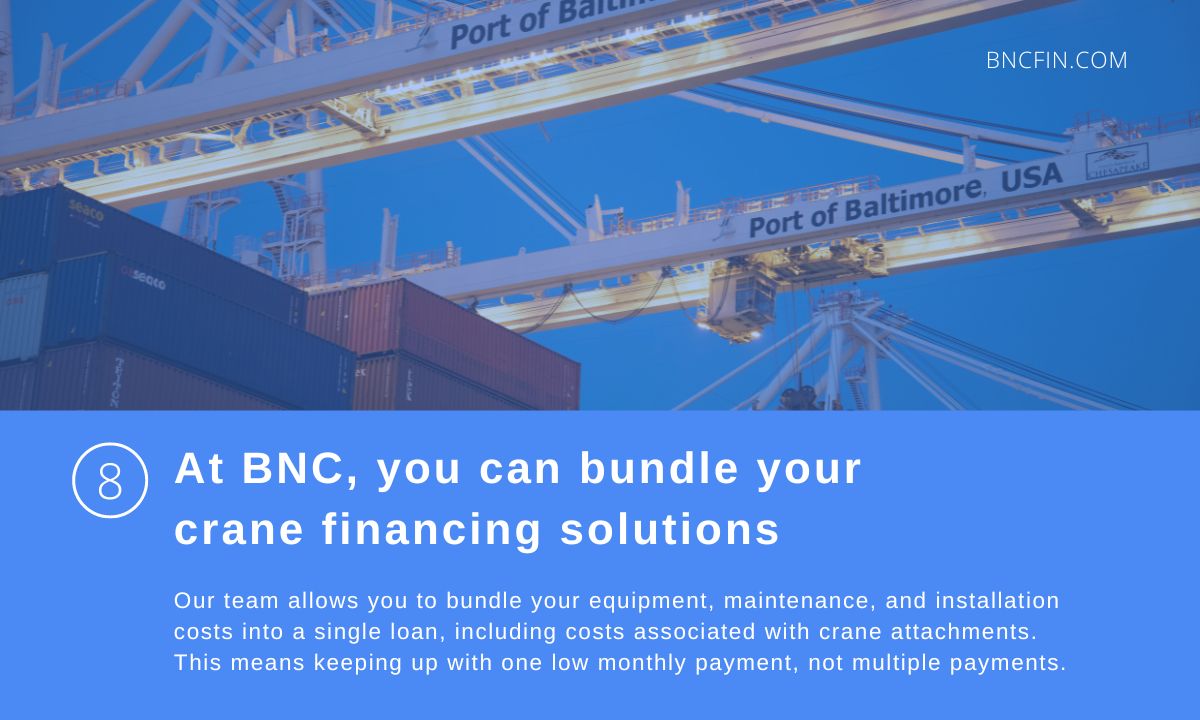 9) Equipment financing lets you boost your business credit.
You can improve your credit score simply by staying on top of your monthly payments, resulting in increased borrowing power down the road.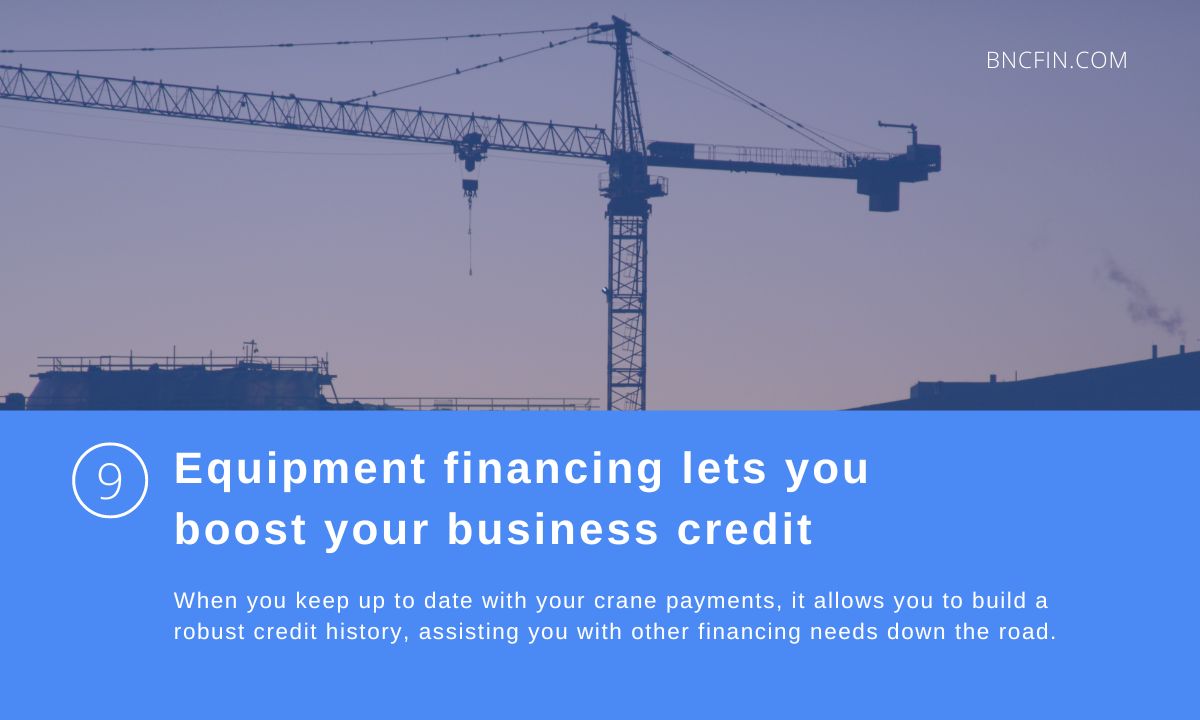 10) Financing allows you to access better equipment.
Financing stretches your dollar, allowing you to get the most advanced and sophisticated concrete pumps on the market today.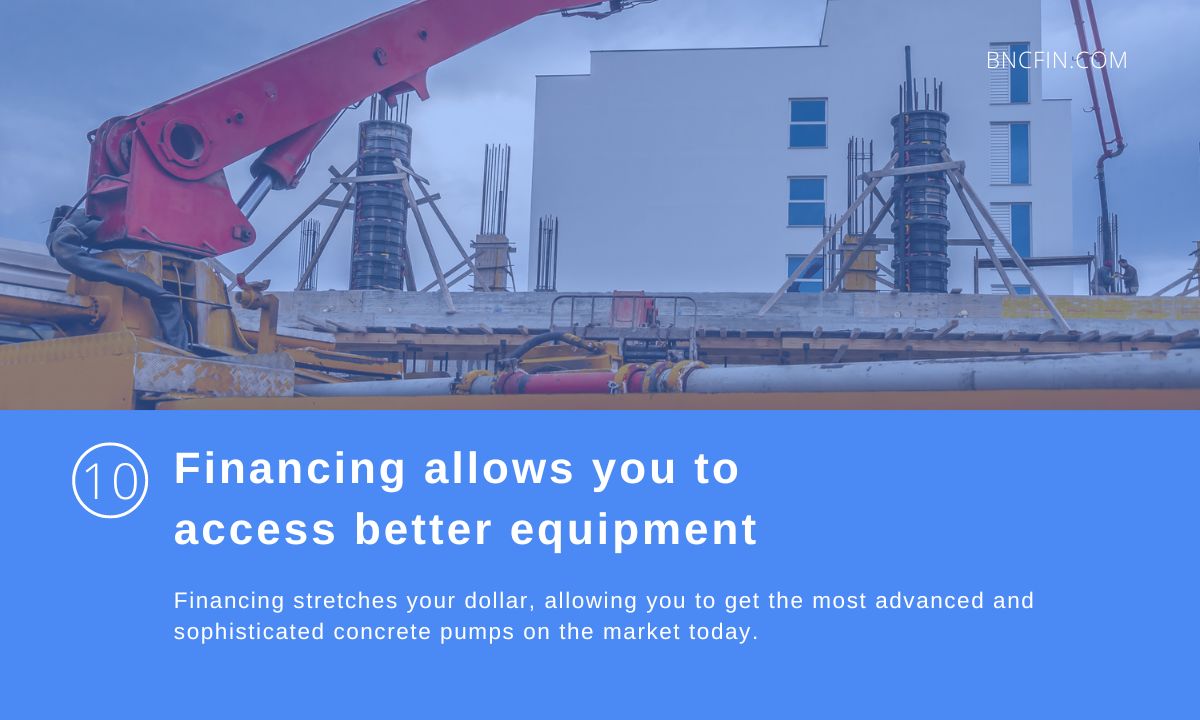 11) By financing, you can take advantage of potential tax deductions.
Financing sometimes decreases your business's taxable income. For companies that are eligible to claim tax code Section 179 deductions, concrete pump financing expedites depreciation against taxable income. To determine whether your business qualifies for tax code 179, consult with your business accountant.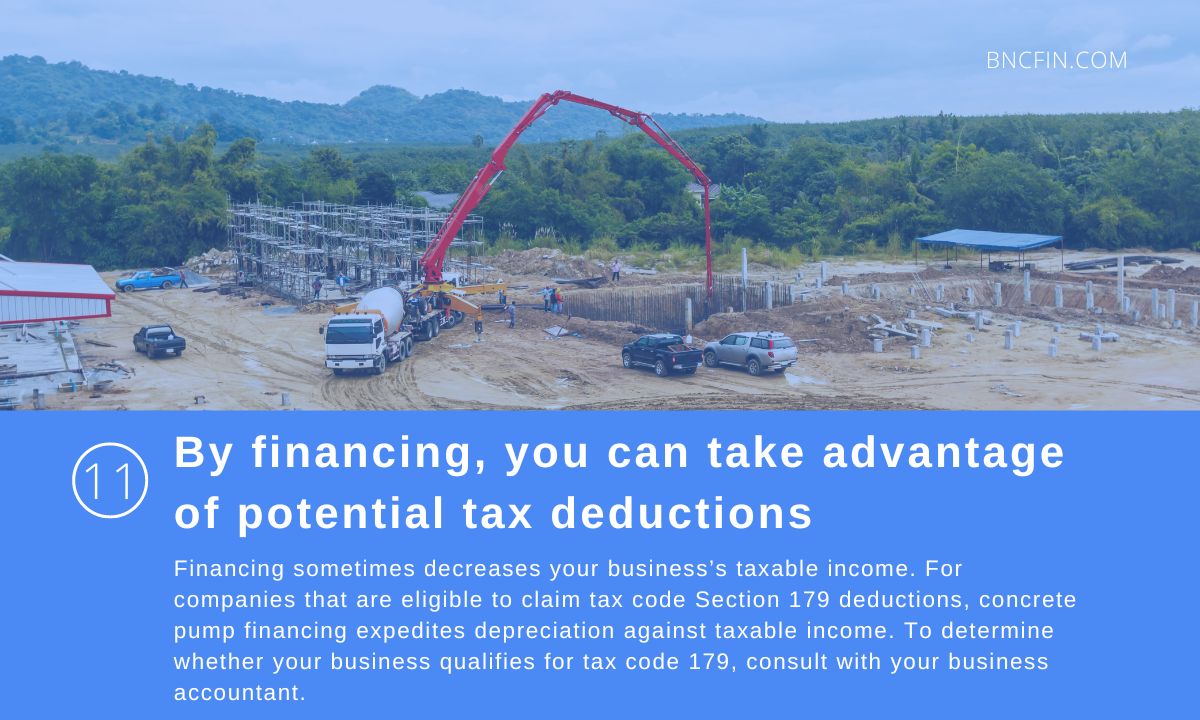 Concrete Pump Financing Frequently Asked Questions
How long is the typical financing term for a concrete pump?
Concrete pump financing terms typically last somewhere between 24 and 72 months. There are several factors that can affect this timeline, but the most significant is the useful life of the equipment. Financing terms almost never extend past the equipment's useful life.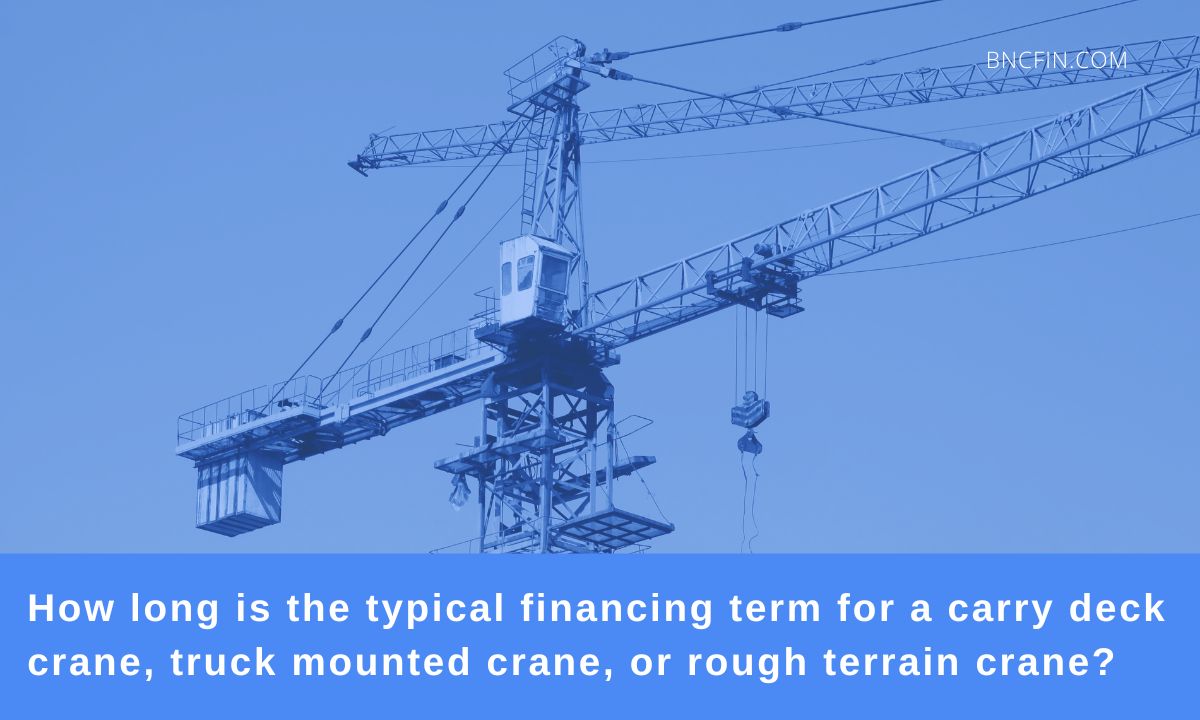 Can I get concrete pump financing even if I have a lackluster credit score?
The short answer is yes: At BNC Finance, we provide financing for credit scores as low as 550. Naturally, higher credit scores will result in more favorable rates.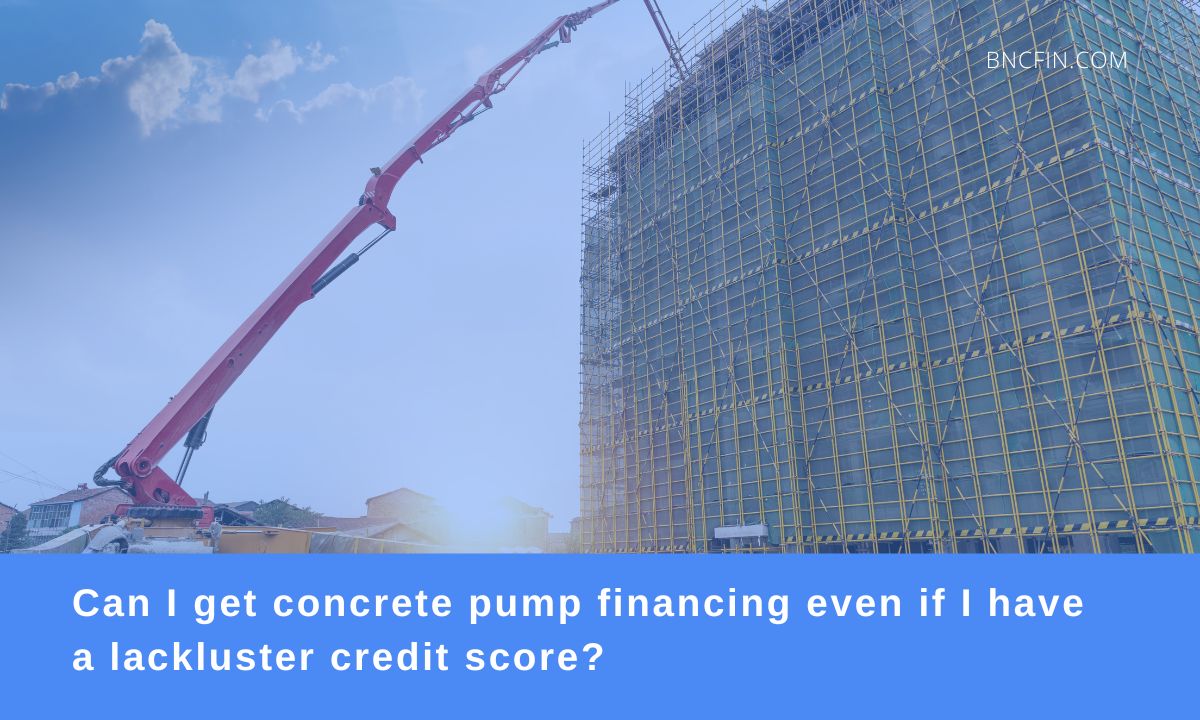 What is no-credit-check financing for concrete pumps?
Simply put, we can provide concrete pump financing without the need to run a full credit check. While we may run a soft credit check, this will not have any kind of negative impact on your credit score.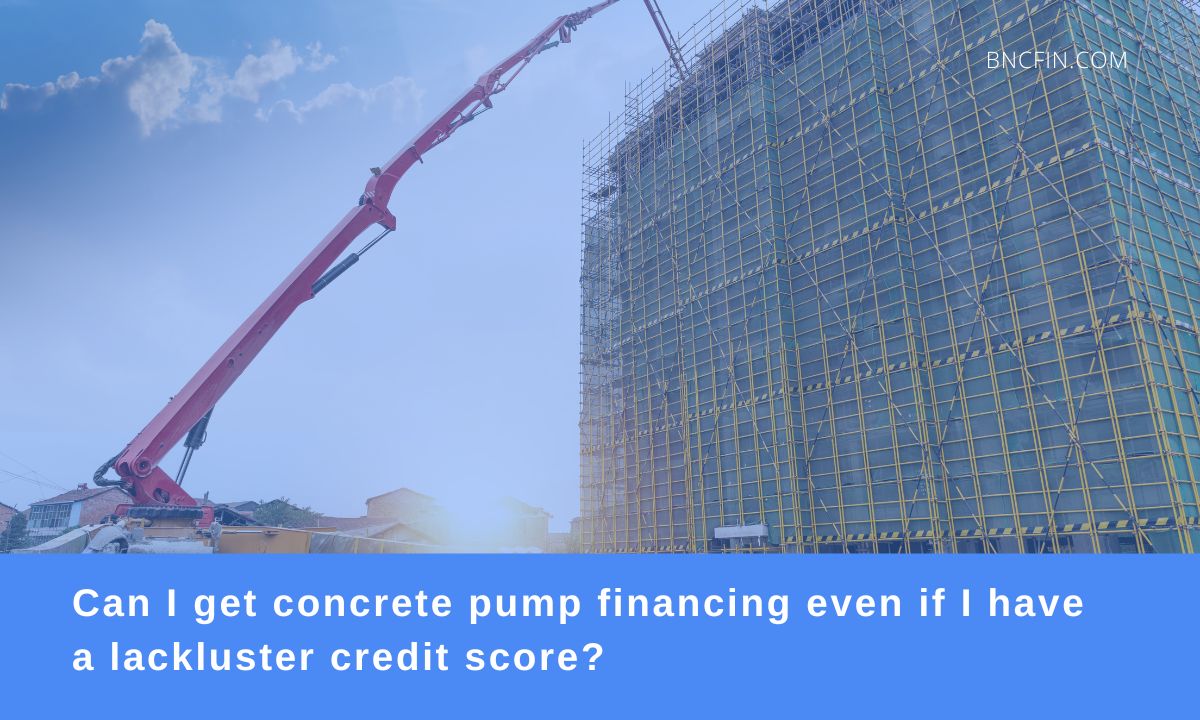 Is it possible to secure financing to buy a concrete pump from a private seller?
This is something we are happy to accommodate. When you complete our equipment financing application, make sure you denote your preference to buy from a private seller.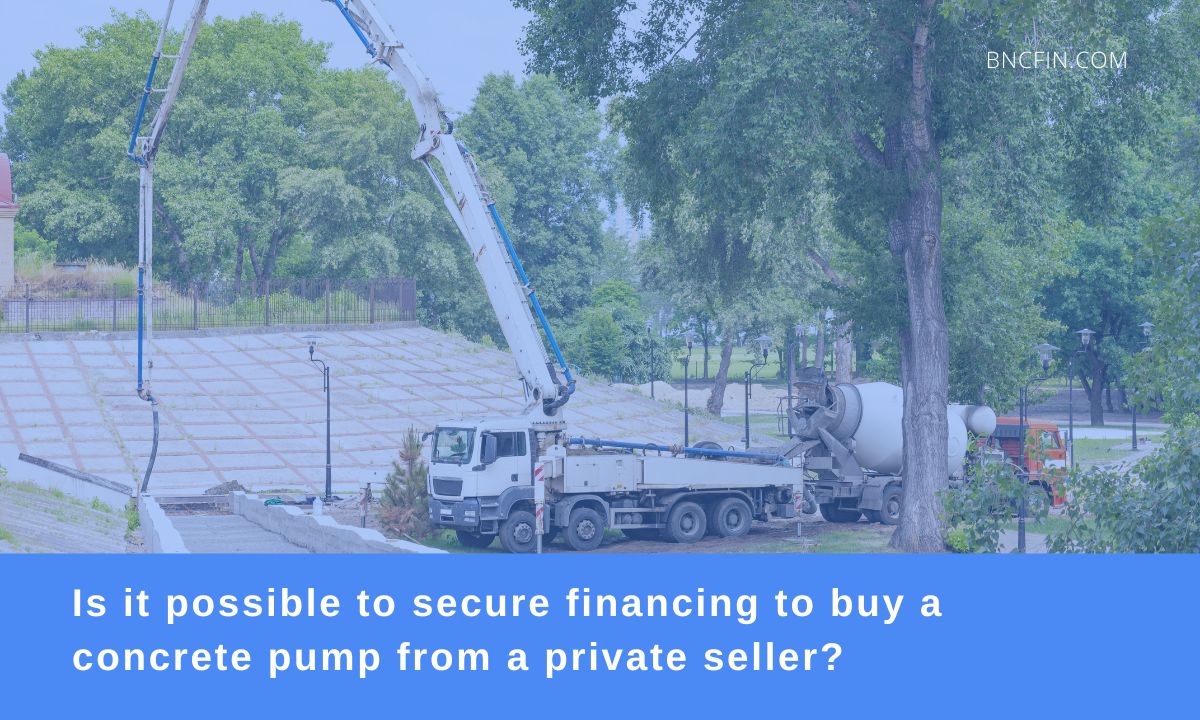 What should I expect in terms of my monthly payments?
Several factors can influence your monthly payments. These factors include the cost of the equipment, your years of business experience, and your current credit score.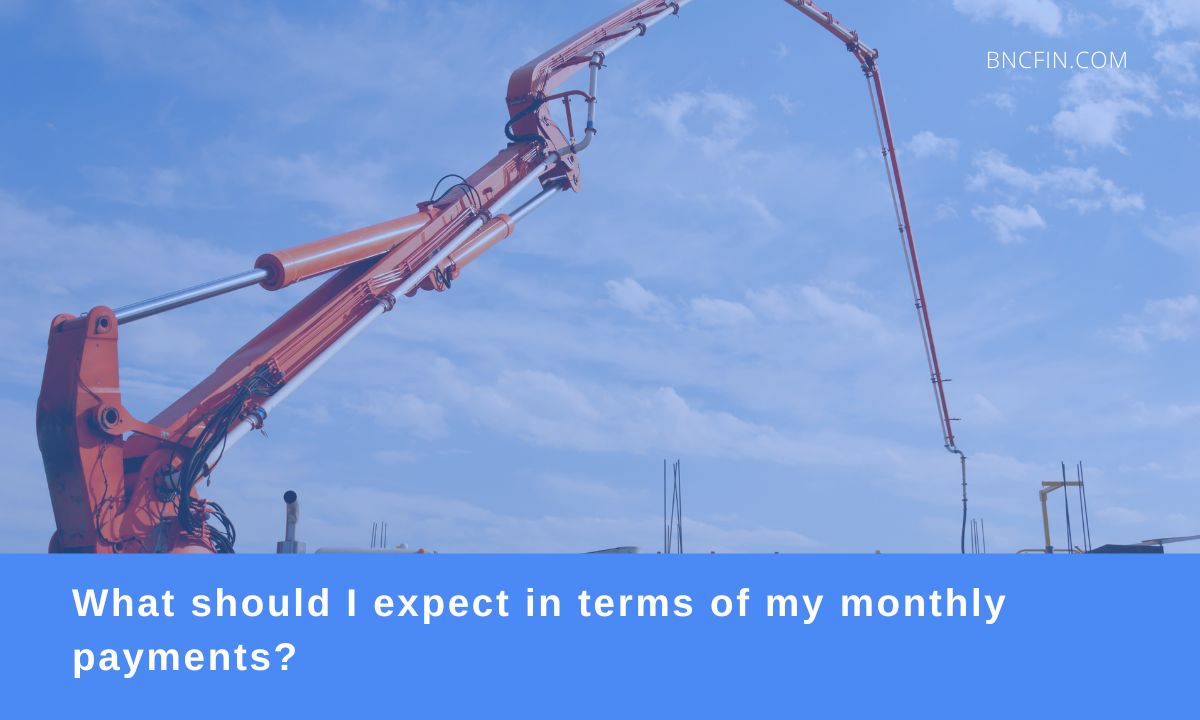 Which is more cost-effective: Renting a concrete pump, or financing a concrete pump?
Typically, we advise renting for construction teams that just need a concrete pump for a single, one-off project. If you plan to use your equipment more regularly, however, then the cost-effective solution is to secure financing. Apply with BNC Finance whenever you're ready.