Table of contents
Whether you're building a road, extending a driveway, or creating a brand-new parking lot, having access to robust and reliable paving machines is critical. Paving machines, also known as asphalt pavers, are critical pieces of equipment for any construction fleet, making it easy to lay flat materials and provide minor compaction.
The question is, what's the best way for your company to purchase paving machines? Often, the most cost-effective solution is to purchase gently used asphalt pavers, relying on paving machine financing packages. At BNC Finance, we're pleased to offer asphalt paver financing that won't empty your bank account.
There are a number of reasons to choose BNC Finance for your paving machine financing needs, including:
We don't require any kind of down payment.
We offer predictable monthly payments.
We're happy to work with you to find financing solutions that accommodate your budget.
We make it easy to apply for financing; in fact, you can apply in mere minutes.
At BNC Finance, we offer competitive rates, flexible repayment terms, and rapid funding.
Choosing asphalt paver financing from BNC can be a smart alternative to making a huge upfront payment, or to using up your current business credit line. We invite you to apply today, and to take the first step toward flexible and affordable asphalt paver financing.
Prequalify for Paving Machines Financing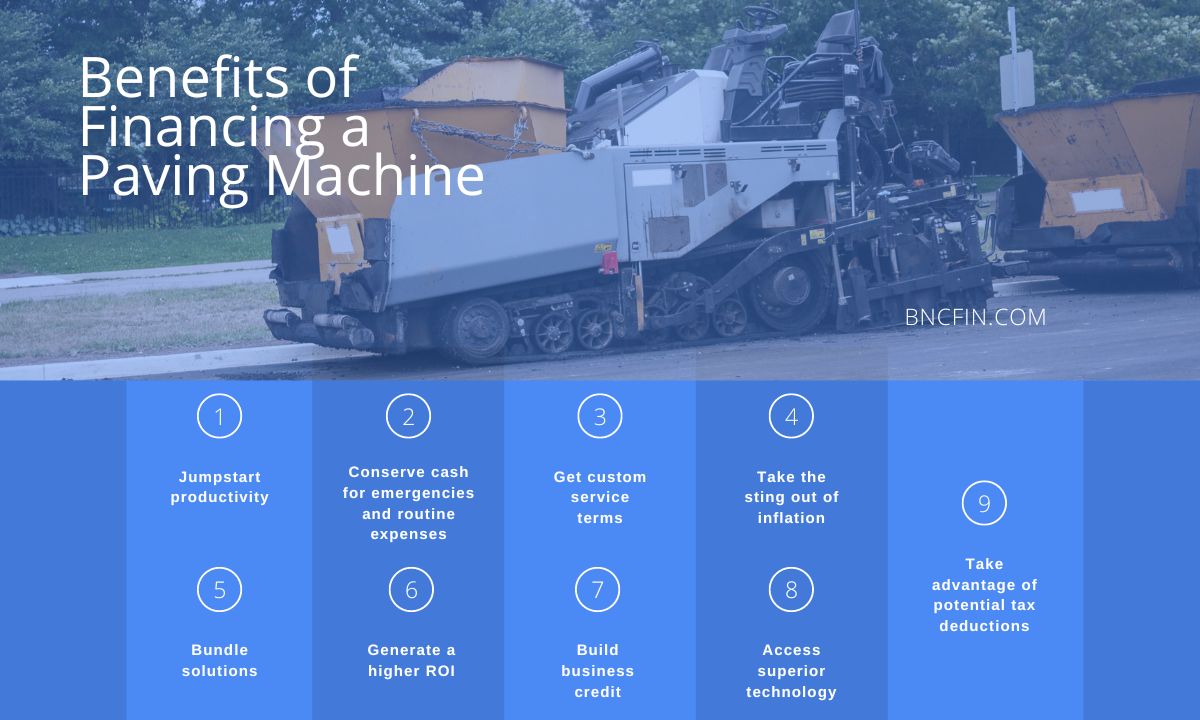 Benefits of Financing a Paving Machine
BNC Finance offers flexible, affordable financing solutions for heavy equipment, including paving machines (also known as asphalt pavers). Here are just a few of the benefits to choosing paving machine financing solutions from BNC.
1) Jumpstart productivity.

One of the most significant benefits to our financing solutions is that you get cash right away, meaning you can buy the machinery you need and get to work right away. In other words, with asphalt paver financing, your company can immediately ramp up productivity and start generating revenues.

2) Conserve cash for emergencies and routine expenses.

Running any kind of a business means dealing with standard operating expenses. When you finance your paving machines, it allows you to preserve your funds rather than spending all your money at once. That, in turn, means more cash in your reserves to deal with routine expenses or emergency costs that might arise.

3) Get custom service terms.

With asphalt paver financing from BNC, you gain the flexibility to customize your loan terms, individualizing your financing package to accommodate seasonal trends within your industry. At BNC Finance, we offer a range of solutions, including Deferred Payments, Seasonal Payments, Auction Financing, Private Seller Financing, Equipment Refinancing, Equipment Leasing, and Sale Leasebacks. We also provide our clients with full lines of credit.

4) Take the sting out of inflation. 

When you sign a lease for an asphalt paver, you immediately lock in your loan rates. This can be an important safeguard in high-inflationary environments.

5) Bundle solutions.

We're also happy to provide solutions to bundle your equipment, maintenance, and installation costs into a single loan, including paving machine attachments. Keep everything under one payment schedule, only worrying about a single asphalt paver payment each month as opposed to several small payments.

6) Generate a higher ROI. 

With paving machine financing, you can significantly boost your return on investment. Here's why: When you finance, your asphalt paver will generate revenue and/or reduce expenses, without requiring you to make any large down payments. Additionally, at the end of your lease, you may have the option to own the equipment outright.

7) Build business credit. 

As you make prompt and timely payments for your paving machine, you can build business credit. This can come in handy should you need to seek additional financing at a later date.

8) Access superior technology. 

Asphalt pavers are constantly becoming more reliable, more efficient, and more powerful, with each new model iterating on the one that came before. Paving machine financing lets you stretch your dollar, offering additional buying power so that you can get the latest, most feature-rich asphalt paver on the market.

9) Take advantage of potential tax deductions. 

Sometimes, paving machine financing can decrease a business's taxable income. For companies that are eligible to claim tax code Section 179 deductions, financing expedites depreciation against taxable income. To check whether your business qualifies for tax code 179, we recommend meeting with your business accountant or a financial advisor.
Asphalt Paver Financing Frequently Asked Questions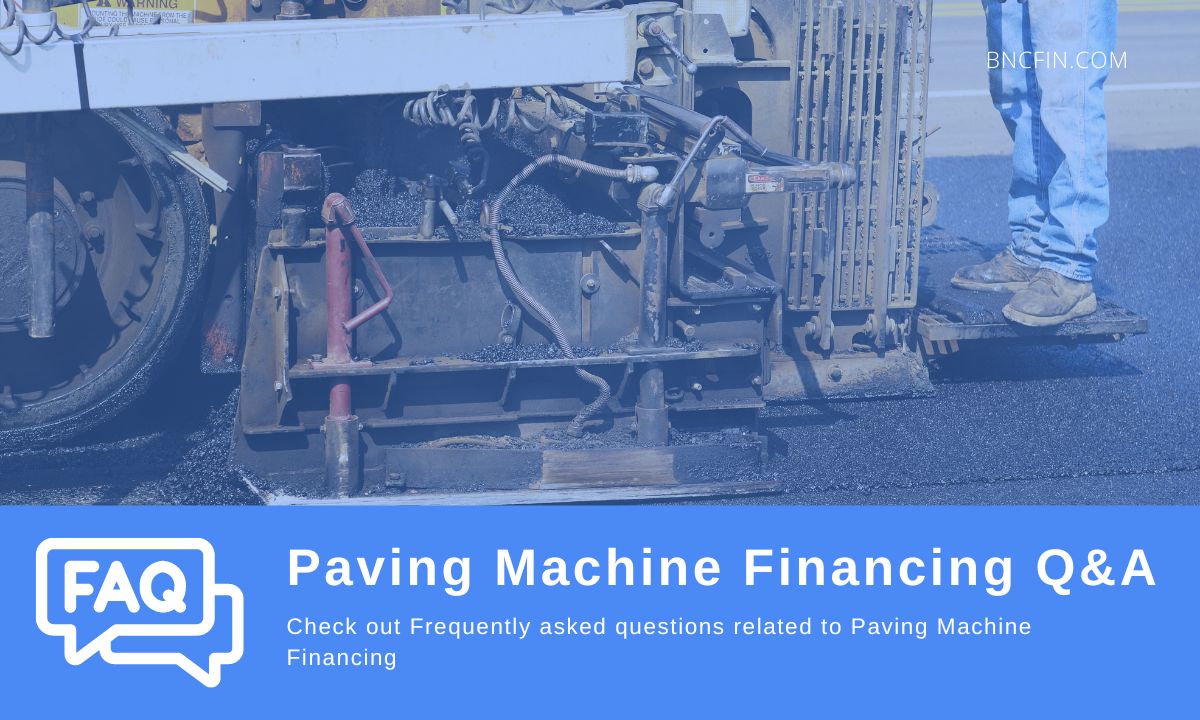 How long can I finance an asphalt paver? 
Typically, our financing terms run anywhere from 24 to 72 months for used paving machines. Terms vary based on the useful life of the equipment, with older pavers usually having shorter financing terms. Note: We generally do not offer financing terms that exceed the useful life of your paving machine.
What is the credit score required to finance a paving machine? 
Financing is possible with a credit score as low as 550, though a higher credit score will likely result in more flexible and competitive offerings.
What is no-credit-check paving machine financing? 
With this option, the lender does not need to pull your credit history. A "soft" credit check may be necessary, but this will not have any negative effect on your credit score.
Can I finance an asphalt paver from a private seller?
BNC Finance is happy to provide financing options to buy from private sellers. We encourage you to indicate this on the equipment financing application.
How much is an asphalt paver monthly payment? 
There are a number of factors that can affect financing costs, including your time in business, your shareholder credit score, and the total cost of the paving machine. Usually, the monthly payments associated with financing are much lower than what you'd pay to rent a comparable piece of equipment.
Is it better to buy a paving machine or rent one? 
Renting offers more flexibility but also financial risk, and premiums can be quite high. If you are going to be using the paving machine consistently, you're probably going to be better off financing or making an outright purchase. Renting is the better option for one-time-use projects.