Excavators are among the most instantly recognizable pieces of construction equipment, as well as being one of the most essential. Nearly every construction fleet can benefit from one of these vehicles, also known as diggers or mechanical shovels, which allow for the efficient digging of holes, trenches, and foundations. In addition, excavators can be used for material handling, forestry work, and more.
For a cost-effective way to add an excavator to your fleet, consider BNC Finance. Whether you're looking to upgrade an older model or you're simply looking to expand your current fleet, we're happy to help with excavator financing that won't empty your bank account.
Some reasons to choose excavator financing from BNC Finance include:
No down payment is required.
We offer predictable, manageable monthly payments.
We can work with you to find financing solutions that fit your budget.
You can apply for excavator financing in mere minutes.
We offer competitive rates, flexible repayment terms, and rapid funding.
The bottom line? Excavator financing from BNC is a smart alternative to making a huge one-time payment, or to depleting your current business credit line. Apply today and take the first step toward getting the digging equipment you require, at a rate you can afford.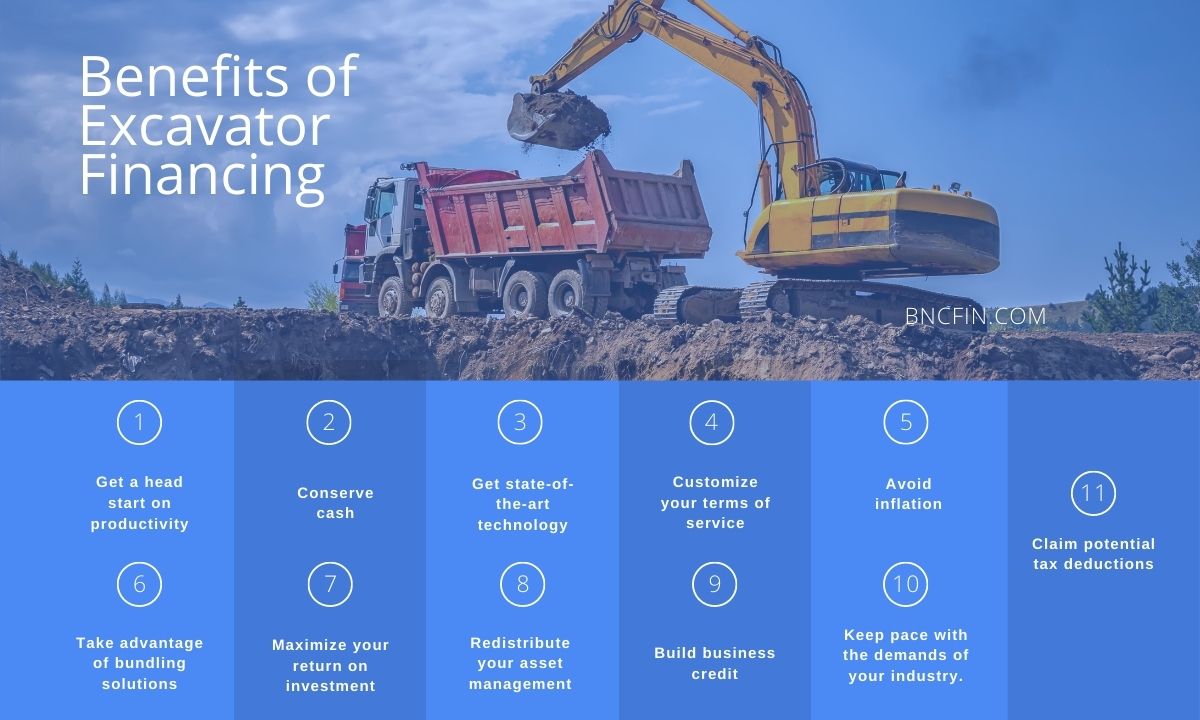 Benefits of Financing an Excavator
There are plenty of reasons to finance your heavy digging equipment via BNC Finance. Consider just some of the incentives to excavator financing:
1) Get a head start on productivity.

One of the main reasons to consider excavator financing is that it provides you with immediate cash, allowing you to quickly invest in the equipment you need so that you can get started making money. Indeed, with the right financing plan, you can generate revenues before any of your payments come due.


2) Conserve cash.

Running any kind of a business means dealing with routine expenses. If you finance your heavy machinery, it allows you to save your money rather than spending it all at once, meaning you will have more cash on hand to address these expenses as they arise.


3) Get state-of-the-art technology.

Excavators and other pieces of heavy machinery are constantly evolving, with newer models offering greater power, reliability, safety, and efficiency. Excavator financing allows you to stretch your dollar, providing you with more buying power to invest in the latest and greatest equipment.


4) Customize your terms of service. 

With excavator financing from BNC, you gain the flexibility to customize your loan terms, by factoring in your individual specifications. For example, we can work with you to develop payment terms that reflect your seasonal cash flow patterns.


5) Avoid inflation.

Upon signing a lease, you immediately lock in your loan rates. As such, equipment financing can be an effective way to guard against inflation.


6) Take advantage of bundling solutions. 

Another reason to consider financing is that you can bundle the equipment, maintenance, and installation costs into a single loan. This allows you to keep everything under one payment schedule, ensuring you only have to make one excavator payment as opposed to several smaller ones.


7) Maximize your return on investment. 

When you finance, your equipment will generate revenue and/or reduce expenses, yet you won't need to make any big, lump sum payments. This is a significant way to increase your return on investment.


8) Redistribute your asset management. 

Another perk is that you can allow your excavator financing company to manage your equipment, handling everything from delivery to disposal. This can be an especially helpful lease structure if you just need your excavator for a short-term job.


9) Build business credit. 

Making timely payments on your excavator will help you build credit, which can in turn prove helpful when you seek further financing or loans down the road.


10) Keep pace with the demands of your industry. 

The built-in flexibility of excavator financing means you're more likely to have cash on hand to buy inventory as needed, keeping up with market changes.


11) Claim potential tax deductions. 

Equipment financing can often decrease a business's taxable income. For companies that are eligible to claim tax code Section 179 deductions, financing can accelerate depreciation against its taxable income. To determine whether your business qualifies for tax code 179, it's important that you check with your accountant or financial advisor.

Excavator Financing Frequently Asked Questions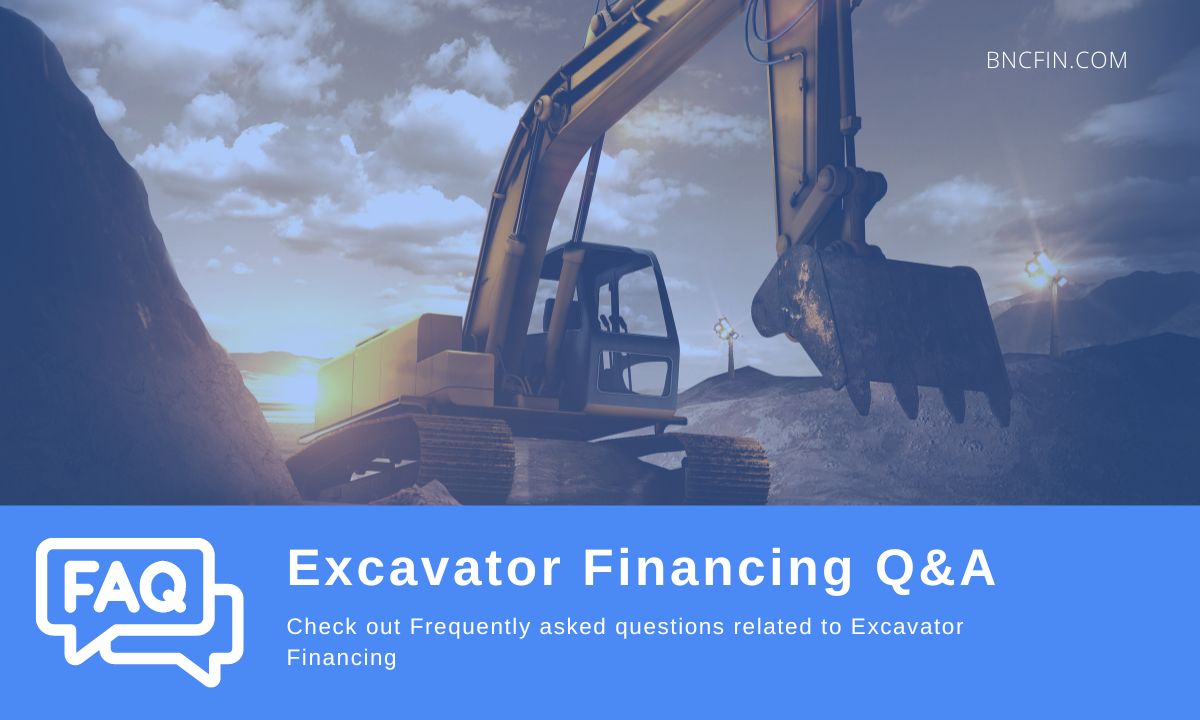 How long can I finance an excavator? 
Our financing terms typically span from 24 to 72 months for used excavators. Terms may vary based on the useful life of the equipment; older equipment usually comes with a shorter financing term.
Keep in mind that most equipment financing programs won't offer a loan that exceeds the useful life of the equipment.
What is the credit score required to finance an excavator? 
It may be possible to secure excavator financing with a credit score as low as 550. Naturally, higher credit scores will typically result in more flexible and competitive terms for your loan.
What is no-credit-check excavator financing? 
This is a type of excavator financing in which the lender does not need to pull your credit history. Lenders may do a "soft" credit check, but this will not have any adverse effect on your current credit score.
Can I finance an excavator from a private seller?
Yes, you can absolutely secure financing to buy an excavator or other construction equipment from a private seller. Be sure to indicate this on the equipment financing application, which ensures you qualify for private equity financing.
How much is an excavator monthly payment? 
Excavator financing costs depend on multiple factors, including your time in business, your shareholder credit score, and the total equipment cost. In most cases your monthly finance cost will be significantly cheaper than what it costs to rent a comparable excavator.
Is it better to buy an excavator or rent one? 
Renting comes with increased flexibility as well as financial risk, and premiums can be pretty steep. If you are going to be using the excavator pretty consistently, you're probably going to be better off financing or purchasing outright; renting, on the other hand, may be the better option for a one-time use.