Table of contents
Dump trucks play a critical role at virtually every construction site, providing an easy and efficient way to transport materials and to cart off waste. Every construction crew needs at least one good dump truck, if not an entire fleet. (Indeed, there are a number of types of dump trucks to consider, ranging from articulated trucks to off highway trucks.) The biggest problem with dump trucks is knowing how best to acquire one, without breaking the bank.
There are a number of possible options to explore. One route is to rent a dump truck, and another is to purchase one outright, requiring a significant upfront payment. For many construction businesses, the most financially savvy option is to obtain dump truck financing. That's something we're happy to offer here at BNC Finance.
We're pleased to offer articulated truck financing, off highway truck financing, and more, providing custom solutions to help your business achieve its goals.
Some of the benefits of choosing BNC Finance include:
We do not require down payments.
We provide predictable, manageable monthly payments.
We provide custom solutions to help you get the equipment you need.
We have an application process that takes mere minutes.
We boast flexible and competitive rates.
Ready to learn more about dump truck financing? Click here to Start the application process with BNC Finance today.
Prequalify for Dump Truck Financing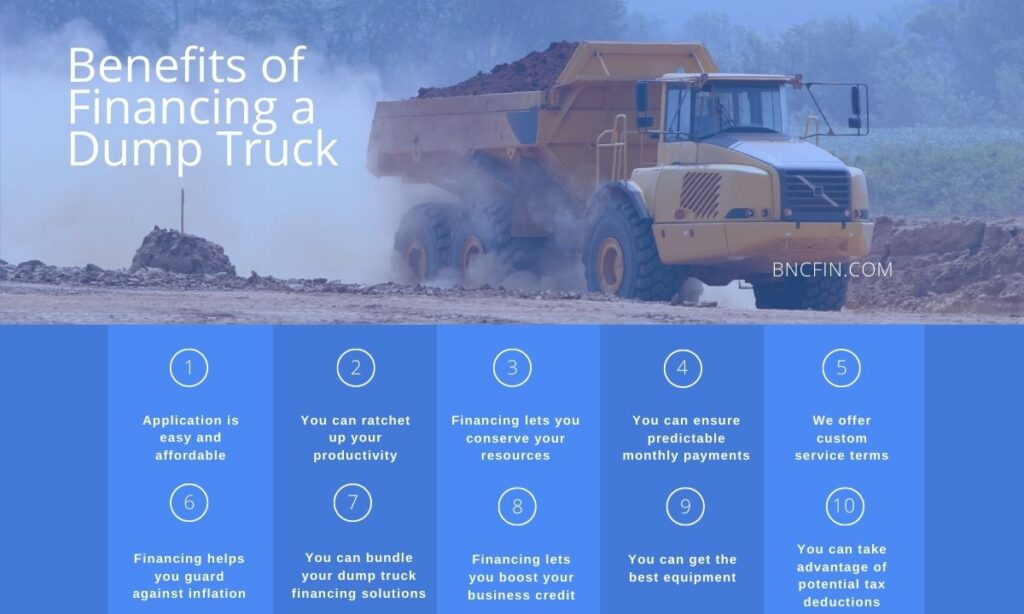 Estimated reading time: 9 minutes
Benefits of Dump Truck Financing
Construction companies have long depended on dump trucks to help them deliver materials to the job site, and to haul away waste once the job is done. While dump trucks are nothing new, they have improved considerably over the years, with new technology making dump trucks safer, more efficient, and more reliable. With the right financing, they can be affordable, too. BNC Finance is pleased to provide a full spectrum of solutions, including dump truck financing, articulated truck financing, off-highway truck financing, and beyond.
There are a number of advantages to choosing BNC Finance, including:
Application is easy and affordable.

At BNC Finance, we have an application that can be completed in just a few minutes. And, there is no down payment required! Get the equipment you need without having to make a big upfront payment. 

You can ratchet up your productivity.

Because financing puts cash in your hand without requiring a down payment, you can get to work using your new dump truck right away, generating revenues for your business. 

Financing lets you conserve your resources.

Running a business means keeping up with routine expenses and monthly costs. When you choose dump truck financing, it means you get to conserve your budgetary resources, leaving you with cash on hand when those expenses arise. 

You can ensure predictable monthly payments. 

Gain predictable and manageable monthly payments when you finance with BNC, enabling you to plan, budget, forecast, and monitor your cash flow with greater precision and convenience

Flexible Dump Truck Financing Options

We are pleased to provide full customization to our borrowers, whether that means Deferred Payments, Seasonal Payments, Auction Financing, Private Seller Financing, Equipment Refinancing, Equipment Leasing, or Sale Leasebacks. We aim to provide total flexibility when it comes to dump truck and articulated truck financing. 

Financing helps you guard against inflation. 

By choosing to finance with BNC, you can lock in your rates. This can offer a significant safeguard against inflationary trends. 

You can bundle your dump truck financing solutions. 

With BNC you can bundle your equipment, maintenance, and installation costs into a single loan, including any costs associated with dump truck attachments. 

Financing lets you boost your business credit. 

Build a better credit score simply by staying current with your payments, opening up more options to finance or borrow money down the road. 

You can get the best equipment. 

Again, it's critical to note that dump truck and off-highway truck technology continues to evolve. Financing stretches your dollar, allowing you to invest in the latest, the most advanced, and the most reliable vehicles for your construction crew. 

You can take advantage of potential tax deductions. 

For companies that are eligible to claim tax code Section 179 deductions, dump truck financing expedites depreciation against taxable income. To assess whether your business qualifies for tax code 179, we recommend meeting with your accountant or your financial planner. 
Frequently Asked Questions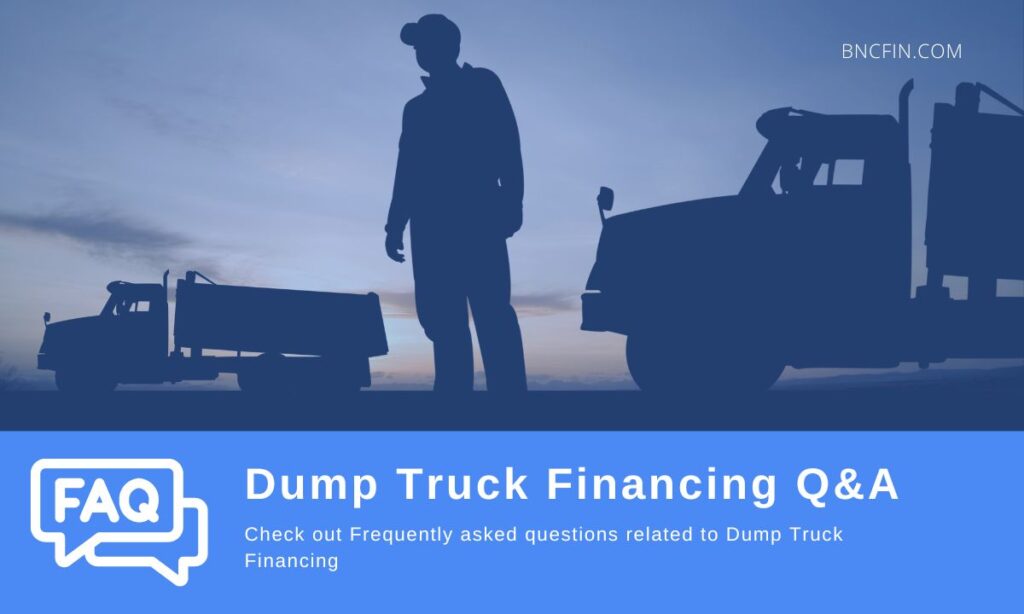 Estimated reading time: 9 minutes
What is the typical financing period for a dump truck or articulated truck? 
Generally speaking, dump truck financing periods last somewhere between 24 and 72 hours. The financing period will be determined by many factors, including the useful life of the equipment. Financing terms almost never extend past the useful life of the equipment.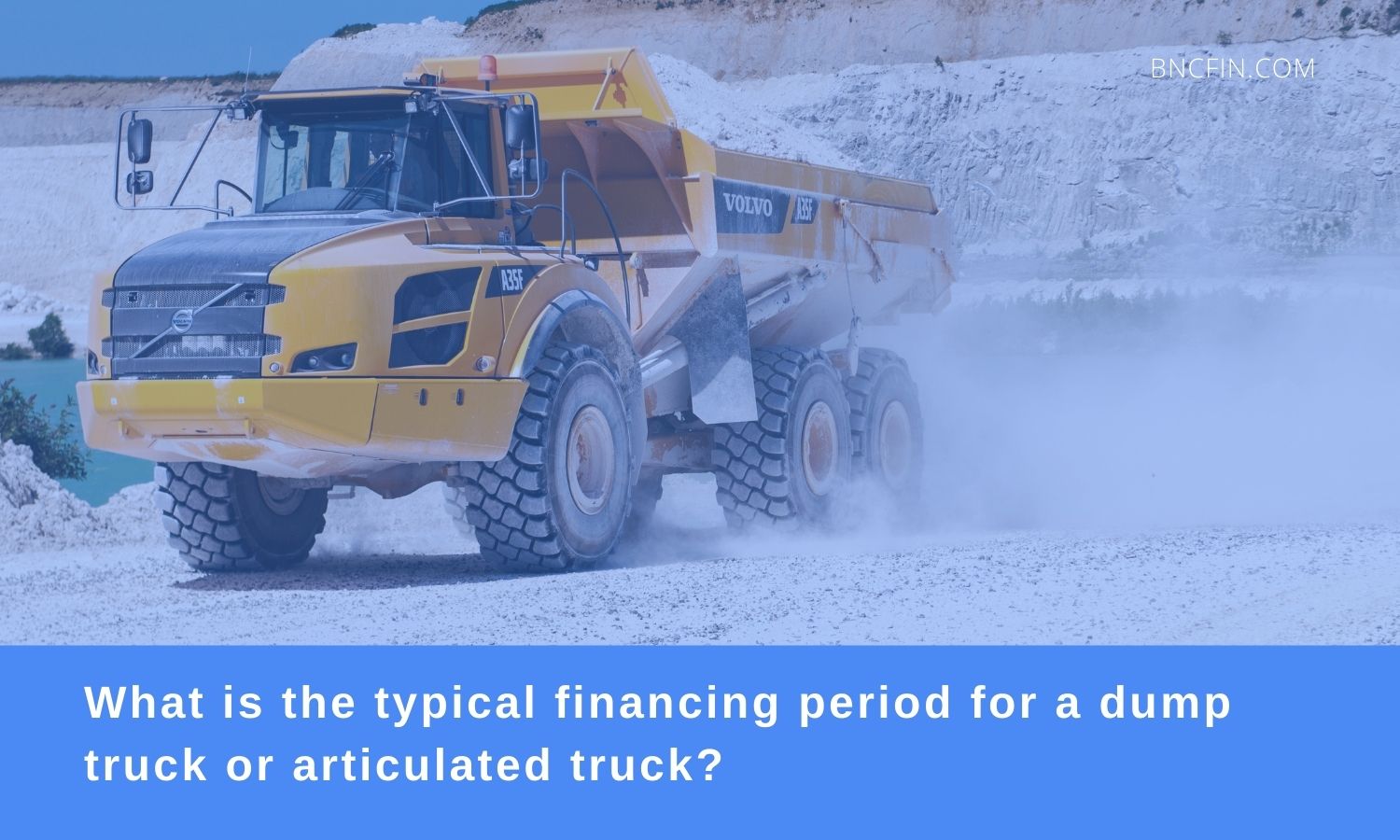 Can I finance a dump truck even if I have bad credit? 
BNC Finance provides dump truck and articulated truck financing for those with credit scores of 550 or higher. Higher credit scores will usually mean more affordable rates and more flexible loan terms.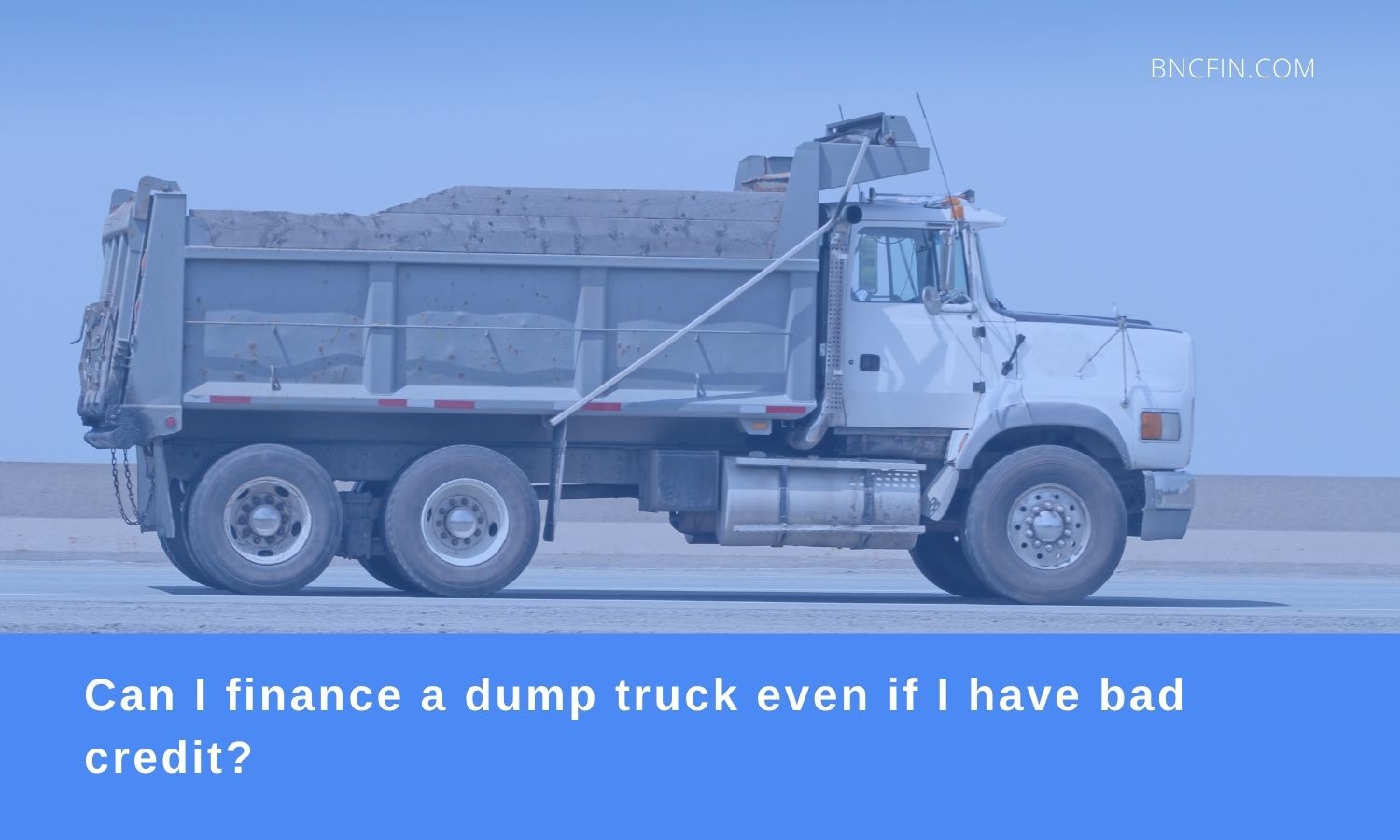 What is no-credit-check financing for dump trucks? 
At BNC Finance, we offer no-credit-check dump truck and off-highway truck financing, which means just what the name suggests: We provide financing without running a full credit check. Though we might run a "soft" credit check, this will not have a negative impact on your credit score.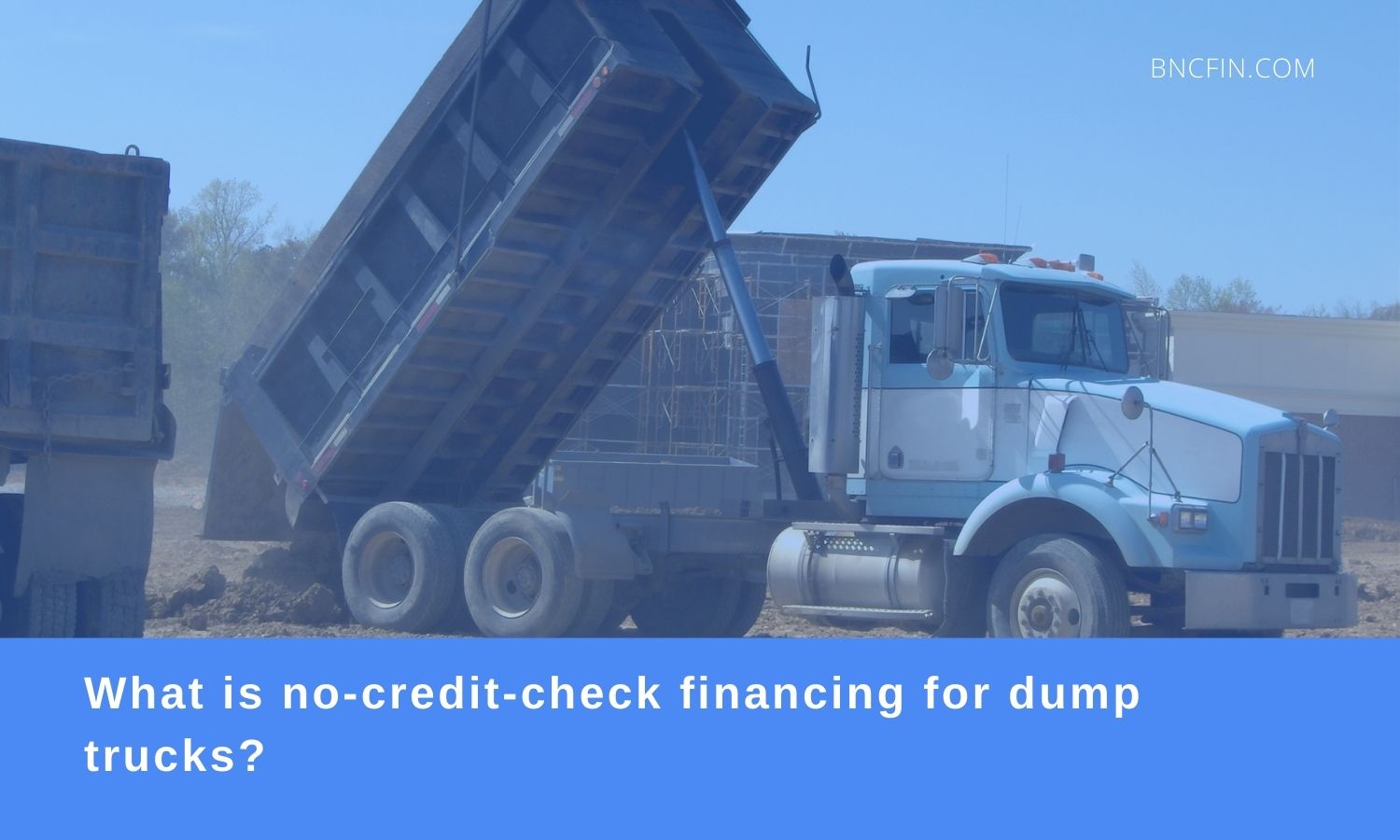 Is it possible to finance a dump truck from a private seller?
Absolutely! This is an option we are happy to accommodate here at BNC Finance. When you complete the equipment financing application, simply denote your preference to buy from a private seller.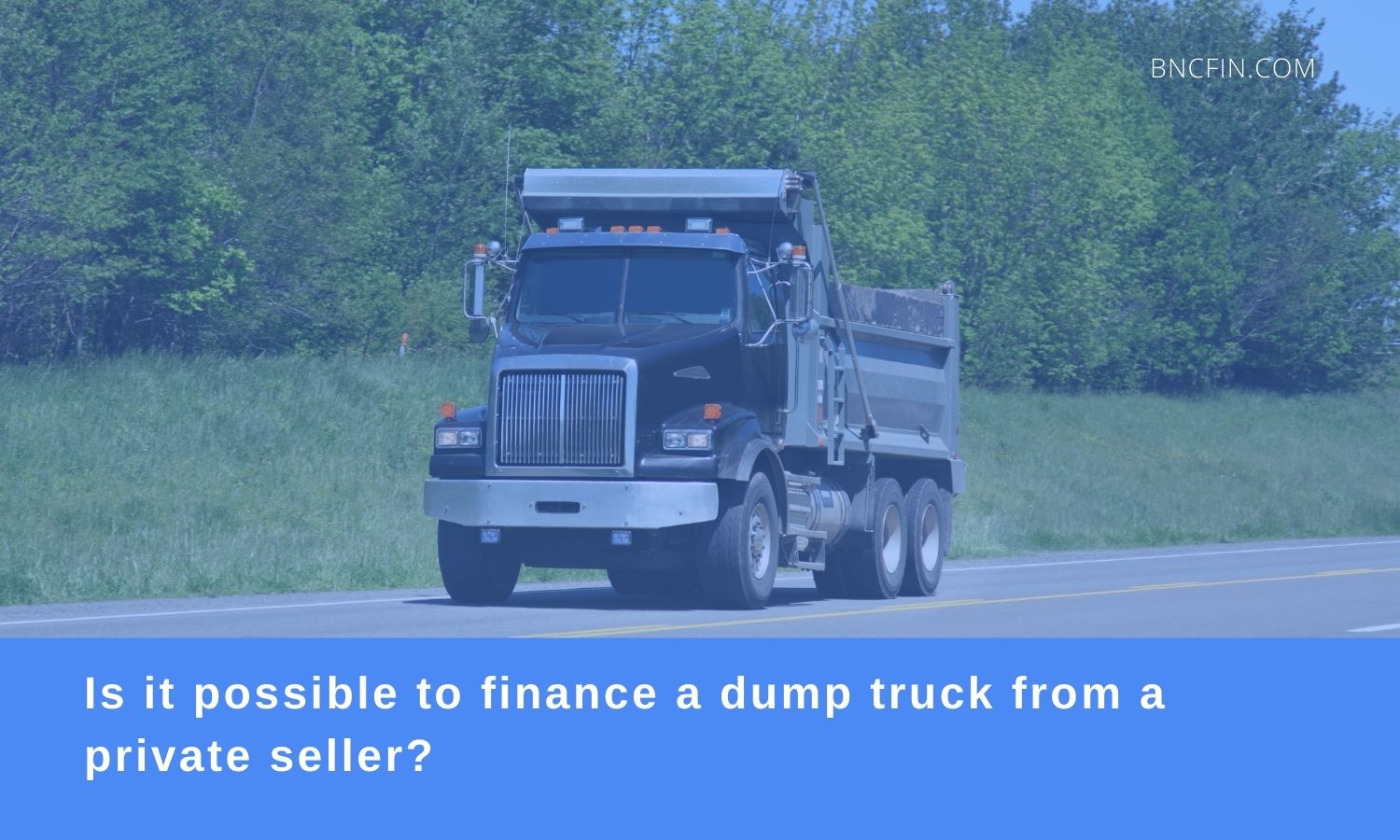 What should I expect in terms of monthly payments? 
A number of factors may affect your monthly payments, including the cost of the machinery, your business experience, and more.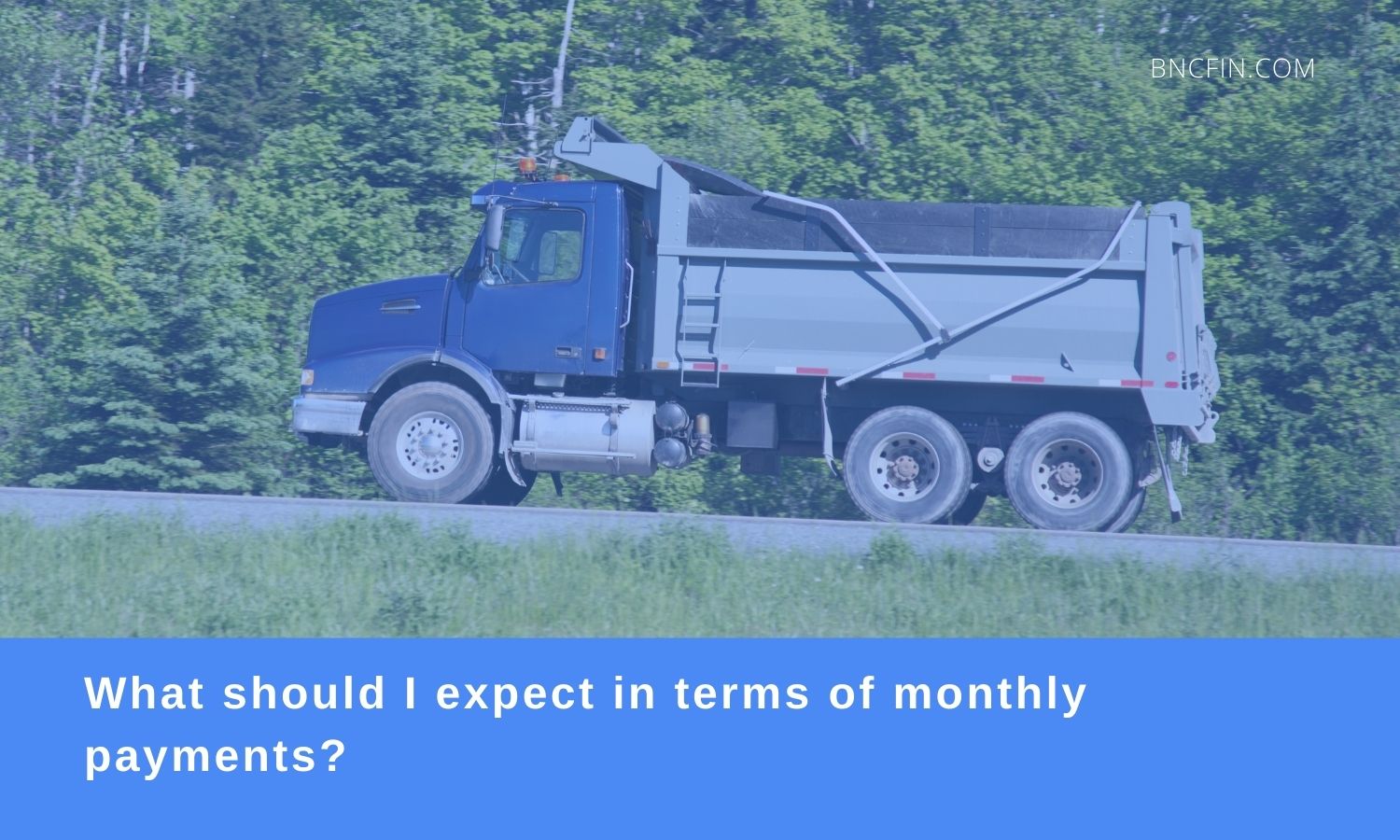 Is it better to rent a dump truck or finance one? 
We often recommend renting for construction teams that just need a dump truck or off-highway truck for a single, one-off project. If you plan to use your truck more regularly, though, then the more economical solution is to finance.